KCI 120 Dplus provides both motor feedback and position measurement
SCHAUMBURG, IL (September 2021) - Designed to fulfill two critical needs via a single component in high accuracy robots, HEIDENHAIN introduces the innovative KCI 120 Dplus rotary encoder. This new unique absolute encoder provides both reliable feedback to a robot's motor and accurate position measurement to its controller to enable safe and accurate motion.

Extremely compact, the KCI 120 Dplus encoder consists of one scanning head and two different types of rotor units, all connectable to a controller / drive via a single cable. Only 20 mm in height, its small footprint and low weight makes it useful in tight installation spaces, rendering it attractive for a variety of high accuracy motion control applications.
The rigid design of this new two-in-one encoder from HEIDENHAIN permits high vibration loads of up to 400 m/s² on the stator and 600 m/s² on the rotor. And thanks to its robust inductive scanning method, the KCI 120 Dplus rotary encoder is particularly resistant to contamination and magnetic fields.
The KCI 120 Dplus encoder is available with Functional Safety capability and, with measures in the control, can achieve SIL 3 safety rating. This allows manufacturers to minimize malfunctions and facilitate the safe operation of its associated machines and automated systems.
About HEIDENHAIN
DR. JOHANNES HEIDENHAIN GmbH, headquartered in Traunreut, Germany, develops and supports motion control feedback solutions for the machine tool, semiconductor, electronics assembly and test, metrology, automation, medical, energy, biotechnology and other global markets. HEIDENHAIN employs approximately 6,000 people worldwide in its core business activities. The North American subsidiary is HEIDENHAIN CORPORATION, headquartered in Schaumburg, IL, and San Jose, CA, and has been serving the U.S. industry for over 50 years. Here nine company brands are represented. More information at: www.heidenhain.us/about-us
Featured Product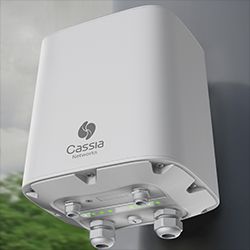 Cassia works with smart IIoT equipment manufacturers to help them overcome their challenges and to provide the competitive edge they need to reach their business goals. We provide companies in various IIoT sectors with a comprehensive suite of enterprise Bluetooth IoT products and solutions they need to enable smart IIoT solutions such as Condition Monitoring, Predictive Maintenance as well as Personnel and Asset Tracking solutions. Cassia's long-range Bluetooth gateways are uniquely designed for today's Industrial IoT enterprises to provide the scalability, flexibility and ease of deployment needed to reduce costs and achieve greater ROI.