With this new relationship, Hongke is distributing Pleora's industry leading AI, edge processing, and real-time sensor connectivity solutions.
Ottawa, CANADA, August 25th, 2021: Pleora Technologies today announced a new channel partnership with Hongke Technology Co., Ltd., an established distributor of industrial cameras, 3D imaging, and high performance vision solutions in China Market. With this new relationship, Hongke is distributing Pleora's industry leading AI, edge processing, and real-time sensor connectivity solutions.

"China is an important market for Pleora, and with the addition of Hongke we are expanding our presence to better understand and meet the unique needs of designers, system integrators, and end-users in the region," said Brian Chi, Pleora's regional sales manager for China. "Our broad portfolio of real-time sensor connectivity and AI solutions, coupled with Hongke's complimentary technologies and system expertise, will help customers improve quality, maintain brand standards, inspect challenging materials, and automate key points in manufacturing processes."
Designers and integrators rely on Pleora products, system knowledge, and standards expertise to shorten time-to-market, reduce risk, and lower costs. The company's new no-code AI solutions help automate manual processes, improve reliability, and lower the cost of visual quality inspection for consumer goods, automotive, food & beverage, and print & packaging. Pleora's GigE Vision and USB3 Vision sensor interface products, deployed in over 300,000 endpoints in industrial, medical, and security imaging systems, have the capacity to transmit over 30 billion gigabits of data per day.
"We have been successfully rated as the 'the little giant' of technology innovation, showcasing high-tech products developed by leading companies in the machine vision market," says Lashare Chen, the CEO of Hongke "Our portfolio is expanding rapidly, and we look forward to further strengthening it with Pleora's industry proven product offerings."
About Pleora Technologies
Global manufacturers rely on Pleora's expertise in AI, real-time sensor connectivity, and rugged networking to shorten time-to-market, reduce risk, and lower costs. Established in 2000, the company serves over 1500 active customers in the industrial automation, medical imaging, and security and defense markets. Headquarter in Ottawa Canada, Pleora has 75 employees in research, sales, and support locations in North America, Europe, and Asia. Learn more at pleora.com.
About Hongke Technology Co., Ltd.
Serving over 10 years in the industrial and automotive fields of high-tech, Hongke has been an instrumental part in the distribution of products by multinational suppliers leading the vision market. Headquartered in Guangzhou, China, with locations in Shanghai, Beijing, Taiwan, Hong Kong, and Silicon Valley in the United States, and offices in Xi'an and Chengdu, Hongke range of products includes industrial cameras, 3D and 10GigE cameras, 3D solid-state LiDAR, vision software platform, frame grabbers and other vision solutions.
Featured Product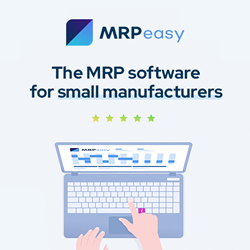 Always know what you have in stock and what you'll need to fulfill orders. Never forget to order parts on time or fail to notice a late delivery from your vendor. Easily create manufacturing orders and schedule them automatically according to resource availability or delivery deadline. Generate accurate cost and lead time estimates and provide customers with quick quotes. Receive notifications when orders are late or inventory levels reach a critical point. Ensure seamless communication between sales, production, warehousing, procurement, administration, and finance. Integrate with popular accounting, CRM, and e-commerce apps. MRPeasy is an ERP software for small manufacturers that gives you all that and more. Our users report a 54% average improvement in the overall performance of their business and a 42% increase in on-time deliveries. Try for free, no credit card needed.