NORD's redesigned line of small CLINCHER parallel gear units showcase increased power and torque capacity for a variety of applications. These re-engineered versions will be replacing the existing SK0182NB, 0282NB, and 1382NB units. They are lightweight, have improved heat dissipation, are more cost-effective, and are available with NORD nsd tupHTM sealed surface conversion for wash-down and extreme environments.
WAUNAKEE, Wis. (July 29th, 2021) - NORD's CLINCHER parallel shaft gear units are reliable, compact, and powerful. When combined with centralized or decentralized variable frequency drives, CLINCHER units provide ultimate efficiency and economy for a wide range of system solutions along with a rigid UNICASE™ one-piece housing to guarantee long service life, quiet operation, and low maintenance.

Small CLINCHER units include the SK0182.1, 0282.1, and 1282.1/1382.1 and are offered with a standard die-cast aluminum housing. Additionally, the SK1282.1/1382.1 units are also available with a cast-iron housing, which is required for the NORD Screw Conveyor Package and Spread Bearing Designs (VL2/VL3). Additional design flexibility has been made possible by offering two mounting executions: a B14 face flange/foot mounted version and a B5 flange version. Within each mounting style, there is an execution to match the mounting and shaft dimensions of legacy NORD product and an execution to match common competitor equivalents.
NORD's new CLINCHER models also come with extensive shaft designs including solid keyed, hollow keyed, shrink disc, GRIPMAXXTM (1282.1/1382.1 only), and screw conveyor (1282.1/1382.1 only). There are also a variety of input options including direct mount motors, universal motor adapters - NEMA or IEC, and solid input shafts. This increases system flexibility and reduces installation space due to the units' slim design.
Small CLINCHER gear units are quite versatile, providing ratios of 4.85 - 356.89:1 and a power range of 0.16 HP - 5 HP. With torque up to 3,540 lb-in they are the perfect solution for high efficiency operations where low operating costs are essential. With increased torque capacity of up to 33%, CLINCHER specifications match or exceed equivalent competitor units and provide more power in a smaller package.
###
About NORD DRIVESYSTEMS® Group
With more than 4,000 employees, NORD DRIVESYSTEMS has been developing, producing, and selling drive technology for over 50 years, and it is a global leader among full-service providers in the industry. In addition to standard drives, NORD delivers application-specific designs and solutions for special requirements, such as energy-saving drives or explosion-protected systems. NORD has subsidiaries and sales partners in 98 countries worldwide. The dense sales and service network guarantees optimal availability, enabling short delivery times, and customer-oriented service. NORD produces a diverse range of drives for torques from 88 to up to 2.5 million lb-in, provides electric motors in the power range of 0.16 - 1,341 HP, and manufactures frequency inverters with the required power electronics of up to 200 HP. Inverter solutions are available for conventional control cabinet installations as well as for decentralized, fully-integrated drive units. Visit www.nord.com.
Featured Product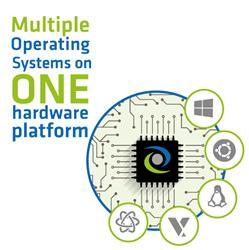 The RTS Hypervisor enables work-load consolidation of both real-time and non-real-time operating systems on a single x86 based platform. Unlike traditional virtualization, we partition and allocate the hardware for each work-load and provide a "privileged" mode for real-time operating systems that guarantee zero impact to determinism while adding zero jitter. This is instrumental for work-loads such as robotic controllers managing motion control where minimum jitter is required. And, our hypervisor is designed for easy setup and configuration for any work-load consolidation scenario. This equates to deterministic real-time applications taking advantage of all the benefits of virtualization immediately, without costly implementation projects.