Following the implementation of a pilot plant in Yankton, South Dakota, Vishay plans to roll the new MES out to 30 of its global plants over the next years.
November 10, 2020, PORTO, Portugal -- Vishay Intertechnology, Inc. (NYSE: VSH), one of the world's largest manufacturers of discrete semiconductors and passive electronic components, has selected Critical Manufacturing's Manufacturing Execution System (MES) as its new software standard for its business unit Passives. Following the implementation of a pilot plant in Yankton, South Dakota, Vishay plans to roll the new MES out to 30 of its global plants over the next years.

Dr Thomas Amrein, VP Planning & Systems Passive Components / Business Process Owner Planning & Manufacturing at Vishay, said: "In our Passive Components business, we have many different and partially outdated legacy systems. This project will remove the risk and cost associated with maintaining these and create a more efficient, user-friendly solution to take us into the digital future."
Vishay's Passive Components plants utilize a combination of legacy and commercial systems, requiring many different tools and packages with individual hardware, software and infrastructure which have been inherited with many different acquisitions over the past decades. Having so many different systems makes it difficult not only to maintain, but also to clearly see how different parts of the plant impact on each other.
Dr Amrein continued, "We approached several software vendors but chose Critical Manufacturing because it has a modern, object-oriented approach and offers functional and technical fit, flexibility and an excellent return on investment."
Francisco Almada Lobo, Critical Manufacturing CEO commented: "Our MES is specifically designed to give the flexibility to meet the demands of sophisticated manufacturing operations such as at Vishay Passive Components. It offers a backbone for Industry 4.0 manufacturing and a data platform to drive efficiency and adaptability to changing business demands."
The initial Critical Manufacturing MES solution will include material tracking, SAP integration, equipment integration, and provision for manual workplaces. The Connect IoT module enables easy integration of new and legacy equipment and IoT devices and provides a single graphical view of all automation workflows. Engineers can intuitively create and update complex logic with no code required. This forward-looking technology provides a pathway to an increasingly smart production environment, developing at a pace that suits the business needs and strategy.
Dr Amrein concluded: "This is an exciting time for our Passive Components business and one that, I believe, will foster greater innovation. The Critical Manufacturing MES will provide us with a platform that not only reduces our exposure to the risk of ageing legacy systems, but also provides us with a way to bring the knowledge, data and best practices of our global operations together to carry out continuous process improvement and harmonization, delivering greater efficiency and enhanced quality to meet our customers' demands today and well into the more digital future. It will make us stronger than ever and provides us with the flexibility to adapt and change quickly as markets change and new technologies emerge."
Almada Lobo finished by saying: "We have vast experience in the electronics industry, and we're delighted that Vishay selected our solution. We look forward to helping them drive performance and flexibility across their extensive global manufacturing network."
About Vishay Intertechnology, Inc.
Vishay manufactures one of the world's largest portfolios of discrete semiconductors and passive electronic components that are essential to innovative designs in the automotive, industrial, computing, consumer, telecommunications, military, aerospace, and medical markets. Serving customers worldwide, Vishay is The DNA of tech.™ Vishay Intertechnology, Inc. is a Fortune 1,000 Company listed on the NYSE (VSH). More on Vishay at www.vishay.com.
About Critical Manufacturing
Critical Manufacturing provides the most modern, flexible and configurable manufacturing execution system (MES) available. Critical Manufacturing MES helps manufacturers stay ahead of stringent product traceability and compliance requirements; reduce risk with inherent closed-loop quality; integrate seamlessly with enterprise systems and factory automation and provide deep intelligence and visibility of global production operations.
As a result, our customers are Industry 4.0 ready. They can compete effectively and profitably by easily adapting their operations to changes in demand, opportunity or requirements, anywhere, at any time. For more information, visitwww.criticalmanufacturing.com
Featured Product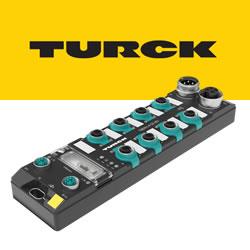 The new IP67 Managed Ethernet Switch from Turck provides standard and Gigabit ports in the same device. Configure, manage, and monitor connected machines and devices remotely, outside of a control cabinet. Find out more about this rugged solution for decentralized control. Part number TBEN-Lx-SE-M2. • Gigabit high-speed backbone for fast link-up times • Standard and Gigabit ports on the same device • Web-based diagnostic tools for preventive maintenance • Built-in security with the use of VLAN, NAT routing and firewall