Industry-leading automation solutions provider Omron Automation Americas recently announced a new TÜV Rheinland Functional Safety for Technicians training program to help companies deepen their employees' understanding of the safety requirements and expand their expertise in safety system maintenance and operation.
A new training program is available through global automation leader Omron Automation Americas for companies interested in helping their team gain a solid understanding of safety system maintenance. The program, TÜV Rheinland Functional Safety for Technicians, is an excellent way for companies to help ensure compliance with functional safety regulations and to protect their employees from injuries in the workplace.

Omron is proud to be a trusted partner in TÜV Rheinland functional safety training for industry professionals. This 2.5-day training session is designed for maintenance professionals and other industrial technicians and includes an exam at the end. Successful students will receive TÜV Rheinland Certification as a Functional Safety Technician and will be listed on the TÜV Rheinland Certipedia.
Topics covered include general safety concepts, advantages and disadvantages of various safety components, validation of operation for common safety components, safe distance calculation, maintenance and repair of safety systems, and "safe" modification of existing systems for temporary situations.
Maintenance personnel needing proficiency in maintaining and validating safety systems, EHS managers seeking an understanding of general requirements, plant engineering teams in need of a stepping-stone towards TUV Functional Safety Engineering, and HR departments interested in furthering employee development and retention are among those who are encouraged to participate in this opportunity.
About Omron Automation
Omron Automation is an industrial automation partner that creates, sells and services fully integrated automation solutions that include sensing, control, safety, vision, motion, robotics and more. Established in 1933 and currently headed by President Yoshihito Yamada, Omron's roughly 36,000 employees help businesses solve problems with creativity in more than 110 countries. Learn more at automation.omron.com.
Featured Product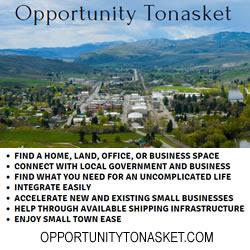 Our primary mission is to promote economic development and growth in the city of Tonasket, WA and surrounding area. This is a group of local citizens sharing a common goal. We wish to assist and promote existing businesses wishing to relocate, local businesses wishing to expand and local individuals wanting to startup a business. Preserving and enhancing the small town and rural lifestyle in a way which benefits everybody and maintains a healthy lifestyle. Opportunity Tonasket was created to be a hub for information and contacts with local city and county agencies, as well as local businesses and real estate connections. Their goal is to connect current and newly relocated individuals and businesses and "plug them in" with the best services, advice and experts in the area. Opportunity Tonasket is like a leg-up, as if one's already had a foothold in the community.