New device reads HF, UHF plus 1D, 2D codes in one solution for maximum flexibility
MINNEAPOLIS, MN (July 27, 2020) -Turck, a manufacturer of sensors, identification solutions, connectivity and fieldbus technology for factory, logistics and process automation, today announced it will launch the PD67 handheld RFID reader, ideal for material handling and manufacturing applications. This easy-to-use RFID reader includes an Android operating system and 5.5 inch capacitive touch screen. It reads both HF and UHF tags and is offered with an optional 2D barcode reader, which is an industry first. It is rated IP67.

The PD67 offers:
• All-in-one platform reads HF (ISO 15693) and UHF (ISO 18000-6C) with optional 2D barcode reader in one device for maximum application flexibility.
• Rated IP67 with Android OS is rugged enough for long-lasting industrial and commercial use.
• Intuitive, easy-to-use, but highly capable application interface boasts a large degree of capability, and can easily be customized to meet customer-specific requirements.
Applications in material handling include tracking and managing inventory, order fulfillment and more. The solution improves dock-to-stock information transfer and identification conversion (ex., transferring barcode/UHF information to re-usable HF tags).
About Turck
Turck is a pioneer in automation technology, providing customers with a comprehensive line of quality and advanced technology products in a fast, flexible and accurate manner. With more than 4,800 people working in 30 countries, Turck has built global partnerships with customers based on engineering expertise, flexibility, and our willingness to take on engineering challenges that others will not.
For more information, visit www.turck.us.
Featured Product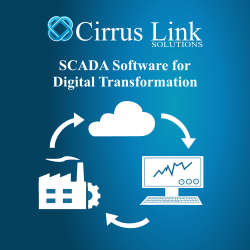 Cirrus Link provides a modular approach to building Enterprise-Class IIOT/SCADA/MES applications delivering a superior OT solution and enabling your enterprise to connect OT data to IT services for big data analytics. CTO Arlen Nipper, co-inventor of MQTT, forged a relationship with Inductive Automation to bring our software together for the ultimate IIoT solution. The Cirrus Link modules offer complete functions such as MQTT enablement, data delivery to the cloud, electronic flow measurement, and more. These software modules transmit data from the field via MQTT, with options to launch an MQTT server in the cloud or on premise and connecting OT data to industrial and business applications. The Cirrus Link IIoT modules for Ignition empower organizations to create one streamlined pipeline for all their IIoT data.