Device offers Gigabit and standard ports in the same device
Turck, a manufacturer of sensors, connectivity and fieldbus technology for factory, logistics and process automation, today announced it launched the TBEN-Lx-SE-M2, a rugged IP67 managed Ethernet switch.

Managed Ethernet switches help enable safer and more efficient industrial networking. IP67 switches are used directly on a machine so users can configure, manage, and monitor connected machines and devices remotely, ourside of a control cabinet. Turck now offers a more rugged version with two high-speed back-bone ports (Gbit) in addition to eight standard ports (100 Mbits).
The TBEN-Lx-SE-M2 is ideal for the most robust industrial environments such as for tool changes in machine tools, robot applications in automotive manufacturing, and for use on mobile equipment. It features IP67/IP69K ratings and a wide operating temperature range for decentralized installation outside of the control cabinet.
About Turck
Turck is a pioneer in automation technology, providing customers with a comprehensive line of quality and advanced technology products in a fast, flexible and accurate manner. With more than 4,800 people working in 30 countries, Turck has built global partnerships with customers based on engineering expertise, flexibility, and our willingness to take on engineering challenges that others will not.
Featured Product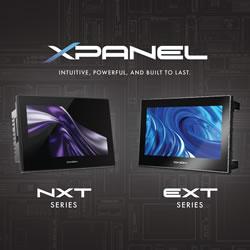 Introducing the Xpanel eXT and nXT series, advanced industrial HMI solutions that set a new standard for performance and usability. Utilizing our brand new Canvas HMI software for project creation, the Xpanel eXT and nXT series deliver a seamless and efficient user experience. They combine industrial-grade touch technology, powerful embedded OS hardware with a quad-core CPU, and an easy-to-use runtime platform. The Xpanel eXT and nXT series are specifically designed to optimize and streamline industrial operations, enhancing your HMI experience.