The Emulate3D 2020 Virtual User Group Meeting will be your opportunity to learn how the Emulate3D product range is used by a wide range of companies across the world, and what's being developed now to make your job easier and safer.
Training and UGM - September 15/16/17 - Register Now!

To Register for Training and UGM - $249/seat
- Improve your Skills with Emulate3D Training
- Be Among the First to Experience Cloud-Based Emulate3D
- Learn from Presentations by Experienced and New Users
- Discover New Features and Developments
- Enjoy Relaxed Q&A and Informal Entertainment in AltspaceVR
- Access to all Training and Presentation videos
- A chance to win a Samsung HMD Odyssey+ VR headset and controllers
The Emulate3D 2020 Virtual User Group Meeting will be your opportunity to learn how the Emulate3D product range is used by a wide range of companies across the world, and what's being developed now to make your job easier and safer.
The event is designed to be a great introduction to those wanting to know more about how Digital Twins, virtual controls testing, and industrial product flow simulation are profitably used in industry today, as well as a valuable resource for existing users of all levels.
Whether you are currently a user or not, the UGM has much to offer you and will feature presentations given by industry-leading companies including Vanderlande, Infinity Machine, Premier Tech, UMD, Haskell, The Dennis Group, and Automation Intelligence. It will provide valuable insight into what's coming in demonstration, simulation, and controls testing from some of the key Emulate3D architects and developers.
We'll be featuring recent developments in the Independent Cart Technology catalog, integration with robot controllers such as FANUC Roboguide, CITM advances, and what can be achieved with Ansys integration, to mention just a few.
If you want to discuss the real meaning of a Dynamic Digital Twin in the context of manufacturing and fulfilment centers or machines, or you need to know more about how the Industrial Internet of Things might benefit your facility, then this is your opportunity.
This is another big year for Virtual Reality as it applies to safe, flexible, and cost-effective remote immersive solution demonstrations and operator training, which crucially minimises the time you need to spend onsite. Emulate3D is an industry leader in the field, and we can give you the facts to help your decision making. Attend the UGM and discuss how this technology could benefit your company.
We'll be carrying out our pre-UGM training again this year, aimed at all users from keen beginners to experienced professionals. This year's event breaks new ground by providing you with the opportunity to access Emulate3D and Rockwell Automation's upcoming control emulator in the cloud.
If you are a user of Rockwell Automation control systems, this event will provide a fascinating glimpse into our upcoming new technology. Attendees not connected to the cloud-based experience can also follow along with the majority of the training on their own license until connection to the virtual controller is required.
Designed to provide insight into the possibilities of the latest release of the products, the sessions also include worked examples of how to implement the various features at all levels.
Access to the cloud-based experience is limited, so register and check the box indicating your interest to reserve your place now!
What's New About The 2020 Virtual User Group Meeting?
We'll be running sessions online for four hours per day, with short breaks. If you are in the US, these sessions will begin at 9am EST, and if you are in Europe, they'll start at 2pm UK time. If you have questions during the presentations please ask them in chat, and we'll do our best to answer them live, or get back to you right after.
We'll also be following the formal sessions with casual discussions and entertainment in the AltspaceVR 3D environment. You don't need a VR headset and controllers to participate as you can move around the environment easily with a mouse, but if you have them, you'll want to use them.
Emulate3D technical presentations will be supplemented with further online presentations available exclusively to registered attendees after each session, and these will remain available to attendees for six months following the event.
How Do I Present At The 2020 Virtual User Group Meeting?
Emulate3D User Group Meetings are a great place to demonstrate what your company is doing with Emulate3D technology. Every year attendees see great examples of how all kinds of companies are using it to do cost-effective and interesting automation projects. It's never been easier to participate as a presenter and we'll even waive the registration fee if your presentation is accepted!
Featured Product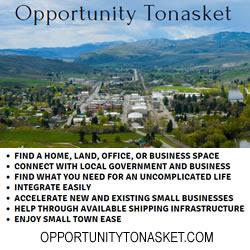 Our primary mission is to promote economic development and growth in the city of Tonasket, WA and surrounding area. This is a group of local citizens sharing a common goal. We wish to assist and promote existing businesses wishing to relocate, local businesses wishing to expand and local individuals wanting to startup a business. Preserving and enhancing the small town and rural lifestyle in a way which benefits everybody and maintains a healthy lifestyle. Opportunity Tonasket was created to be a hub for information and contacts with local city and county agencies, as well as local businesses and real estate connections. Their goal is to connect current and newly relocated individuals and businesses and "plug them in" with the best services, advice and experts in the area. Opportunity Tonasket is like a leg-up, as if one's already had a foothold in the community.