Software

Marketing Partner
---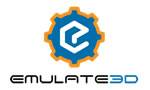 Emulate3D Inc.
Emulate3D develops virtual commissioning, throughput simulation, and industrial demonstration products
---
Mailing Address:
23169 Michigan Avenue #2489,
Dearborn, MI 48124
United States of America
Tel: 801-923-3316
Fax:
Email: info@demo3d.com
Website: https://www.demo3d.com
Company Category: Design & Development
Geographic Region: USA - North East
Company Sector: Software
Keywords: Industrial, 3d imaging, prototyping, simulation, PLC, modeli
Partner Status: Marketing Partner

---
Products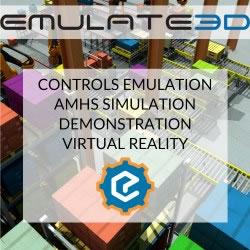 Emulate3D software helps you model and test your AMHS solutions rapidly. Use Demo3D to create running models quickly, then generate videos, stills, or view the models in virtual reality at the click of a button. Sim3D enables you to carry out experimental test runs to select optimal solutions and the most robust operating strategy, and Emulate3D Controls Testing is the best way to debug your PLCs offline, and off the project's critical path. Connect to major PLCs, import CAD, and plug into HTC Vive and Oculus Rift to produce awesome models!
---
Articles
Visitors to our booth S-7527 will be able to try out the HTC Vive Virtual Reality (VR) headset to visualize typical end of line automated solutions. Any Emulate3D, Sim3D, or Demo3D model can be easily viewed in VR, which provides a genuinely immersive experience which puts you in the facility with the running equipment or system.
Companies who do not carry out emulation (or virtual commissioning) can only start controls testing when the real system is at least predominantly assembled, which means they are near ramp and handover, with a large amount of unpredictable testing yet to be started, and probably onsite and under close client scrutiny. Hardly the best of conditions for carrying out the methodical task of analytical verification, debugging and repair.
Wherever new ideas surface to bring Industry 4.0 to life, the simulation of these ideas to test, develop, and demonstrate them is the logical next step.
---
White Papers
This Company does not currently have any White Papers
---
Press Releases
This Company does not currently have any Press Releases
---