Italian-based CRP Technology has been invited to attend Composites in Motorsport as speaker. CRP Technology's AM expert representative will be presenting the successful use of AM in EV Motorsport. The presentation will be held 23rd October, 13:30 PM, at the Williams F1 Conference Centre, Oxford (GB).
CRP Technology will be attending Composites in Motorsport as speaker.

The upcoming edition will be held 22nd - 23rd October, at the Williams F1 Conference Centre, Oxford.
CRP Technology AM expert representative will be giving a presentation entitled: "How Additive Manufacturing composite materials drive EV Motorsports".
The speech is set at 13:30 on 23rd October 2019.
"We have been invited to submit a presentation under their electric motorsport technology session", Franco Cevolini, CTO and VP at CRP Technology, commented. "We accepted with pleasure.
The Motorsport industry has continuously been a primary adopter of innovative technology: CRP companies (CRP Technology and CRP Meccanica) with their pioneering works, are still helping the Motorsport industry to benefit from the use of the most advanced additive and subtractive technology.
Composites in Motorsport is the right stage for sharing our long-standing experience and knowledge".
The presentation will be examining how EV Motorsport industry is taking advantages from the use of high performance additive composite materials, focusing on the connection between CRP and Energica, the world's first Italian racing-bred electric motorcycle.
"CRP companies - Cevolini commented - have been acting as Energica's technology and financial incubator, and still do."
The use of additive manufacturing and CRP Technology's Windform composite materials marked a crucial stage in the development and construction of all Energica's electric motorcycle models, Ego Corsa (the race motorbikes for the FIM Enel MotoE™ World Cup) included.
"The Ego Corsa race motorbikes - Cevolini added - are derived from Energica Ego, the World's First Italian street-legal Electric, and mounted a lot of parts and applications manufactured by CRP Meccanica and CRP Technology."
Featured Product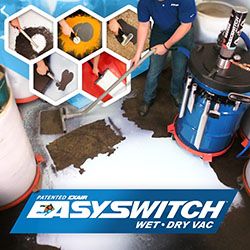 EXAIR's engineered Air Nozzles reduce noise levels and air costs. Read more in our case study how one company reduced noise and saved money with return on investment of only 9 days. Air savings, compared to open copper tubes or pipes, can be as high as 80%. Less compressed air means less noise. Typical noise level reduction is 10 dBA. https://exair.co/184-ancs