Endurance lasers present a laser module upgrade for metal laser marking and metal cutting. DPSS (diode-pumped solid-state) laser
Endurance lasers present a laser module upgrade for metal laser marking and metal cutting. DPSS (diode-pumped solid-state) laser

Before now most makers used plasma cutters to cut metal and laser tools were not affordable due to high-price. Laser fiber and Co2 powerful machines are big, bulky and cost a lot.
Most companies offer quite powerful Co2 (250 watt+) for metal cutting and fiber lasers with an average power of 30-50 watt for that, while pulse power is more than 10kW but their price starts from 10K USD.
DPSS laser technology is not quite popular yet and most machines use fiber laser modules or Co2 tuber for metal cutting.
DPSS technology has some limitations comparing to Co2 and fiber lasers however with DPSS technology you may get a pulsed power up to 50-60 kW and pulse width of 7-10 ns which is very small, in average you get 10 watt optical power on 1064 nm wavelength.
Another positive thing about DPSS laser that a laser beam quality is quite good and has TEM00 parameter what allows to focus the laser quite good and have a laser beam spot as small as 40-60uM (microns). That is a very high precision for most laser engraving purposes especially if you need to make a very tiny bar code for example.
Key benefits of an Endurance DPSS laser module
• Ability to install on any 3D printer / CNC machine or XY Plotter
• High peak power enables accurate and deep engraving
• High laser engraving precision 57 um (microns)
• High reliability of the laser module 10 000 hours
• Universal and compatible mounting bracket
Key tech features
- Very precise metal engraving with 0.057 mm laser beam spot.
- Ultimate power in an impulse mode - 57 kWatts.
- Contains an Endurance MO2 PCB as a driver and controller.
Compatibility
Compatible with all 3D printers and CNC machines which have enough space to hook the laser beam emitter.
Control
via TTL wires / analog signal MO2 PCB
Laser mount
Compatible Endurance mounting brackets
Learn more about Endurance DPSS 10 watt laser module - http://endurancelasers.com/an-endurance-brand-new-fiber-marking-module-for-metal-engraving/
Featured Product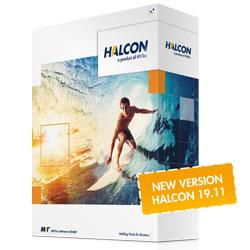 MVTec HALCON is the comprehensive standard software for machine vision with an integrated development environment that is used worldwide in all kind of industries. It enables cost savings and improved time to market. HALCON's flexible architecture facilitates rapid development of any kind of machine vision application. The software provides outstanding performance and a comprehensive support of multi-core platforms, special instruction sets like AVX2 and NEON, as well as GPU acceleration. The latest version HALCON 19.11 offers a wide range of new and improved machine vision functions. Particular emphasis was placed on the integration of further deep learning features. Now users benefit from massive simplifications for their applications, like faster inspection with anomaly detection, more transparency with the Grad-CAM heatmap and the support of ONNX format.