Staubli with Lanco Integrated will present innovations for assembly applications
Stäubli, a global manufacturer of robotics systems will be teaming up with Lanco Integrated, a desisgner and manufacturer of high performance turnkey automated assembly and test systems. You will find the team in booth #1113 Oct. 22nd thru Oct. 24th at the Donald E. Stephens Convention Center, Rosemont, IL.

The manufacture of medical devices is one of the most sensitive areas in manufacturing. Reliable control of all production steps, adhering to the strictest aseptic hygienic standards is one of the key requirements in the medical sector. With its specialized robotic arms, Stäubli brings its unique robotics expertise to the table in all medical device-manufacturing operations, from deburring and polishing the surfaces of orthopedic implants, to injection molding medical components, assembly and packaging medical and optical instruments (blood pressure monitors, inhalers, pacemakers, IV bags).
At Assembly, Staubli Robotics and Lanco Integrated will illustrate the assembly of medical devices in a turnkey automated system. Within this system, a Staubli TX2 Stericlean six-axis robot arm will be assembling medical syringes. With this fully encapsulated design, this turnkey solution is eminently suitable for cleanroom operations, Stäubli collaborative robots are the first choice for medical technology systems of this kind. "When the decision is ours, Staubli Robots are our first choice. The flexibility, repeatability and speed of the Staubli line up outperform others in the market. Combined with their world class service, Staubli makes a great business partner for Lanco." Matt Bresnahan, VP of Global Sales.
Lanco Integrated is one of the world's most experienced designer and manufacturer of turnkey automated assembly and test systems. From concept to design through manufacturing and after-sales service, Lanco covers the globe with more reliable or innovative products and service.
Join Staubli Robotics in the Lanco Integrated Booth #1113 to view an example application of medical device sub component production and learn more about the many solutions we have provided for turnkey automated systems. In addition to Lanco Integrated live Cam platform, we are proud to display a Stäubli TX-2 robotic arm, which is often incorporate into flexible feeding systems.
About Stäubli North America
Stäubli's North American headquarters is located in Duncan, South Carolina offering support to Connectors, Robotics and Textile customers, while Stäubli Electrical Connectors (formerly Multi-Contact) operates its business in Windsor, California. The dynamic Stäubli sales force is strategically placed in MI, SC, West Coast, Canada, Mexico, and elsewhere throughout the continent.
Stäubli is a leading manufacturer of textile machinery, quick release couplings and robotics systems. With a workforce of over 5,500 employees Stäubli is present in 29 countries supported by a comprehensive distribution network in 50 countries worldwide.
For more information, visit www.staubli.us.
About Lanco Integrated
Lanco Integrated offers a worldwide design; sales, manufacturing, and service network committed to ensuring customers have local access to our wide range of systems and machine expertise. From concept and development to finished product and after-sales service, Lanco Integrated empowers global assembly.
http://www.lanco.net/
Featured Product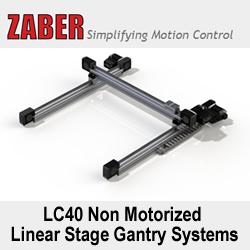 Zaber's X-LRQ-DE Series of linear stages have high stiffness, load, and lifetime capabilities in a compact size. The integrated linear encoder combined with stage calibration provides high accuracy positioning over the full travel of the device. At 36 mm high, these stages are excellent for applications where a low profile is required. The X-LRQ-DE's innovative design allows speeds up to 205 mm/s and loads up to 100 kg. Like all Zaber products, the X-LRQ-DE Series is designed for easy set-up and operation.