Manufacturing

Marketing Partner
---

Staubli Corporation
Stäubli's North American headquarters is located in Duncan, South Carolina offering support to Connectors, Robotics and Textile customers, while Stäubli Electrical Connectors operates its business in Windsor, California. The dynamic Stäubli sales force is strategically placed in MI, SC, West Coast, Canada, Mexico, and elsewhere throughout the continent.
---
Mailing Address:
201 Parkway West
Duncan, SC 29334
United States of America
Tel: (864) 433-1980
Fax:
Email: marketing.usa@staubli.com
Website: http://www.staubli.com
Company Category: Automation & Networking
Geographic Region: USA - South East
Company Sector: Manufacturing
Keywords: Robots, innovation, fastest picker, accurate
Partner Status: Marketing Partner
---
Products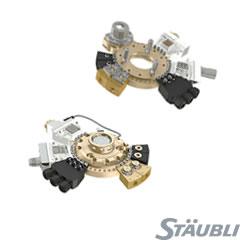 TX2 robots: redefining performance by offering collaborative safety and high performance in a single machine. These pioneering robots can be used in all areas, including sensitive and restrictive environments, thanks to their unique features. Safety functions are easy and inexpensive to implement. They allow a higher level of interactions between robots and human operators, while still guaranteeing protection of your people, production and investment.
---
Articles
Recently Stäubli introduced two compact fully automatic tool change systems, the MPS 130 and the MPS 260, for the medium payload segment, Stäubli Connectors rounds off the lower end of its existing series.
FABTECH gives Stäubli an opportunity to illustrate solutions that improve productivity while increasing profits.
---
White Papers
This Company does not currently have any White Papers
---
---