New Russell Screen Changer for lifting sieve decks to allow safe and comfortable access to the screen
To meet the demands of the modern-day processing industry, processing engineers are seeking ways to reduce downtime and labor costs, whilst maintaining the highest standards of safety and product quality. To identify ways in which the usability of its popular range of grading sieves could be improved, Russell Finex consulted a group of customers and the solution was the award-winning Russell Screen Changer™.

A new, advanced version of an existing Russell Finex product, this new quick screen changing system for round separators utilizes two high performance pneumatic piston assemblies, lifting sieve decks to a safe height allowing comfortable access to the screen. The unit is supplied with an easy-to-use control device, to raise, lower and lock the screen changer into place during maintenance.
An innovative interlocking safety system uses the latest pneumatic technology to provide a fail-safe design. By cutting the air supply and creating a lock effect, the cylinders are locked perfectly in situ. Even if the supply of air or power to the machine is lost, absolutely no movement is possible. The technology allows this to be done during both lifting and lowering operations, automatically locking safely into place whenever the operator releases the control button, ensuring the highest level of safety.
The new screen deck lifting device uses an innovative clamp ring fitting, which allows the system to be easily fitted to any large separator machine, and is compatible with other manufacturers' models. Also, where a factory has multiple sieves, it can be used on more than one vibratory separator and can be transferred from one to another quickly and easily.
Another new feature allows the operator to change multiple screens without having to remove or reposition the screen changer unit. This is a first for a screen changing device and further ensures maintenance time is kept to an absolute minimum.
Highlighting these enhancements, the new Russell Screen Changer™ has been recognized with two prestigious industry awards - the SHAPA (Solids Handling and Processing Association) Innovation Award and the PPMA (Processing and Packaging Machinery Association) Most Innovative Ancillary Equipment Award.
Russell Finex has 85 years' experience serving a variety of industries with sieving and filtration solutions. Contact the company for more information about how it can cater to your specific requirements at www.russellfinex.com
Featured Product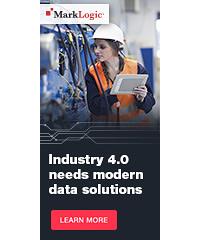 Use Data to Deliver Efficiency, Reduce Risk, and Create Better Products. Disruptive technologies and market changes are transforming the manufacturing industry, requiring a new focus on optimizing use of data and information. It all adds up to a new industrial revolution called Industry 4.0. Organizations who want to realize the potential of this revolution need to "Industrialize their data," making it a core asset to deliver better products and customer service, navigate complex business environments, and transform for the future. MarkLogic customers are delivering on this vision for data with a proven architectural pattern called the Operational Data Hub that simplifies the integration of data along the digital thread to power operational and analytic use cases across the enterprise.