Installation of screening machinery maximizes efficiency for removing rice by-product in US rice hull combustion power plant
With oil supplies stretched tight worldwide, oil recently topping $60 a barrel and nearly every industrialized nation concerned about global warming, the need for alternative energy sources has never been more critical. Agrilectric, a leading US operator of rice hull combustion power plants, is innovatively attacking the problem of non-renewable energy.

In business since 1984, Agrilectric now transforms the rice hull ash into a valuable product shipped worldwide. The ash is beneficial as a molten steel insulator, a concrete additive, and soil amendment. Its unique characteristics also make an excellent filter aid used in the chemical, wastewater, and swimming pool industries; and numerous US racetracks use ash products as oil absorbents.
For better production efficiency, Agrilectric decided to streamline its business model by bringing a previously outsourced process - screening rice hull ash for foreign material - back in-house.
They searched for a screener that would be durable, reliable and robust, and with contractual services agreements to be met the screeners had to be fully operational in less than one month. However, this was proving difficult to find, with their search finding machines that were too big or the manufacturer could not meet the delivery deadline. However, Russell Finex were able to meet all requirements with a high capacity 1500mm Russell Compact Sieve®. Being half the height of traditional screening machines this vibratory screener increased production capacity, boosted quality control and minimized product handling, lead and delivery times.
http://www.russellfinex.com/en/case-studies/screening-rice-hull-ash-at-agrilectric/
For 85 years Russell Finex has manufactured and supplied filters, sieves and separators to improve product quality, enhance productivity, safeguard worker health, and ensure liquids and powders are contamination-free. Throughout the world, Russell Finex serves a variety of industries with applications including food, pharmaceuticals, chemicals, adhesives, plastisols, paint, coatings, metal powders and ceramics. Contact the company for more information about how it can cater to your specific requirements at www.russellfinex.com
Featured Product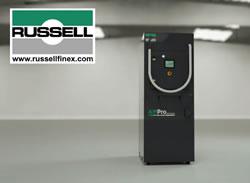 The Russell AMPro Sieve Station™ guarantees the quality of your additive manufacturing (AM) powder, and has been designed to provide optimum sieving efficiency, ensuring your powder is ready for use or reuse as and when you require it. With a simple one-button operation and mobile design, this automated check screener ensures your powder at every stage of the process is qualified for use quickly and safely. The flexibility of the Russell AMPro Sieve Station™ means you can use the system for numerous powder handling tasks - being a modular design ensures the machine can be configured to meet your exact requirements.