Industry-leading automation solutions provider Omron Automation Americas has launched a brand new website designed to improve ease of use for customers, distributors and system integrators. It provides several new features and tools, in addition to a more modern and fully responsive look and feel.
Hoffman Estates, IL., April 10, 2019 - Omron Automation Americas, a provider of end-to-end solutions for industrial automation, announces the launch of its brand-new website. Featuring several new tools for customers, system integrators and distributors, the website is designed to have a more modern look and feel with a fully responsive layout.

The new website, located at the URL https://automation.omron.com, offers enhanced content that focuses on Omron's wide-ranging industrial automation solution portfolio. It includes a blog as well as a multifaceted search functionality to improve navigation.
"We are excited to launch our new company website to our customers, investors, partners, media and visitors who are seeking to learn more about Omron's products and services," says Robb Black, President and CEO of Omron Automation Americas. "We believe this new site will provide a more worthwhile experience for our visitors as we placed significant emphasis on personalization and self-service."
Created with user experience in mind, the website's new tools and functionality include:
• OmronNow, a new self-service portal for Omron employees, distributors, system integrators and customers
• New blog section discussing industry trends, product highlights and more
• Expanded industry and solution sections that addresses pressing challenges
• Detailed product catalog with part number listings
• Easier Omron software registration
• Enhanced navigation with multifaceted search function
• Fully responsive design enabling compatibility with all browsers and mobile devices
Visitors are encouraged to explore the new website and stay informed on the latest details about technologies, product launches, events, corporate news and company information.
About Omron Automation
Omron Automation is an industrial automation partner that creates, sells and services fully integrated automation solutions that include sensing, control, safety, vision, motion, robotics and more. Established in 1933 and currently headed by President Yoshihito Yamada, Omron's 36,000 employees help businesses solve problems with creativity in more than 110 countries. Learn more at https://automation.omron.com.
Featured Product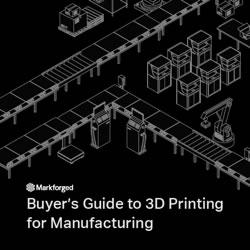 3D printing has become a powerful force in today's manufacturing industry from prototyping to tooling and fixtures to custom, end-use parts. Many businesses struggle to find the right solutions to fit their needs and provide ROI. Selecting the right platform to prevent manufacturing roadblocks is vital to optimizing your manufacturing line productivity. Download the all new buyer's guide to help you evaluate the benefits of 3D printing and dispel misconceptions, understand the pros/cons of various 3D printing processes and materials, and assess the key considerations in selecting a 3D printer.