ST's STM32WB wireless microcontrollers, available from Mouser Electronics, are based on ST's low-power STM32L4 microcontroller, and offer a rich peripheral set with power-conscious performance.
March 19, 2019 - Mouser Electronics, Inc., the authorized global distributor with the newest semiconductors and electronic components, is now stocking the STM32WB wireless microcontrollers from STMicroelectronics (ST). Supporting Bluetooth® 5.0, ZigBee 3.0, and OpenThread connectivity, the dual-core STM32WB microcontrollers are ideal for a broad range of Internet of Things (IoT) applications, including wearable devices, home security products, smart lighting, fitness and medical devices, industrial appliances, and asset tracking.

ST's STM32WB wireless microcontrollers, available from Mouser Electronics, are based on ST's low-power STM32L4 microcontroller, and offer a rich peripheral set with power-conscious performance. Centered around a 64 MHz Arm® Cortex®-M4 application processor core and an Arm Cortex‐M0+ network processor core, with up to 1 Mbyte of on-chip flash and 256 Kbytes of SRAM, the microcontrollers integrate a 2.4 GHz radio transmitter optimized for low power consumption and high RF performance.
The microcontrollers feature multiple power saving modes, including adaptive voltage scaling, 13 nA shutdown mode, and an adaptive real-time accelerator to enable zero-wait-state execution from flash memory. The devices offer state-of-the-art security features including public key authorization, customer key storage, and an elliptic curve encryption engine. The highly integrated microcontrollers also include a crystal-less USB 2.0 Full-Speed device, 32 MHz RF oscillator, analog peripherals, and a Quad-SPI port to connect to external memory.
The STM32WB microcontrollers are supported by the P-NUCLEO-WB55 Nucleo Pack, a comprehensive development kit that includes a Nucleo-68 Board with pre-mounted STM32WB55RG microcontroller, and a USB dongle with onboard STM32WB55CG microcontroller.
To learn more, visit www.mouser.com/stm-stm32wb-wireless-mcu.
With its broad product line and unsurpassed customer service, Mouser strives to empower innovation among design engineers and buyers by delivering advanced technologies. Mouser stocks the world's widest selection of the latest semiconductors and electronic components for the newest design projects. Mouser Electronics' website is continually updated and offers advanced search methods to help customers quickly locate inventory. Mouser.com also houses data sheets, supplier-specific reference designs, application notes, technical design information, and engineering tools.
About Mouser Electronics
Mouser Electronics, a Berkshire Hathaway company, is an award-winning, authorized semiconductor and electronic component distributor focused on rapid New Product Introductions from its manufacturing partners for electronic design engineers and buyers. The global distributor's website, Mouser.com, is available in multiple languages and currencies and features more than 5 million products from over 750 manufacturers. Mouser offers 23 support locations around the world to provide best-in-class customer service and ships globally to over 600,000 customers in more than 220 countries/territories from its 750,000 sq. ft. state-of-the-art facility south of Dallas, Texas. For more information, visit www.mouser.com.
Trademarks
Mouser and Mouser Electronics are registered trademarks of Mouser Electronics, Inc. All other products, logos, and company names mentioned herein may be trademarks of their respective owners.
Featured Product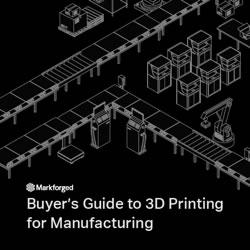 3D printing has become a powerful force in today's manufacturing industry from prototyping to tooling and fixtures to custom, end-use parts. Many businesses struggle to find the right solutions to fit their needs and provide ROI. Selecting the right platform to prevent manufacturing roadblocks is vital to optimizing your manufacturing line productivity. Download the all new buyer's guide to help you evaluate the benefits of 3D printing and dispel misconceptions, understand the pros/cons of various 3D printing processes and materials, and assess the key considerations in selecting a 3D printer.