The Awards honor top Partners in Xometry's On-Demand Manufacturing Network
Xometry, the largest online marketplace for custom manufacturing, announced today the winners of the inaugural Xometry Excellence in Manufacturing Awards. The honorees represent the top tier of Xometry's nationwide network of over 2,500 manufacturing partners based on their performance in delivering high-quality parts on time throughout 2018.

"We're thrilled to recognize our top performing Partners," said Randy Altschuler, CEO and co-founder of Xometry. "Our partners share our commitment to delivering high-quality work to our diverse customer base of engineers and designers across the country. We look forward to recognizing more partners in the future as our network continues to grow."
"We're excited to be recognized for our 2018 performance," said Jesse Kleiman of JR Metal Works, one of the Xometry Excellence In Manufacturing Awards honorees. "Our partnership creates a win-win-win situation for the customer, Xometry and the partner that we believe is unprecedented. I'm looking forward to hanging our banner on the wall."
Xometry's technology platform allows customers to easily quote and order custom manufactured parts online across a multitude of manufacturing processes, including CNC Machining, 3D Printing, Sheet Metal Fabrication, and Injection Molding. The parts are then sourced through over 2,500 vetted manufacturers. There is no cost for manufacturers to join the Partner Network and they can choose to accept only the jobs they want.
To learn more about Xometry's Partner Network and apply to become a Partner, please visit our site. You can read an overview of the Xometry Excellence In Manufacturing Awards here.
About Xometry
Xometry is the largest marketplace for custom manufacturing, connecting companies with optimal manufacturing solutions through proprietary AI algorithms. Xometry provides on-demand manufacturing and industrial supply materials to a diverse customer base, ranging from startups to Fortune 100 companies. Our nationwide network of over 2,500 partner manufacturing facilities enables us to maintain consistently fast lead times while offering a broad array of capabilities, including CNC Machining, 3D Printing, Sheet Metal Fabrication, Injection Molding, Die Casting, Stamping, Extrusion, and Urethane Casting. Xometry has over 14,000 customers, including BMW, General Electric and NASA.
Featured Product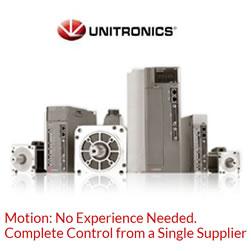 Unitronics' new line of AC Servo Drives & Motors changes the traditional approach to motion control. They are simple to set up and painless to program. Unitronics Servos simplify implementation of motion applications while minimizing complexity and reducing development time. Some of the easy-to-use features in this new line include implementing motion control easily with ready-made motion code, embedded diagnostic tools, and automatic communication setup.