On-demand manufacturing leader now offers customers the ability to request quotes from Network of qualified suppliers for Die Casting, Stamping, and Extrusion
Xometry, the largest on-demand manufacturing network platform, announced today a new service through which customers can request quotes for Die Casting, Stamping, and Extrusion work from its network of qualified partners.

To receive a quote, customers will upload their part files to Xometry's site and specify their part requirements. Then, an RFQ will go out to Xometry's national partner network and qualified shops will respond within 7 days. Customers can communicate with the shops who bid and select a supplier. It costs $20 + tax to issue an RFQ and send it to the network.
Xometry has expanded its partner network - which already includes over 2,500 shops in the US - to include Die Casting, Stamping, and Extrusion Suppliers. These partners will be eligible to receive discounts through Xometry's Shop Advantage program.
"We are excited to offer an RFQ service to our customers," said Randy Altschuler, Xometry's CEO. "This new offering allows us to serve additional needs for our customers as well as the manufacturers in our partner network."
Customers interested in receiving quotes directly from qualified suppliers can do so on Xometry's site. Die Casting, Stamping, and Extrusion shops who would like to join our network and receive RFQs from Xometry's customers can apply here.
About Xometry
Xometry is transforming custom manufacturing through a proprietary software platform which offers on-demand manufacturing to a diverse customer base, ranging from startups to Fortune 100 companies. It provides product designers and engineers the most efficient way to source high-quality custom parts, with 24/7 access to instant pricing, expected lead time and manufacturability feedback. Xometry's nationwide network of over 2,500 partner manufacturing facilities enables it to maintain consistently fast lead times while offering a broad array of capabilities, including CNC Machining, 3D Printing, Sheet Metal Fabrication, Injection Molding, Urethane Casting, Die Casting, Stamping, and Extrusion. Xometry has over 12,000 customers including BMW, General Electric and NASA.
Featured Product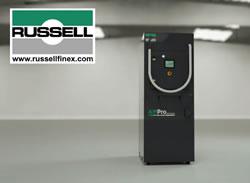 The Russell AMPro Sieve Station™ guarantees the quality of your additive manufacturing (AM) powder, and has been designed to provide optimum sieving efficiency, ensuring your powder is ready for use or reuse as and when you require it. With a simple one-button operation and mobile design, this automated check screener ensures your powder at every stage of the process is qualified for use quickly and safely. The flexibility of the Russell AMPro Sieve Station™ means you can use the system for numerous powder handling tasks - being a modular design ensures the machine can be configured to meet your exact requirements.