- Detects "Strange Behavior" to Prevent Sudden Stoppage of Equipment -
OMRON Corporation, based in Shimogyo-ku, Kyoto, will launch AI Predictive Maintenance Library on October 16. It is the company's first Sysmac Library for the Artificial Intelligence Machine Automation Controller (hereinafter referred to as AI Controller), the first in the industry (*1). The AI Controller fuses control functions of manufacturing lines and equipment and AI processing functions at manufacturing sites in real time. OMRON intends to realize Predictive Maintenance by providing the AI Controller and AI Predictive Maintenance Library. It provides maintenance services at the best timing instead of recovery services from a sudden stop and periodic maintenance by skilled workers to achieve non-stop equipment.

AI Predictive Maintenance Library provides significant patterns to realize predictive maintenance as software functional components. Combination of the Time Series Database Function, which collects and accumulates time series data synchronized with the control cycle at high speed, and the AI Engine, which detects "strange behavior" of equipment at high speed and accuracy based on the data, attains predictive maintenance in a short time. OMRON will successively release AI Machine Optimization Library, which realizes equipment that maximizes performance, and AI Quality-Yield Improvement Library, which achieves zero-defect equipment, following on AI Predictive Maintenance Library.
OMRON is working with its client companies to accomplish its original manufacturing innovation concept, "innovative-Automation!". Providing the AI Controller and Sysmac Library, the company accelerates the realization of Intelligence for automation (development of intelligence by ICT) to aim at a future factory where humans and machinery grow together with non-stop equipment, equipment that maximizes performance, and zero-defect equipment.
(*1) Based on OMRON's investigation as at November 2016.
"innovative-Automation!"
Recently, OMRON has developed a manufacturing innovation concept, called "innovative-Automation!" With this concept, OMRON is currently committed to bringing innovation to manufacturing sites through three key innovations, or three "i's." Through these innovations in the area of automation, OMRON aims to enable significant productivity improvements in manufacturing sites in order to achieve high-value-added manufacturing.
With the first "i," "integrated" (control evolution), OMRON will seek to advance automated control technology so that virtually any operator, even inexperienced operators, can effortlessly perform work that previously required the expert skills of experienced workers. With the second "i," "intelligent" (development of intelligence by ICT), OMRON seeks to create constantly evolving equipment and production lines. By adopting a wide range of control devices and artificial intelligence (AI), machines can learn through experience and maintain themselves in optimal condition. For the third "i," "interactive" (new harmonization between people and machines), OMRON pursues the development of a new harmonious relationship between human operators and machines. Working together in the same workspace, machines will be able to assist human operators by recognizing human thoughts and behavior.
About OMRON Corporation
OMRON Corporation is a global leader in the field of automation based on its core technology of "Sensing & Control + Think". OMRON's business fields cover a broad spectrum, ranging from industrial automation and electronic components to automotive electronic components, social infrastructure systems, healthcare, and environmental solutions. Established in 1933, OMRON has over 36,000 employees worldwide, working to provide products and services in 117 countries.
In the field of industrial automation, OMRON supports manufacturing innovation by providing advanced automation technologies and products, as well as through extensive customer support, in order to help create a better society. For more information, visit OMRON's website at: https://www.omron.com/.
Featured Product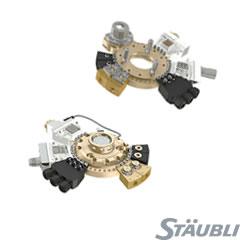 TX2 robots: redefining performance by offering collaborative safety and high performance in a single machine. These pioneering robots can be used in all areas, including sensitive and restrictive environments, thanks to their unique features. Safety functions are easy and inexpensive to implement. They allow a higher level of interactions between robots and human operators, while still guaranteeing protection of your people, production and investment.