The worlds premier manufacturer of specialty and sensitive environment robots will showcase superior automated solutions for the automotive and life science sectors
DUNCAN, S.C. (August 22, 2018) -- Stäubli will showcase its industry-defining robotic solutions, including its TX2 line of collaborative robots, at the 2018 ASSEMBLY show (booth #513) in Rosemont, Illinois, October 23-25.

Stäubli offers a complete range of dynamic robots for challenging industrial environments including life sciences, food, electronics, semiconductors, cleanrooms and more. At ASSEMBLY, the companys trade show display will focus heavily on the automotive sector where Stäubli will demonstrate its industry expertise in manufacturing automotive electrical components, engine parts and braking systems.
"Throughout the automotive sector, our products have become synonymous with high-quality, consistent performance," said Sebastien Schmitt, Robotics Division Manager, Stäubli North America. "With such a wide range of robotic options, we provide solutions for virtually every aspect of the production process."
Staubli will be illustrating auto parts handling, utilizing the Asycube flex feeding system, which spreads the parts on the picking surface using smart vibration. This system manages the feeding from the hopper in order to have enough components on the picking service while distributing and flipping the components as needed for accurate picking.
At ASSEMBLY, Stäubli will showcase an all-star lineup of innovative solutions, including:
• TX2 demonstrating the trimming and assembly of auto parts.
• TS and Asycube flex feeder demonstrating the handling of auto parts.
• TX2-40 presenting easy programming solutions
In addition to its automotive showcase, Stäubli will demonstrate its capabilities in medical assembly, simulating the packaging of medical devices in a germ-free, aseptic environment with its FAST picker TP80 4-axis robot, which will be picking and placing a glucose meter in a sealed, hygienic environment.
Stäubli is the undisputed market leader in special versions and offers the worlds widest range of specialty robots. The companys HE, Cleanroom, Super Cleanroom, ESD and Stericlean all deliver the same high level of performance of the standard models.
Visit Stäubli at booth #513 for the latest innovations from Stäubli Robotics and see how the companys clean, consistent, high-performance technologies are transforming manufacturing.
About Stäubli North America
Stäubli North America has over 200 employees supporting Textiles, Connectors and Robotics customers. The companys North American headquarters is located in Duncan, S.C., and the sales force is strategically placed on the West Coast, Canada, Mexico and elsewhere thoughtout the continent.
Stäubli is a leading manufacturer of textile machinery, quick release couplings and robotics systems. With a workforce of over 4,500 employees Stäubli is present in 25 countries supported by a comprehensive distribution network in 50 countries worldwide.
Visit www.staubli.us for more information on the company and products.
Featured Product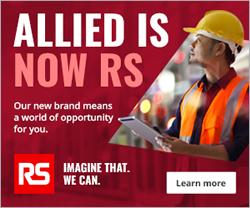 Become IoT Ready with RS PRO. Discover our new and extended range of sensors, data cables, HMI displays, network test equipment and more. RS PRO, our own brand, is here to support your IoT needs and help improve your operational efficiency. The RS PRO range of industrial IoT-enabling solutions from sensors, data cables and HMI displays to network test equipment will ensure you are IoT ready. View the full range of competitively priced products at rspro.com.