Machine Monitoring & Hardware Solutions for Mazak Users
La Mesa, CA (May 1st, 2018) - Shop Floor Automations (SFA) will have their solutions on display, alongside Scytec DataXchange, at Mazak West. The event will take place in Gardena CA from June 5th through the 8th; the open-house portion with technology on display will take place the 6th and the 7th.

Attendees can check in and enjoy networking over coffee each day of the open house from 9 a.m. to 10 a.m., with the main show taking place from 10 a.m. to 5 p.m. The event will feature informative technology panels on Wednesday and Thursday, as well as live demos of Mazak machine technology.
Solutions that will be on-hand at Mazak West from SFA:
Real-Time Machine Monitoring -Those looking to improve OEE, adapt IIoT solutions on their shop floor, take on lights-out manufacturing, and increase worker safety will want to see what DataXchange has to offer. The system has an on-premise solution, as well as a flexible, low-cost Cloud solution with no long-term contracts. Features for manufacturers using DataXchange include unknown downtime alerts, data entry via tablets situated at machines, email/text notifications, ability to export data via Excel/CSV sheets, and much more. DataXchange also offers a learning program for the system with videos and quizzes to help users best utilize the software.
Hardware for Mazak Machines - Hardware implementation for machines that handle Mazatrol CMT files is easily accessible and affordable. Mazak machines operators can add USB ports to machines, with the USB Connect Mazak pendant model. Since CNC networking software options are not available on all models of Mazak machines, the USB Connect Portable device is a great solution for drip-feeding EIA files to multiple machines. Machinists can also replace floppy disks with floppy drive emulators. The Mazak LAN Connect allows Ethernet functionality so that Mazatrol CMT programs can be sent and saved for Mazak machines. The LAN-USB Connect also combines the abilities of USB Connnect and LAN Connect hardware, which is great for handling EIA files.
Ask about our Skilled Technicians - SFA technicians are well versed in helping with Mazak machine productivity. They have years of experience in implementing solutions related to Industry 4.0 and work with protocols such as MTConnect. Technicians can service customers on-site, over the phone and via remote services.
About SFA: Shop Floor Automations is on social media on Twitter @SFA_inc, as well as on Facebook, YouTube, & Instagram under our company name. Call for more info at (877) 611-5825 or Email info@shopfloorautomations.com
Featured Product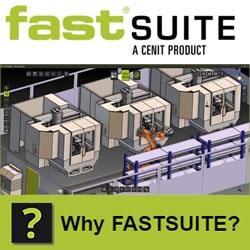 With two product lines, FASTSUITE for V5, which is seamlessly integrated with CATIA/DELMIA V5, and FASTSUITE Edition 2, a standalone platform, the areas of OLP (offline programming), manufacturing simulation and virtual commissioning are the core of our business activities. Our applications and solutions are not only focused on real customer needs, but they are also designed to improve efficiency and quality of our customers' manufacturing processes. No matter if the process is just about offline programming of a single robot at a small job-shop company or about the validation of a complete production line at an Automotive or Aerospace OEM. We strive to ensure a constant quality of our services and to provide the best possible support to our worldwide customers. Therefore we have established three digital manufacturing hubs around the world. All our teams have a proven expertise on manufacturing process integration and profound IT implementation skills.