In the US, just 16% of college students graduate with a STEM degree (Science, Technology, Engineering, or Mathematics) each year, a statistic strikingly lower than other developed countries. This shortage impacts employers in these fields, who often struggle to recruit highly-skilled candidates, despite offering compelling compensation packages.
To help resolve this gap, a stronger tie between education and business is needed. Programs that encourage high school and college students to study subjects like engineering, science, and math allows us to grow the future pipeline of STEM professionals. Companies have begun to proactively partner with educational institutions to support this initiative, and as students return to school this fall, many of them will bring with them a new set of skills developed by a summer STEM internship.

Aegis Software in Horsham, PA, is one technology company that is helping cultivate the next generation of talent, while also benefitting from the students fresh and up-to-date perspectives. Having just completed the annual Aegis STEM Internship Program, five students are headed back to LaSalle College High School (LCHS) and multiple US universities this month. The Aegis internship program develops more than just technical abilities, honing interpersonal skills such as teamwork, business communications, and time management—keys to success in any industry. The students form lasting professional relationships that will someday provide the foundation for their wider network.
Heres what the students had to say about their experience in their own words:
What tech projects did you work on this summer?
"We contributed to the redevelopment of the Aegis inForce application, which helps factories validate that parts on their assembly line are in the right place, at the right time. This will eventually help support features such as remote monitoring."
— James Crovo, LaSalle College High School Student
What skills have you developed over the past few months?
"I learned a great deal about how to organize and link together the different parts of a larger software package. It's easy to write one chunk of code that does one thing very well; it's much harder to coordinate between three different people writing five different interrelated chunks of code that work together seamlessly. Working on the same project as a team of three taught me that usually, the best code is the best-organized code."
— David Grabowski, Computer Science Major, Temple University
"Working on the inForce project as a group gave me opportunities to hone my communication and problem solving skills on a daily basis. The ability to speak effectively is an invaluable personal skill that I have gained through conversations with my coworkers. Writing code that is both efficient and coherent is crucial in development, and working in a team these past three months ensured that I practiced this technique."
— James Crovo, LaSalle College High School Student
What knowledge will you take back with you to implement in the classroom?
"It's a huge advantage to go back to school this fall with real-world experience to complement what I learn in an academic setting. Whenever I learn something in the classroom, whether its in an Algorithms class or a Software Engineering class, I can implement the "field knowledge" acquired at Aegis. This helps me understand the real significance of these lessons in the workplace."
— Mark Bense, Computer Science Major, LaSalle University
What skills will you take away for your future career?
"We worked in a collaborative group project setting at Aegis and I know that will be very helpful for my future career. This summer really showed me what it takes to start from near scratch with an idea, and make it a product. You need to have a good idea first, but then you have to consider a bunch of other variables as well. Overall, getting practice presenting to management is extremely valuable since no matter where you work, this is something you have to do."
— Mason Comtois, Mathematics Major, UCLA
From left: Eoin Kavanagh, Support Manager, Aegis Software; James Crovo, LaSalle College High School; Brian Gerhard, LaSalle College High School; Mark Bense, LaSalle University; John Walls, Chief Technology Officer, Aegis Software; David Grabowski, Temple University; Mason Comtois, UCLA; Jason Spera, Chief Executive Officer, Aegis Software; not pictured: Ryan Keller, Computer Science Major, LaSalle University.
What field(s) do you plan on studying in college and beyond?
"I am interested in cryptography and certain aspects of theoretical computer science. Cryptography is becoming extremely important as information assurance becomes a high priority and more devices are hooked up to the internet. I've also been interested in space/space exploration so if I ever got an opportunity in that field that would be cool."
— Mason Comtois, Mathematics Major, UCLA
"Im currently studying Computer Science at LaSalle University and will be graduating this coming year. This Internship has given me an idea of what would happen if I went into software development. This coming semester I will be taking a mobile development course, so hopefully the majority of what I have learned will transfer over to my course coming this fall!"
— Ryan Keller, Computer Science Major, LaSalle University
"I am entering my sophomore year at Temple University, pursuing a Bachelor's of Science degree in Computer Science! More specifically, I want to enter the field of cybersecurity."
— David Grabowski, Computer Science Major, Temple University
"In college, I plan to focus my studies on the branches of mathematics, and computer science, specifically software development. Another field of CS that has especially piqued my interest is cybersecurity. The need for skilled security architects, cryptographers, etc. becomes increasingly relevant as the general public begins to realize the potential for their privacy to be invaded by both foreign and domestic powers in the age of information."
— James Crovo, LaSalle College High School Student
Whats the next big "technology breakthrough" that your generation will drive?
"I believe that there is overwhelming potential for Virtual Reality (VR) and Artificial Intelligence (AI) in our daily lives in the near future. I can clearly see a place where VR will affect nearly every aspect of our work, schooling, and overall living conditions. Artificial Intelligence is something policy makers need to pay attention to as its already helping humans become infinitely more efficient."
— Ryan Keller, Computer Science Major, LaSalle University
Aegis Software is proud to be providing a platform for students to expand and grow their love for, and knowledge of the STEM fields. We look forward to following our interns career paths in the years to come.
Featured Product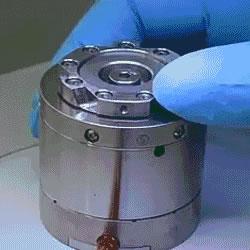 PI provides standard and custom linear, rotary, and spherical air bearing systems. They are available with 3-phase motors or voice coil motors, integral optical linear encoders. Our air bearings / and systems serve OEM, industrial, and research markets.