According to the National Workforce website: The National Fund Young Adult Employer Champions Program honors employers who provide high-quality jobs and successfully hire and retain 18-25-year-old young adults who are unemployed or underemployed and not enrolled in school.
PHILADELPHIA, June 16, 2017 /PRNewswire/ -- WITTENSTEIN in Bartlett, Illinois has been recognized as a "Young Adult Employer Champion" by the National Fund for Workforce Solutions. The award was presented to WITTENSTEIN's President and CEO Peter Riehle during the National Fund's 2017 Leadership Convening event, held at the Philadelphia Loews Hotel on June 15, 2017. WITTENSTEIN was one of nine manufacturers recognized as "champions" in the Pathways to Apprenticeship category.

According to the National Workforce website: The National Fund Young Adult Employer Champions Program honors employers who provide high-quality jobs and successfully hire and retain 18-25-year-old young adults who are unemployed or underemployed and not enrolled in school. The Employer Champions program is a central component of the Young Adult Sectoral Initiative, which aims to develop a deeper understanding of effective practices for connecting young adults to careers in rapidly growing industries.
WITTENSTEIN embraces this philosophy as well, according to President and CEO Peter Riehle, who noted "We need to offer young people more secondary education alternatives. The four-year college path is saturated, and often leaves students burdened with debt. Manufacturing apprenticeships offer an alternative, and can offer career paths to technology, operations and management positions just like non-industrial careers."
Apprentices at WITTENSTEIN are part of the Illinois Consortium for Advanced Technical Training (ICATT) program. Founded by the German American Chamber of Commerce, the ICATT program is aligned to the standards of the German apprenticeship system. During the three-year program, apprentices receive on the job training as well as an associate's degree. There are currently two apprentices in the ICATT program at WITTENSTEIN, and the company intends to hire more in the future.
Since initiating the apprentice program in 2015, WITTENSTEIN has been steadily gaining local and national attention for its leadership in stimulating skilled labor in the U.S. The company has led numerous tours and information sessions about the program, hosting delegates from industry associations, academic institutions, manufacturing companies and local government. In October of 2016, The Wall Street Journal featured WITTENSTEIN's apprentice efforts in an article titled "U.S. Companies Turn to German Training Model to Fill Jobs Gap".
When asked why WITTENSTEIN is so invested in leading the charge to promote skilled labor, Peter Riehle explained, "Addressing the skilled labor gap is a challenge for manufacturers worldwide - but it's about much more than just business. Yes, producing skilled workers is good for industry, but it's also good for the economy, it's good for society and it's good for our local communities. The U.S. can and should be a leader in the race to generate more skilled labor - and the ICATT program is a powerful proponent."
Anna-Katharina Wittenstein, Chairwoman of the Board for WITTENSTEIN, was the driving force in adopting the ICATT apprentice program. Attesting to the value of investing in skilled labor initiatives, she stated, "WITTENSTEIN is committed to being a global leader for innovation in our industry. We have always trained our own people, and to a great percentage through structured programs like ICATT. When you train your own employees based on a standard curriculum you have people with excellent skills who know your company."
About WITTENSTEIN in North America
Since 1992 WITTENSTEIN Inc., has supported the U.S., Canada and Mexico with solutions that embody the excellence and integrity that defines WITTENSTEIN. The North America headquarters in Bartlett, Illinois employs more than 125 people in executive, sales, engineering and technical support roles, as well machining, assembly, testing, service and inventory of products. The state-of-the-art machines and technical capabilities at this facility support WITTENSTEIN worldwide with mechatronic projects that integrate motors, gearboxes and controls. Dedicated to excellent customer support in product, delivery and service, WITTENSTEIN North America is certified to the latest ISO 9001-2015 standard. Our mechatronic products include servo gearheads, servo motors, servo regulators, sensors, software, servo actuators, servo drive systems, linear systems, custom motors for specialized applications and more. Learn more at www.wittenstein-us.com.
WITTENSTEIN SE- one with the future
With around 2,000 employees worldwide and sales of approximately €300* million in 2015/16 (*provisional figure), WITTENSTEIN SE enjoys an impeccable reputation for innovation, precision and excellence in the field of mechatronic drive technology - not just in Germany but internationally. The group comprises eight pacesetting Business Units with separate subsidiaries for servo gearheads, servo actuator systems, medical technology, miniature servo units, innovative gearing technology, rotary and linear actuator systems, nano technology and electronic and software components for drive technologies. Through its 60 or so subsidiaries and agents in approximately 40 countries, WITTENSTEIN (www.wittenstein.de) is additionally represented in all the world's major technology and sales markets.
Featured Product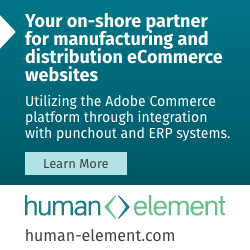 With Human Element, you will build a strategic partnership with experienced on-shore strategists and developers who understand the pain points unique to manufacturers and distributors. Using Agile methodologies and proven eCommerce website development strategies, our team positions clients for success.