Shop Floor Automations will have plenty of hardware & software solutions for attendees at WESTEC
La Mesa, CA (June 6th, 2016) - Shop Floor Automations (SFA) is thrilled to once again be attending WESTEC 2017. Their location at Booth 1935 will display software and hardware solutions to help manufacturers increase productivity, OEE, and profits without buying new machines or downsizing their workforce in order to afford upgrades.

Here are the Top 5 reasons to visit Booth 1935:
1) Hardware - SFA will be displaying their popular USB to CNC hardware options, such as the Portable USB Connect. Connect your machines via Ethernet and Wireless devices. One of their newest products, the WiFi USB Connect, is a great solution for enabling old machines to wirelessly send and save programs to a shared folder. SFAs popular Floppy Drive Emulator will be on display, as well as their newest version, which is the Okuma Floppy Drive Core Replacement. The highly anticipated Multi Connect will also be making a special appearance at WESTEC!
2) DNC Software - Having constant CNC communication failures? Are your programs too large to fit in the CNC memory? Want to be done with the worries of where programs are stored among your shop, or who is accessing them? DNC Software enables you to control and secure thousands of your CNC programs. SFA specializes in DNC communication via Predator DNC, which also comes with a free copy of Predator CNC Editor.
3) Machine Monitoring - Imagine increasing your productivity just by monitoring machine utilization. Get notifications whenever there is a production problem on your shop floor. Give machinists a voice, by giving them access to a fully featured data entry screen and monitors on the shop floor with machine OEE updates. Scytec DataXchange will be on-hand at Booth 1935 to give live demonstrations of their popular $45 per month machine monitoring software.
4) Job Scheduling - Its time to drop spreadsheets; graphical scheduling is the best new option for your shop floor! Make live changes to your production schedule and see how it effects your overall jobs list, in real time. See how early or late your projects really are. No longer waste time updating paperwork or fixing inevitable human errors.
5) Manufacturing Industry Swag - Come to Booth 1935 not only for information on manufacturing solutions, but also come check out SFAs world-famous G-code "theres no place like home" shirts. There will also be G-code mousepads available to attendees. Shirts will be given to those who stay with us for a brief consultation and get their badge scanned, but feel free to take a mousepad just for dropping by!
When visiting WESTEC 2017 in Los Angeles, be sure to stop by Booth 1935. You will be surprised at how little of an investment it takes to completely refresh your manufacturing shop floor!
About SFA: Shop Floor Automations is a Southern California-based MFG integrator since 1998. SFA carries the top brands of software and hardware to provide for their customers across the United States. Next year, they will be celebrating 20 years in business. Call (877) 611-5825 or email for more info via info@shopfloorautomations.com
Featured Product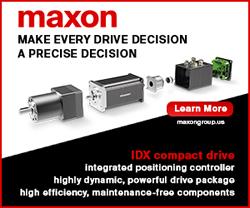 maxon motor launches new high-speed motors that are configurable online. The new ECX brushless motors are quiet and feature very high efficiency. The ECX motors are available with diameters of 8, 16 and 19 mm achieving speeds of up to 120,000 rpm. They run very smoothly and are highly efficient. With maxon motor's online configurator, it is easy to put together a customized DC motor to include gearhead, encoder and controller. The customized motors are ready to ship in 11 days!