Addresses need for tech skills in manufacturing workforce
DOWNERS GROVE, Ill.--(BUSINESS WIRE)--According to a recent study by the Career Advisory Board1, there is a general lack of technical proficiency among those entering the workforce. A 2015 study sponsored by The Manufacturing Institute and Deloitte2 found the skills gap in manufacturing could lead to an estimated 2 million unfilled jobs in the United States over the next decade, prompted in part by a lack of STEM (science, technology, engineering and math) skills among its workforce.

To help bridge this growing tech skills gap, DeVry University is expanding DeVry Bootcamp to include 11 online Advanced Manufacturing Programs in collaboration with 180 Skills, an online career and technical education company for the advanced manufacturing industry. These skill-based, manufacturing training programs are designed to help students learn the technical skills and develop the competencies needed for entry-level advanced manufacturing roles, including machining, quality control, safety and automation, across a variety of industries in as little as two to three months.
Offered online in Illinois, Ohio, Indiana and Michigan, the Advanced Manufacturing Programs offer a blend of step-by-step explanations, interactive visuals, simulations and assessments enabling students to master the program materials efficiently and at their own pace. Specific programs include:
Advanced Manufacturing Technician
Aerospace Electrical Assembly Technician
Aerospace Quality Technician
Aerospace Structures Technician
CNC Lathe Production Technician
CNC Machining Center Production Technician
Composites Manufacturing & Repair Technician
Drafting & CAD Technician
Mechatronics & Industrial Automation Technician
Quality Assurance Technician
Safety Technician
"DeVry University has deep roots in technology and 86 years of experience teaching students the necessary skills to help shape their future," said Shantanu Bose, Ph.D., provost, DeVry University. "With the resurgence in American manufacturing, its imperative students are trained to meet the growing demand for high-tech manufacturing skills. DeVry Bootcamp is here to help both students and employers bridge this skills gap."
To more information about the DeVry Advanced Manufacturing bootcamp programs, visit http://manufacturing.devry.edu.
About DeVry University
DeVry Universitys mission is to foster student learning through high-quality, career-oriented education integrating technology, business, science and the arts. Founded in 1931, the university offers undergraduate and graduate programs onsite and online within its five distinguished colleges of study: Business & Management, Engineering & Information Sciences, Health Sciences, Liberal Arts & Sciences, and Media Arts & Technology. The university is accredited by The Higher Learning Commission (HLC, www.hlcommission.org). To learn more about DeVry University, visit devry.edu.
Featured Product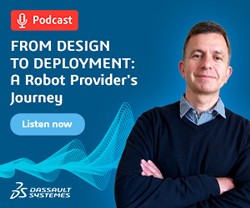 Let's listen to Arvind Krishnan, industry analyst at Lifecycle Insights and Michael Mayr, Industrial Equipment Sales Strategy Expert at Dassault Systèmes. They will discuss the robot industry and how startups can succeed in this market.