University is a participating member in eight Manufacturing USA institutes; Each institute to be awarded $70 million in federal funds, which must be matched with non-federal support
Worcester, Mass. - April 10, 2017 - Worcester Polytechnic Institute (WPI) today announced it is now a member of eight far-reaching institutes that fall under a public-private partnership known as Manufacturing USA. The partnerships build upon WPIs 150-year commitment to advancing manufacturing.

The shared goal of this initiative is to "secure the future of manufacturing in the U.S. through innovation, collaboration and education." Manufacturing USA brings together industry, academia and federal agencies to increase manufacturing competitiveness in the United States and promote a viable manufacturing infrastructure. The network encompasses 14 institutes established to date that focus on a range of areas, including material processing, robotics, biotechnology, and sustainable manufacturing.
"Manufacturing USA is all about establishing new pathways for academia and industry to partner on applied research and advanced workforce skills," said Mike Molnar, director of the Advanced Manufacturing National Program Office (AMNPO), an interagency team that operates the Manufacturing USA network and is headquartered in the U.S. Commerce Departments National Institute of Standards and Technology (NIST).
"Each institute is a public-private partnership where our academic partners are critically important in bridging the gap from lab to market. Were grateful to Worcester Polytechnic Institute for its participation as a partner in eight manufacturing innovation institutes, which demonstrates both an impressive breadth of experience with advanced manufacturing research and a commitment to Manufacturing USA that we truly appreciate."
WPI President Laurie Leshin said the universitys leading role with Manufacturing USA is in keeping with its heritage. "WPI was founded more than 150 years ago to support education and workforce development during the industrial revolution, and we look forward to driving innovation, career development, and other techniques to support 21st century manufacturing initiatives," she said.
The institutes are public-private partnerships, established with a five-year "start-up" cooperative agreement from a sponsoring federal agency. The typical institute award is $70 million, which must be at least 100 percent matched with non-federal support. Overall, industry and other non-federal sources have invested twice as much in the program as has the federal government. Sponsoring agencies include the Department of Defense, Department of Energy, and Department of Commerce.
Bogdan Vernescu, vice provost for research at WPI, noted that federal agencies issued a call for proposals for the institutes over the past several years. In turn, WPI partnered with other academic institutes to answer the need and were named on the winning proposals.
Vernescu said it is unknown at this point how much money WPI will receive in the process, but that its involvement holds promise. "Participation in these institutes will contribute to the growth in our research funding and lead to regional economic development," he said.
He added that the partnerships are key for success. "Were eager to partner with industry and other universities to develop solutions and products that transform manufacturing in the United States. WPI has the ingenuity and expertise to make a significant impact nationally," said Vernescu.
WPI will be a member of the following institutes that cut across multiple disciplines:
• Lightweight Innovations for Tomorrow (LIFT), according to Manufacturing USA, "is working to develop and deploy advanced lightweight materials manufacturing technologies." LIFT, created in 2014, is the first institute with which WPI was involved.
• Advanced Integrated Manufacturing in Photonics (AIM) "is working to accelerate the transition of integrated photonic solutions from innovation to manufacturing-ready deployment in systems spanning commercial and defense applications."
• Clean Energy Smart Manufacturing Innovation (CESMI) "works to spur advances in smart sensors and digital process controls."
• Rapid Advancement in Process Intensification Deployment (RAPID) convenes companies, universities, and labs "…to focus on new technologies" that conserve energy and creates savings.
• National Institute for Innovation in Manufacturing and Biopharmaceuticals (NIIMBL) "is working to enable more efficient and flexible manufacturing capabilities" and "develop a world-leading biopharmaceutical manufacturing workforce."
• Advanced Regenerative Manufacturing Institute (ARMI) seeks to "make practical the large-scale manufacturing of engineered tissues and tissue-related technologies."
• Reducing Embodied-energy and Decreasing Emissions (REMADE) "seeks to find new and less expensive ways to reuse, recycle, and remanufacture metals, fibers, polymers, and electronic waste."
• Advanced Robotics Manufacturing (ARM) aims to create new robotic technology "to realize the promises of a robust manufacturing innovation ecosystem."
To read a Q&A with Bogdan Vernescu about WPIs role with manufacturing, visit WPIs "Advancing Manufacturing" page.
About Worcester Polytechnic Institute
Founded in 1865 in Worcester, Mass., WPI is one of the nations first engineering and technology universities. Its 14 academic departments offer more than 50 undergraduate and graduate degree programs in science, engineering, technology, business, the social sciences, and the humanities and arts, leading to bachelors, masters and doctoral degrees. WPI's talented faculty work with students on interdisciplinary research that seeks solutions to important and socially relevant problems in fields as diverse as the life sciences and bioengineering, energy, information security, materials processing, and robotics. Students also have the opportunity to make a difference to communities and organizations around the world through the university's innovative Global Projects Program. There are more than 40 WPI project centers throughout the Americas, Africa, Asia-Pacific, and Europe.
Featured Product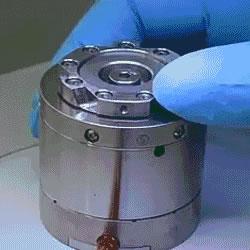 PI provides standard and custom linear, rotary, and spherical air bearing systems. They are available with 3-phase motors or voice coil motors, integral optical linear encoders. Our air bearings / and systems serve OEM, industrial, and research markets.