Proprietary curriculum 'Brilliant Learning will seek to train more than 150,000 global supply chain employees to fill gaps in Digital Industrial Workforce
BOSTON--(BUSINESS WIRE)--GE announced today a proprietary skills curriculum to train global supply chain employees for new, highly valuable jobs needed in our digital industrial economy. This new initiative will focus on lean, advanced, additive and digital manufacturing. Built on GEs Brilliant Factory strategy, which uses big data, software, sensors, controllers and robotics to increase productivity, 'Brilliant Learning is designed for GEs global supply chain employees but will also be available to all employees, in multiple languages across all levels of manufacturing roles.

Leveraging GEs rich training and development culture, the 'Brilliant Learning curriculum is custom-designed and adapted to individual site needs. It will include seminars, workshops, online courses and a series of immersion boot camps on lean manufacturing practices, advanced manufacturing, additive and other digital technologies transforming the industry. Instead of solely classroom learning, many components of the trainings will be hands-on and held in the manufacturing sites, including:
Becoming Brilliant Global Online Course - Four-week online course introducing all levels of employees to basic concepts of the four pillars of a Brilliant Factory: lean, advanced, additive and digital manufacturing
Advanced Manufacturing Workshops - Hands-on two-day learning experience for manufacturing engineers and other leaders; Interaction with technologies; demos of additive manufacturing processes
Lean Manufacturing Academy - Rigorous three-day learning and immersion for leaders such as Manufacturing Supervisors, Operations Leaders and others to improve business performance using lean leadership skills; Includes tours of manufacturing facilities; simulations and real-time tasks centered around productivity and cost savings, and on floor application of skills
Brilliant Leadership Seminar - Immersion experience for senior strategic leaders that will cover industry trends and engagement with external businesses for best practices
"Today, manufacturing is driven by productivity - and when combined with the merging of hardware and software, the need for a highly skilled labor force is becoming integral to the success and modernization of our industry," said Philippe Cochet, GEs Chief Productivity Officer. "At a time when the creation and retention of U.S. jobs in Americas manufacturing cities is more important than ever, GE is helping to secure these jobs through the execution of 'Brilliant Learning, and we hope it becomes a model for the industry."
GE invests more than U.S. $1 billion in employee development each year, helping employees learn and grow at every career stage through a broad range of classroom, social, digital and on-the-job learning experiences.
According to the U.S. Labor Department, between 2015 and 2016 an average of two unemployed manufacturing workers existed for each open position. U.S. manufacturing job openings are quickly outpacing qualified candidates, resulting in a widening skills gap across the industry. Through the implementation of 'Brilliant Learning, GE seeks to bridge this gap by training existing employees to use cutting-edge technology and new manufacturing processes that will lower cost and accelerate innovation, improve customer delivery, and elevate performance of GEs industrial products.
About GE
GE (NYSE:GE) is the worlds Digital Industrial Company, transforming industry with software-defined machines and solutions that are connected, responsive and predictive. GE is organized around a global exchange of knowledge, the "GE Store," through which each business shares and accesses the same technology, markets, structure and intellect. Each invention further fuels innovation and application across our industrial sectors. With people, services, technology and scale, GE delivers better outcomes for customers by speaking the language of industry. www.ge.com
Featured Product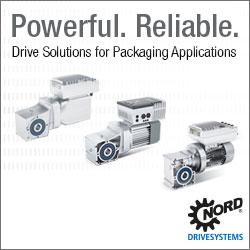 NORD's redesigned line of small CLINCHER parallel gear units showcase increased power and torque capacity for a variety of applications. These re-engineered versions will be replacing the existing SK0182NB, 0282NB, and 1382NB units. They are lightweight, have improved heat dissipation, are more cost-effective, and are available with NORD nsd tupHTM sealed surface conversion for wash-down and extreme environments.