Many devoting significant R&D budget towards robotics; A quarter say they have already invested in AI and cognitive computing technologies
NEW YORK, May 24, 2016 /PRNewswire/ -- A convergence of disruptive factors such as new technologies, increasing competition, and pricing pressures, is forcing manufacturers to increase investment in new products and services as they seek to innovate manufacturing capabilities, according to the 2016 KPMG Global Manufacturing Outlook (GMO) survey.

The 2016 Global Manufacturing report can be found here: www.kpmg.com/gmo
In KPMG's survey of 360 C-level global manufacturing executives, including 80 in the U.S., 39% say over the next two years they will devote a significant amount of R&D towards advanced manufacturing technologies such as robotics. In fact, many indicated they have already made investments in new digital technologies, with 25 % saying they have invested in artificial intelligence and cognitive computing technologies as well as in 3D printing and additive manufacturing technologies.
"Manufacturers recognize a failure to evolve will leave their organization in a non-competitive position," said Doug Gates, KPMG's Global Chair of Industrial Manufacturing. "The need to become more digital has never been greater and investments in new technologies are a way to enhance agility, flexibility and speed to market when launching new products and services-critical elements for manufacturing companies to win in the marketplace."
Of the respondents indicating plans to change their product range, more than half-56 %- say they will make significant investments to launch one or more new products into the market. Thirty-nine percent say they will invest to launch one or more new services.
According to the KPMG GMO, 21% of all global respondents say they expect to spend more than 10 % of revenues on R&D over the next two years, compared to 15 % of U.S. respondents. More than half (56% globally; 53% U.S.) say they will spend 4-10% of revenues in the next two years.
"Investing in innovative solutions and services is at the top of the agenda for manufacturers," says Brian Heckler, National Sector Leader of Industrial Manufacturing for KPMG in the U.S. "Whether investing in incremental improvements for existing products or inventing entirely new products and services, it is clear manufacturers recognize the need to increase their investment in innovation."
Other findings:
45% globally (42% U.S.) are concerned about the relevance of their products/services
38% globally (31% U.S.) are concerned about competitors ability to take business away from them
44% globally (42% U.S.) are concerned about customer loyalty
About KPMG LLP
KPMG LLP, the audit, tax and advisory firm (www.kpmg.com/us), is the U.S. member firm of KPMG International Cooperative ("KPMG International"). KPMG International's member firms have 174,000 professionals, including more than 9,000 partners, in 155 countries.
About KPMG's 2016 Global Manufacturing Outlook
KPMG's 2016 Global Manufacturing Outlook is based on a survey of 360 senior executives conducted in early 2016 by Forbes Insights. Respondents, who represented six industry sectors (Aerospace & Defense, Automotive, Conglomerates, Medical Devices, Engineering and Industrial Products, and Metals), were fairly evenly distributed between the Americas, Europe and Asia.
Featured Product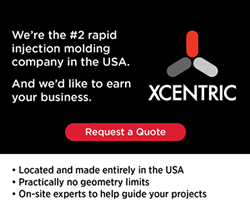 Xcentric plastic injection molding services focus on rapid delivery of prototype and low-volume production components. Our production processes are streamlined such that we typically deliver first articles in less than 15 business days, and for simple expedited projects in as little as five days. At the other end of the spectrum, we frequently produce components for customers needing a few hundred thousand components as a bridge to higher productivity molds. Over time, we have earned a reputation for being able to handle highly complex projects, overmolding, custom insert molding, and other complicated projects much faster than with traditional tooling, often helping our clients get to market weeks, if not months earlier. At Xcentric, every mold is designed and fabricated and all production is run in one of our two Michigan-based facilities.