The online network connects providers and consumers
Munich, 16. May 2016. The online platform ToolHubs.com is opening up a portal for providers and consumers of 3D printing, 3D scanning, CNC milling and laser cutting/engraving. Companies and private individuals can make unused machine capacity available online for a fee, while consumers benefit from a transparent and highly straightforward way of finding the service they need.

The portal ToolHubs.com is aimed at companies and private individuals who wish to take advantage of services like 3D printing and CNC milling without the expensive procurement costs. 3D printing, in particular, is enjoying a surge in popularity, with potential applications ranging from small works of art and model making to entire vehicles - the technology has developed to such an extent that the limits of possibility are now dictated solely by the users imagination. By establishing ToolHubs - that is, by connecting with the owners of such devices - the portal aims to make these services conveniently available to the consumer. At the same, it offers a number of advantages to the operators of the necessary equipment.
Owners of 3D printing, 3D scanning, CNC milling and laser cutting/engraving machines can now make their devices available to the general public. Joining the ToolHubs network is free of charge, and the network also covers services in the fields of electrical engineering and 3D modelling. The assignment of a job begins with a data upload, after which the provider has 24 hours to confirm the order. ToolHubs supports the payment process and the finished products are either sent via post or picked up from the providers premises.
"The idea for ToolHubs arose from a simple dilemma: a 3D printer was the only thing available to me for my personal projects, but now and then I also needed a CNC mill or a laser cutter. For a hobbyist, its far too expensive to purchase such equipment," explains Harald Eberl, one of the founders of the platform. At the same time as assisting consumers, ToolHubs.com also aims to open up new possibilities to companies whose equipment capacity is not currently being fully exploited. An overview of hubs and services offered - along with useful information - can be found online at www.toolhubs.com.
About ToolHubs.com
ToolHubs.com is a network for 3D printing, 3D scanning, CNC milling, laser cutting/engraving and services in the field of electrical engineering and 3D modelling. Owners and providers can use the platform to make their devices and services - the so-called "hubs" - available to other users for a fee.
Featured Product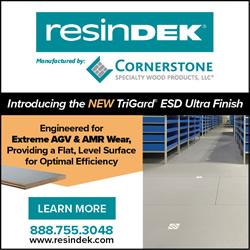 ResinDek flooring panels are designed for elevated platforms such as mezzanines, pick modules, and work platforms. They have the proven structural integrity to support dynamic and static rolling limits from 2,000 to 8,000 lbs. ResinDek flooring panels are available in a multitude of options that are customized for load capacities, required finish type, volume and type of traffic including heavy rolling pallet jack loads and robotic traffic with AGVs and AMRs.