Solutions include the 2016 Prism Award Finalist Fast Multi-Channel Photonics Alignment Engine
Motion control and nanopositioning systems leader PI (Physik Instrumente) L.P. introduces a new Photonic & Fiber Alignment Engines catalog, showcasing products with nanoscale accuracy, split second responsiveness, ultra-fast optimization, real-time tracking and 3 to 18 or more axes. Fields of applications are in data communication, SiP packaging - automation and in telecommunication.

PI offers innovative alignment systems, ranging from multi-channel solutions for silicon photonics wafer testing to compact automated motorized fiber alignment systems with integrated peak finding algorithms. Alignment engines range from motorized 6D hexapod micro-robot alignment systems for industrial photonics automation, through ultra-fast piezoelectric XYZ scanning & alignment modules. Robust software covers all aspects of application integration from easy setup to cross-platform use.
Standard and Custom
PI has in-house engineered solutions with over 4 decades of experience working with customers to provide products that meet application demands, and can quickly modify existing product designs or provide a fully customized OEM part to fit the exact requirements of the application.
About PI
PI is a leading manufacturer of precision motion control equipment, piezo motors, air bearing stages and hexapod parallel-kinematics for semiconductor applications, photonics, bio-nano-technology and medical engineering. PI has been developing and manufacturing standard & custom precision products with piezoceramic and electromagnetic drives for 4 decades. The company has been ISO 9001 certified since 1994 and provides innovative, high-quality solutions for OEM and research. PI is present worldwide with twelve subsidiaries, R&D / engineering on 3 continents and total staff of 850.
Featured Product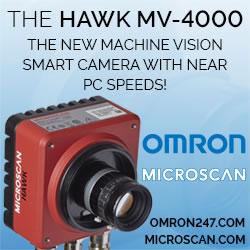 Awe-inspiring power and superior flexibility is sheathed within the contoured casing of the HAWK MV-4000. This smart camera builds upon the previous generation by quadrupling processing power and achieving real-time trigger response using an FPGA. Its state-of-the-art algorithms make it an excellent tool for any industry, whether the requirement be code reading, code verification, inspection, guidance, gauging or a combination of all four.