Solutions include the 2016 Prism Award Finalist Fast Multi-Channel Photonics Alignment Engine
Motion control and nanopositioning systems leader PI (Physik Instrumente) L.P. introduces a new Photonic & Fiber Alignment Engines catalog, showcasing products with nanoscale accuracy, split second responsiveness, ultra-fast optimization, real-time tracking and 3 to 18 or more axes. Fields of applications are in data communication, SiP packaging - automation and in telecommunication.

PI offers innovative alignment systems, ranging from multi-channel solutions for silicon photonics wafer testing to compact automated motorized fiber alignment systems with integrated peak finding algorithms. Alignment engines range from motorized 6D hexapod micro-robot alignment systems for industrial photonics automation, through ultra-fast piezoelectric XYZ scanning & alignment modules. Robust software covers all aspects of application integration from easy setup to cross-platform use.
Standard and Custom
PI has in-house engineered solutions with over 4 decades of experience working with customers to provide products that meet application demands, and can quickly modify existing product designs or provide a fully customized OEM part to fit the exact requirements of the application.
About PI
PI is a leading manufacturer of precision motion control equipment, piezo motors, air bearing stages and hexapod parallel-kinematics for semiconductor applications, photonics, bio-nano-technology and medical engineering. PI has been developing and manufacturing standard & custom precision products with piezoceramic and electromagnetic drives for 4 decades. The company has been ISO 9001 certified since 1994 and provides innovative, high-quality solutions for OEM and research. PI is present worldwide with twelve subsidiaries, R&D / engineering on 3 continents and total staff of 850.
Featured Product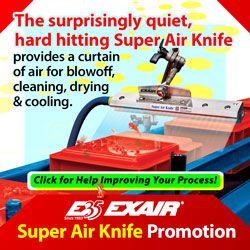 What Is The Super Ion Air Knife? EXAIR's Super Ion Air Knife removes static electricity from plastics, webs, sheet stock and other product surfaces where tearing, jamming or hazardous shocks are a problem. The laminar sheet of air sweeps surfaces clean of static, particulate, dust and dirt. Production speeds, product quality, and surface cleanliness can improve dramatically. Why The Super Ion Air Knife? The Super Ion Air Knife floods an area or surface with static eliminating ions - up to 20 feet (6.1m) away. A uniform airflow across its length will not cause misalignments to critical surfaces such as webs. Force can be adjusted from a "blast" to a "breeze". The Super Ion Air Knife is electrically powered, is shockless and has no moving parts. It also requires only 3.7 SCFM of compressed air per foot of length at 5 PSIG (105 SLPM per 300mm of length at 0.3 BAR). Sound level is surprisingly quiet at 50 dBA for most applications.