Zaber's new product, the X-NMS-E Series, simplifies motion control by incorporating a built-in controller and motor encoder. Capable of over 25,000 microsteps per revolution and up to 2800 rpm, this compact stepper motor includes a detachable home sensor and small magnet. An additional, optional away sensor is also available.
Like a
ll of Zabers X-Series products, the X-NMS-E is able to daisy-chain with other Zaber products, and is able to share a single power supply with multiple X-Series products.
Featured Product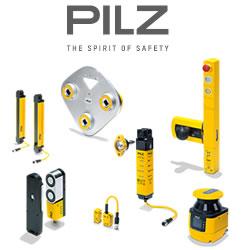 Pilz offers a wide range of safety sensors that conform to international standards and have been tested by certification bodies. Our sensor technology portfolio includes safety switches for monitoring positions, as well as guards. Optical sensors are ideally suited for area and zone monitoring. Choose from our wide range of light barriers, camera systems or tactile sensors, such as pressure-sensitive safety mats. Use our safe sensors in conjunction with our safe control technology! What you'll get from Pilz is an economical and safe complete solution. As well as being able to guarantee high efficiency for plants in an industrial environment, it is also especially important for us as a sensor manufacturer to protect humans, machinery and the environment.