• Former Silicon Valley giant Autodesk's top execs have started revolutionary Industry 4.0 company • Built as a 'cloud end-to-end production platform', Oqton's platform represents the next level of manufacturing software • Latest round of funding, led by Fortino Capital, PMV and Sandvik, will be used to expand its software platform and to further build global strategic partnerships
Ghent, Belgium / San Francisco, USA - January 15, 2021 - Oqton, Inc., the U.S.- and Belgium-based software company specialising in AI-powered solutions for the manufacturing industry, today announces that it has raised over $40M in a Series A financing round, led by Fortino Capital, a leading B2B software investor, by PMV, the regional Flemish investment fund, and by Sandvik, a global engineering group. The founding team (Samir Hanna and Ben Schrauwen) and several angel investors, including Carl Bass (former CEO Autodesk), Dries Buytaert (Drupal and Acquia), and Peter Mercelis (Layerwise) also participated in the round. The financing will be used to further develop its platform, while expanding its commercial partnerships in multiple domains and verticals (Additive manufacturing, Robotic welding, CNC machining).

Oqton's platform is unique in that it combines several manufacturing software capabilities (CAD, PLM, CAM, IOT, MES, QMS) into a single platform, enabling an unprecedented degree of AI-powered automation and optimization. Users can automatically capture expert knowledge and eliminate repetitive tasks, access technologies remotely and across multiple sites, and optimize production planning to improve utilization and quality.
Samir Hanna, Oqton's Co-Founder and Chairman, said: "We can already achieve 100% automation in the dental and jewelry verticals, resulting in 30% overall cost reduction. Given the platform strategy, the software can be targeted to many specific industry verticals, like dental, jewelry, medical, industrial and aerospace, as well as to different personas and workflows within those industries."
Being fully integrated, users can also link the platform to their traditional technologies, such as CNC, welding, and post-processing machines for a truly end-to-end manufacturing solution, making their processes faster, more adaptable, and more cost-effective. Oqton has already established partnerships with EOS, Sisma, Trumpf, Prodways and Sandvik.
Oqton's Co-Founder and CEO, Ben Schrauwen, said: "We are keen to have new investors on board who can help us scale globally, with both a direct and indirect sales approach. We truly think the time has come for the manufacturing space to embrace the cloud and we are working hard to facilitate this."
This funding round coincides with the announcement that Ben Schrauwen, Oqton's CTO, will be taking over as CEO. Samir Hanna, Oqton's Co-Founder and leaving CEO, will become Executive Chairman. Both Samir Hanna and Ben Schrauwen are serial entrepreneurs, previously at Autodesk together, where they spent 10 and 4 years respectively in senior executive positions before founding Oqton.
About Oqton
Oqton develops AI-powered manufacturing solutions to allow manufacturers to manage, optimize, and automate their additive manufacturing workflows. Their software offering is a secure, cloud-based platform that links data across the complete manufacturing ecosystem - from design to production to logistics. Founded in San Francisco, Oqton is based in Ghent, Belgium, with offices in the US, China and Denmark.
To learn more about Oqton, visit www.oqton.com or contact info@oqton.com.
Featured Product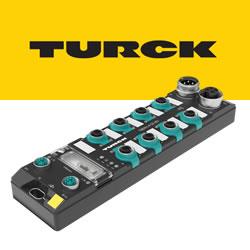 The new IP67 Managed Ethernet Switch from Turck provides standard and Gigabit ports in the same device. Configure, manage, and monitor connected machines and devices remotely, outside of a control cabinet. Find out more about this rugged solution for decentralized control. Part number TBEN-Lx-SE-M2. • Gigabit high-speed backbone for fast link-up times • Standard and Gigabit ports on the same device • Web-based diagnostic tools for preventive maintenance • Built-in security with the use of VLAN, NAT routing and firewall