See the GEN3SYS XT Pro insert catering to the structural steel industry. Engineered to extend tool life and withstand the heat produced while drilling in structural steel beams and plates.
Chicago, IL- Allied Machine & Engineering, a leading manufacturer of holemaking and finishing tooling systems will display their newest GEN3SYS XT Pro high-penetration insert designed specifically for structural steel applications at FABTECH in booth #A3491, November 11th - 14th, 2019. With a proprietary blend of substrate and multilayer AM420 coating, the insert is composed to withstand the extreme heat produced while drilling in structural steel beams or plates in high production facilities. Allied's XT Pro structural steel insert is designed to run most effectively in our GEN3SYS XT structural steel holders, improving both chip formation and tool life while reducing vibrations to create a higher quality hole.

While Allied's entire XT Pro product line thrives in high-penetration drilling applications, this unique combination of carbide grade, geometry, and high-temperature coating is designed to run at or beyond current O.E.M. rates in structural steel applications. The insert's simplified setup and extended tool life reduces changeover and increases throughput. Their upgraded carbide insert has been completely redesigned to improve throughput and cut operational costs by extending tool life and increasing penetration rates. To preview the GEN3SYS XT Pro structural steel insert in action, watch this brief demo here. For more information about Allied's GEN3SYS XT Pro insert created for structural steel drilling applications, please call 330.343.4283 or visit www.alliedmachine.com/XTPROST.
Featured Product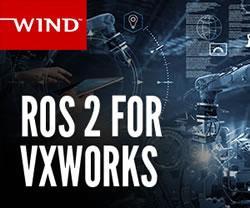 Develop new robotic capabilities with ROS 2 for VxWorks. ROS 2 for VxWorks® project provides custom modifications and build scripts to integrate the Robot Operating System 2 (ROS 2) framework with VxWorks 7. ROS 2 is a set of software libraries and tools that aid in building robot applications. Build ROS 2 for VxWorks using 1) with a VxWorks SDK that is available on the site under a free non-commercial use license; or via 2) with a commercially-licensed VxWorks product.