Enhancements to Lumberg Automation LioN-Power IO-Link System Enable Greater Flexibility in Factory Automation
St. Louis, Missouri - February 19, 2019 - Belden Inc., a global leader in signal transmission solutions for mission-critical applications, has expanded its Lumberg Automation LioN-Power IO-Link System to help industrial manufacturers address fast-growing Industrial Internet of Things (IIoT) connectivity needs through simplified device automation. New updates to the LioN-Power family offer maximum versatility and cost-effectiveness. In addition to leveraging standardized protocols, the products feature user-friendly integration and configuration tools that eliminate the need for specialized programming skills. Furthermore the LioN-Power IO-Link System makes it possible to implement predictive maintenance by transmitting diagnostic data of intelligent IO-link sensors and actuators before a failure happens.

"The LioN-Power IO-Link Master convinces with features that significantly simplify installation and cross-functional field application", said Artjom Bil, product manager I/O Systems at Belden. "By extending the IO-Link System with the new I/O Hubs, we meet customer demands for more flexibility. All parameters, digital inputs and outputs, port configurations and security adjustments can be adapted individually to customer requirements ex works."
Enhancements to the LioN-Power IO-Link System include:
• Lumberg Automation has added two LioN-Power IO-Link I/O Hubs with 10 digital inputs and 6 digital outputs (10DI 6DO) and 16 universal usable inputs and outputs (16DIO). IO-Link devices, IO-Link Masters and I/O Hubs can now be easily connected to process up to 132 I/O signals per system. This offers an effective way to update from passive to active systems or to collect many digital signals in distributed environments. Moreover IO-Link devices are designed to work seamlessly with the TMG IO-Link Device Tool as well as the TE concept tool in the future.
All LioN-Power System components are designed to operate in the harsh and confined environments typical for robotics; machine and material handling; automotive and food/beverage manufacturing; transportation; and other industrial sectors.
For more information on the Lumberg Automation LioN-Power IO-Link System, visit LioN-Power IO-Link System.
Featured Product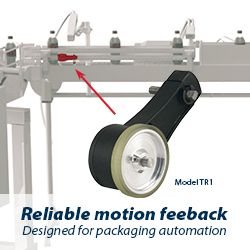 The Model 30MT is a compact magnetic encoder module designed for the most extreme environments. It offers sealing up to IP69K, an operating temperature range of -40° to 120° C, and a shock and vibration rating that conforms to Mil-STD-202G. With a large air gap and tolerance to misalignment, up to 1024 CPR (4096 PPR with Quadrature Counting), and easy alignment and installation, the Model 30M or is an excellent solution where you need motion feedback in your robotics application.