In this Allied Expert Advice article, Altech Corporation's Automation Product Manager, Laszlo Gyorgypal, answers six common questions about power supplies to help you select the best solution for your industrial automation application.
Six Common Questions About Power Supplies – Solved!
Laszlo Gyorgypal, Product Manager – Automation, Altech Corporation for | RS
In today's industrial environment, many manufacturers use automation to meet their ambitious production schedules. The benefits of this strategy are vast and obvious. Instead of relying exclusively on manual labor, small, highly complex robots can be programmed to perform simple, repetitive tasks at a level that far surpasses anything a human could match in terms of both quantity and quality. With automated systems in place, manual labor can be reserved for accomplishing more specialized tasks, creating an ideal partnership between humans and machines that results in more efficient processes, maximum value-per-dollar, and higher-quality products. With substandard power, however, the value that robots can bring to the production line is all but eliminated, compromising the company's automation investment and putting production estimates at serious risk.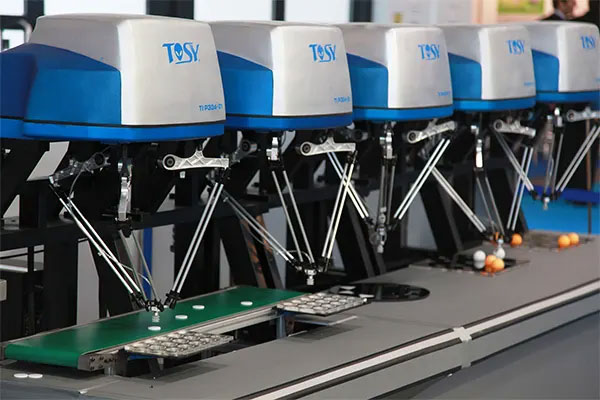 Luckily, we are now living in an era of profound technological advancement, with revolutionary new products across all industries entering the marketplace at an incredible rate, each of which strives to perform tasks easier, faster, and more efficiently than previous generations. Power supplies are no exception, and leading manufacturers are now offering cutting-edge DIN rail power supplies that are easy to purchase, easy to install, easy to maintain, and capable of powering teams of robots on production lines for years to come.
In fact, there are so many options for automation engineers to choose from that choosing the right power supply to trust with your organization's robotic operations can prove to be quite the challenge. So, to provide some direction for those of you who are just beginning your power supply purchasing journey, I've collected and answered six of the most common questions that our technical product support team receives about power supplies.
1. What are the primary factors that account for price differences between power supplies?
It's important to remember that cost alone is not a determination of quality. A better mindset is to approach a power supply purchase, or any purchase, with a value-per-dollar mindset. Some of the primary factors that account for cost differences in power supplies include size, durability, and wattage. For example, ruggedized, higher-wattage power supplies with a small form factor may be more expensive than larger, lower-wattage, or less environmentally robust power supplies. Cost-of-ownership considerations including ease of installation, operating and maintenance costs, and disposal expenses also factor into total cost.
To ensure that your power supply meets rather than exceeds or falls short of the application requirements and, as such, that you're getting the best value, you can define your needs through a careful analysis of the application at hand. For example, automation applications related to edge computing, sensors, and robotics may require consistent, high-level DC power to avoid extremely costly production issues and downtime, while simpler applications such as a desktop computer or a copy machine can be just fine with a basic, lower-cost power supply. Will a top-shelf supply be better for a copy machine? Maybe slightly. But is your organization realizing maximum value-per-dollar with that decision? Almost certainly not.
It's also worth mentioning that, for all the variability offered by the wide range of power supplies available today, there are some commonalities that should make your selection a little easier. For example, the DIN rail mounting system available on many power supplies is an industry-standard feature designed to enable quick and easy installation and maintenance regardless of application. And, of course, standards compliance is vital for ensuring operator and equipment safety; but all the power supplies offered by authorized distributors like Allied are guaranteed to provide clean, consistent power in accordance with individual product specifications.
2. How does the new generation of power supplies differ from previous generations?
Lots of ways! Power supply manufacturers are constantly striving to improve power density and efficiency. Through continuing advancements in components including power transistors, inductors, transformers, and high-frequency electronics, power supply designers have been able to enhance power density (W/cm3) to levels capable of delivering 480W power supplies in roughly the same form factor as the previous generation's 120W power supplies. For example, Altech's PSD Series low-profile DIN rail power supplies offer a 60W supply with a height profile that's half the size of competing 60W solutions, and its compact PSC Series DIN rail power supplies offer a 240W supply that's just 40% the width of its previous iteration, the PSP Series. Compact and low-profile power supplies with high power densities like these are ideal for use in the densely populated control cabinets common in automation applications. The more automated an industrial machine becomes the more controls and power supplies have to fit into its electrical cabinet.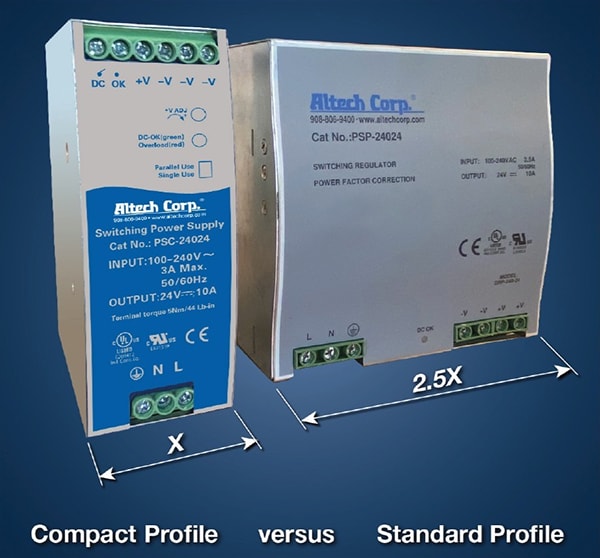 3. How durable are power supplies, and can they be used in harsh environments featuring hazards like high humidity?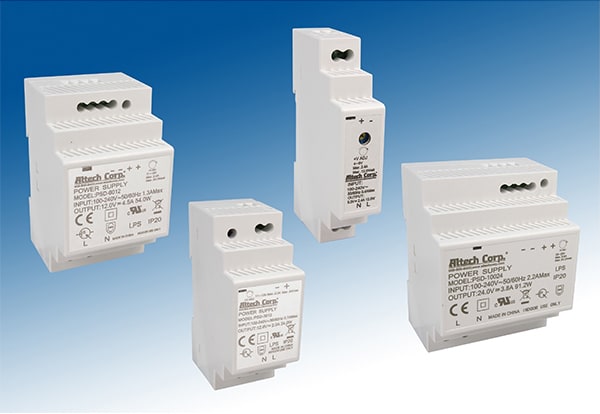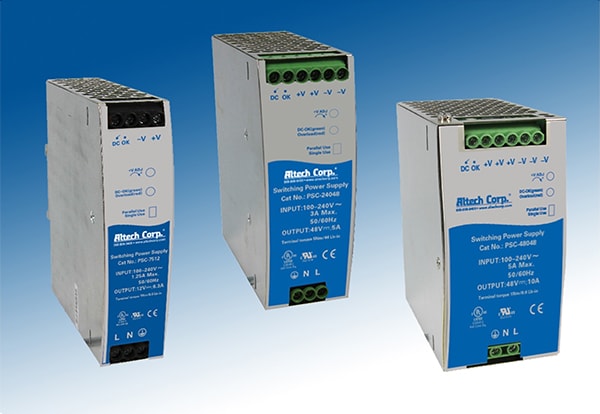 4. How do I know what power supply certifications are applicable to my application?
Understanding the certifications that apply to power supplies based on where they are sold and operated — and which will apply to you — is a critical part of the selection process. Before making a purchase, I recommend looking into your local and country certification requirements. Depending on where you are, your power supply may need to comply with the UL 508 Standard for Industrial Control Equipment Safety in the U.S. and Canada, the 2014/30/EU Electromagnetic Compatibility EMC directive and 2014/35/EU Low-Voltage Directive in Europe, and the international IEC 61000-6-4 emissions standard, IEC 61000-6-2 EMC immunity standard, and IEC/EN60204-1 electrical equipment safety standard.
Just keep in mind that the requirements for these certifications change periodically. And if you ever have any questions, reach out to your trusted supplier or distributor partner. They have to stay on top of these things and will be happy to help you make the right choices for your unique application.
5. How often will I need to change or upgrade power supplies?
One of the coolest features of many modern power supplies is their flexibility. Some, for example, feature semi-resonant switching power technology that provides dynamic output power efficiencies up to 93% and supports operating temperatures spanning -25°C to 70°C, making them ideal for a variety of application environments prone to location-based voltage variances and drastic temperature fluctuations. Many newer power supplies also offer single-phase, dual- or split-phase, and three-phase inputs up to 600W, and some even support parallel configurations for increased voltage loads. Modern power supply features like mean that, no matter how your application evolves over time, there is a very good chance that you won't need to replace your power supply until it's reached the end of its useful lifetime, which can save you a significant amount of time and money.
6. What is the best way to cable and wire a power supply during installation?
Generally speaking, for loads higher than a few tens of milliamps, cabling between the load and the power supply should be kept as minimal and as large in cross-sectional area as possible. Doing so will keep efficiency losses at a minimum, reduce voltage across the load terminals, and minimize cable heating. The same logic also applies to wiring: Keep all connections as short as possible to minimize noise.
Allied and Altech: Products and Expertise to Power Your Automated Equipment
Altech Corporation is a leading supplier of components and devices engineered for industrial control and automation applications, including power supplies, busbars, contactors, overload relays, DC UPS solutions, and circuit protection products extending from fuses to breakers — all of which comply with relevant UL and international standards and are RoHS and REACH compliant and manufactured in an ISO 9001 facility.
Allied offers an extensive selection of Altech products optimized for industrial control and automation applications as well as a team of highly trained sales representatives, dedicated key account managers, and technical support staff that can help you select the best solutions for your unique applications. The Allied team can also walk you through the installation process and support you throughout the maintenance phase to help ensure that your power supply solutions continue to operate at maximum efficiency.
The content & opinions in this article are the author's and do not necessarily represent the views of ManufacturingTomorrow
---
Comments (0)
This post does not have any comments. Be the first to leave a comment below.
---
Post A Comment
You must be logged in before you can post a comment. Login now.
Featured Product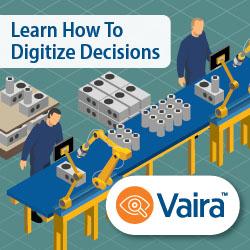 Vaira™ helps manufacturers digitize, automate, and upgrade error-prone manual processes and decisions to boost productivity and increase profits by helping humans make decisions consistent, reliable, and traceable. The camera-based solution is powered by a scalable suite of shop floor-ready apps built on proven machine vision and AI expertise for frontline manufacturing operations, with two-way integration to resource planning tools to help drive continuous analysis, insight, and improvements. Start digitizing immediately, streamlining processes customized to your unique requirements and reduce errors that lead to costs, delays, and quality concerns.