In the face of labor shortages and increasing demand, a plant's ability to drive efficiency and productivity is more important than ever. That's where plant management software plays a critical role in helping deliver plant performance.
Mitigating the Labor Shortages in Manufacturing with Plant Management Software
Article from | SafetyChain Software
Labor shortages in manufacturing, coupled with strong demand, supply chain delays, and increasing global competition, are creating unprecedented challenges for many industries. With plant jobs still widely unfilled, the manufacturing workforce is being squeezed to fill orders and meet increasing demand with fewer trained workers on the production lines.
Working closely with manufacturing executives as they strategically address these challenges I've gained valuable insight on not just how we got here, but more importantly, how we move forward in a way that helps plants boost productivity and performance with fewer people.
Challenges: Manufacturing's Labor Shortage Problem
Despite a staggering reduction in unemployment—from a high of 14.8 percent in April 2020 during widespread lockdowns to a current unemployment rate of 3.6 percent—many manufacturers are struggling to fill shifts. Many people returning to the workforce migrated from their original positions and specialties, often out of their former industries altogether. In addition, many skilled operators are aging out of the workforce. Not only did the pandemic push many to early retirement, but also many Baby Boomers are simply old enough to exit the labor force.
As I have the opportunity to speak with and learn from manufacturing executives on a regular basis —I have heard the myriad of challenges facing their companies and the industry. Invariably, there are three common characteristics among them:
They are growing fast - in many cases unable to keep up with demand

They don't have enough people - hiring is the top priority and challenge for most

They are collecting data (lots of it) - it's everywhere, and yet often, underutilized
In the face of labor shortages and increasing demand, a plant's ability to drive efficiency and productivity is more important than ever. That's where plant management software plays a critical role in helping deliver plant performance.

Solutions: The Digital Transformation with Plant Management Software
It's not a surprise to anyone that technology in manufacturing is being adopted from the back office to the plant floor. This shift often referred to as "digital transformation", supports a number of workforce initiatives including recruiting, engagement, retention, training, productivity, and more.
Many organizations have already invested in digital transformation technologies across their business. In fact, some analysts project these investments may top $6.8 trillion globally by 2023. However, just implementing new technology that does not always correlate to a significant return on investment (ROI). We often find that manufacturers have been jumping into digital transformation without a clear plan or understanding of what they are looking to accomplish. In speaking with many manufacturing leaders, I have heard one common thread; the most important factor to achieving a truly effective digital transformation strategy is understanding what success looks like for your organization.
Here are a few key strategies that manufacturers have utilized to gain clarity and direct in their digital transformation:
Develop a clear sense of the organization's priorities and construct a comprehensive roadmap

Identify the organization's talent needs, and develop support and upskill tools

Digitization of documents for data collection

Determine where and how automation can boost productivity and compliance

Select the appropriate digital transformation tools for the task
One effective digital transformation solution for plant manufacturers that will generate a clear ROI and help drive plant performance in the face of today's labor shortages is plant management software. A comprehensive software platform enables fewer employees to drive better, faster outcomes to support improved plant productivity.
"Employees have seemed much happier since the [plant management software] technology has been introduced. They're thrilled to spend less time writing, and since they know they're completing their tasks correctly, their confidence has increased tremendously. Additionally, they can receive instant feedback."
- Erica, RiceWraps VP of Quality Operations
Plant management software plays a critical role in the digital transformation strategy that can help organizations quickly identify and mitigate issues in the plant. This can automate the tracking of key manufacturing metrics and provide real-time visibility into plant performance. By leveraging both human and machine collected data, manufacturing leaders are enabling continuous improvement across departments (quality, operations, safety, maintenance, etc) to boost the bottom line with fewer resources.
As global markets and consumption patterns are rapidly evolving, manufacturers cannot do what they have always done. Technology is a tool, and like any good tool, it needs to be paired with the right strategy to ensure a positive outcome. In the face of labor shortages and increasing demand, a plant's ability to drive efficiency and productivity is more important than ever. And now, more than ever, there is technology that can help.
The content & opinions in this article are the author's and do not necessarily represent the views of ManufacturingTomorrow
---
Comments (0)
This post does not have any comments. Be the first to leave a comment below.
---
Post A Comment
You must be logged in before you can post a comment. Login now.
Featured Product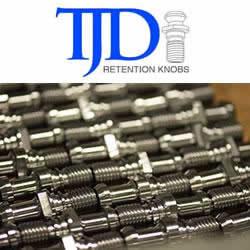 Our retention knobs are manufactured above international standards or to machine builder specifications. Retention knobs are manufactured utilizing AMS-6274/AISI-8620 alloy steel drawn in the United States. Threads are single-pointed on our lathes while manufacturing all other retention knob features to ensure high concentricity. Our process ensures that our threads are balanced (lead in/lead out at 180 degrees.) Each retention knob is carburized (hardened) to 58-62HRC, and case depth is .020-.030. Core hardness 40HRC. Each retention knob is coated utilizing a hot black oxide coating to military specifications. Our retention knobs are 100% covered in black oxide to prevent rust. All retention knob surfaces (not just mating surfaces) have a precision finish of 32 RMA micro or better: ISO grade 6N. Each retention knob is magnetic particle tested and tested at 2.5 times the pulling force of the drawbar. Certifications are maintained for each step in the manufacturing process for traceability.