For consumable authentication, the RFID reader can be embedded directly in the device the consumable is used in, providing an integrated and automated solution with little need for user intervention.
Consumables Authentication: Why RFID Tags Are the Smart Option
Sean Houchin, Product Manager | ELATEC Inc
From 3D printers to medical devices, original equipment manufacturers (OEMs) have a vested interest in ensuring that only approved consumable materials are used in their devices. Radio-frequency identification (RFID) offers a more secure and robust solution for high-end consumable materials than barcodes, QR codes or manual entry. RFID can help OEMs protect revenue streams while improving user safety, satisfaction and workflows.
Why Consumable Authentication Matters
Most consumers are well acquainted with the "razor-and-blade" model of loss leader sales, in which the durable good (the razor) is sold at cost or a loss so manufacturers can get recurring revenues for the consumables (the blades). And certainly, this revenue model applies to many kinds of goods and devices, including standard printers and ink, 3D printers and filaments, and welding equipment and wire. The stakes are especially high for higher-end devices and equipment, such as medical devices and large industrial machines that use expensive consumable supplies.
But protecting revenue is only part of the story. OEMs have many reasons to care about the provenance of consumable materials used in their devices. For example:
Protecting user safety by ensuring that consumables used in the device are the correct type and are not expired.

Preventing damage to the device and warranty claims related to the use of substandard or non-approved materials.
As a case in point, medical device manufacturers may not produce medications or consumable supplies themselves. But to improve patient safety and protect the integrity of their devices, they still need to ensure that medications or supplies come from approved vendors and meet device specifications and quality and safety standards. They also have an opportunity to help their buyers reduce medical errors and streamline workflows with a robust consumable authentication solution.
The Benefits of RFID for Consumable Authentication
RFID has long been used for authorization and access control for both people and goods. Most employees are familiar with the RFID badge or fob, commonly used for building entry and access to printers, elevators, vending machines and other devices inside the building. A similar tag can be embedded into a product label. The RFID tag transmits information to an RFID reader using either high-frequency (HF) or low-frequency (LF) radio waves.
For consumable authentication, the RFID reader can be embedded directly in the device the consumable is used in, providing an integrated and automated solution with little need for user intervention. Alternatively, the RFID reader can be connected as an external device in which all the user has to do is scan the RFID tag on the packaging or label for the consumable before installing it—a process that takes less than a second. Thus, RFID offers significant benefits compared to manual entry, barcodes or other material authentication methods.
RFID is more secure and reliable than barcodes or printed QR codes, which are easy to counterfeit and may be compromised if torn, wrinkled or exposed to moisture. With RFID, encryption can be used for highly secure data transmission that is nearly impossible to counterfeit. This ensures that only consumables produced by the OEM or an approved vendor can be used in the device.

RFID eliminates user error associated with manual entry of part numbers and is fast, easy and frustration-free for users. Eliminating manual entry speeds up workflows for end users, improving user satisfaction.

RFID stores more information than a barcode, QR code or manual entry number. In addition to the product number, the RFID tag can store information such as lot number, manufacturing date, expiration date and other unique identifiers. This additional information can be used for enhanced usage tracking by the manufacturer or the customer's purchasing department. It also improves safety and quality by ensuring that expired materials cannot be used.

The same RFID reader used to authenticate materials can also authenticate users so that only trained and authorized users can load and operate the device. Users simply scan their ID badge or fob to activate the device, then scan the consumable. In a medical context, the reader can also identify the patient, closing the loop between the patient, care provider and materials or medications used. User and/or recipient tracking improves safety by preventing unauthorized users from activating the device or using the wrong materials for the patient or client. It also enables accurate cost allocation by operator or recipient.
Selecting the Right RFID Reader for Consumable Authentication
There are many types of RFID readers on the market, and they aren't all the same. Many reader manufacturers create readers that only read their transponder technologies—a serious limitation for OEMs selling into international markets or catering to vendors or end-users with their own transponder technology preferences. There are several factors that OEMs should consider when choosing an RFID reader for consumable authentication purposes.
How many transponder technologies does the reader support? Look for a multi-technology reader that supports both LF and HF technologies from all major global manufacturers for maximum flexibility. This is especially important if you are working with multiple third-party consumable vendors or want to enable both user and material authentication with the same device.

How easy is it to update the reader? Updates may be needed to add transponder technologies or address emerging security concerns. Readers that support contactless updates or remote updates will extend the life of your devices.

Does the device have the correct form factor, communication interfaces and operating power requirements? The reader should be easy to embed into your device without making significant design or engineering changes.

Does the reader support advanced encryption and custom configurations? Look for a reader with a robust software package that allows you to choose your security configuration and customize behaviors (for example, setting light and sound sequences for user feedback).

Is the reader certified for use in all of the regions in which your device is sold? Choosing a reader already certified for sale in your target markets will speed time to market and simplify the sales process.
To learn more about choosing an RFID reader, download Eleven Considerations for Embedded System RFID Readers.
About Sean Houchin
Sean Houchin​ is the product manager for ELATEC Inc in Palm City, Florida and part of the global ELATEC GmbH product management team. He has more than 20 years of experience in product development, management and applications engineering. Sean is an expert in RFID technology, optoelectronic and fiber optic video, audio, and data transmission equipment for military and commercial applications and is a veteran of the United States Navy.
The content & opinions in this article are the author's and do not necessarily represent the views of ManufacturingTomorrow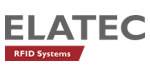 ELATEC Inc.
ELATEC designs and manufactures RFID badge, card, and smartphone readers for user authentication and access control to manufacturing equipment. Our readers enable tracking of who performed what operation on what piece of equipment and when for quality control and operator safety. We have been in business for over 30 years. RFID is what we do-it is all we do. And our RFID technology is the most advanced available today. This is why we are a market leader in Europe and experiencing tremendous growth in the US. But as our customers will tell you, it is also due to our exceptional design expertise and technical support. We are easy to work with. And being easy to work with is critical to getting design engineers and product managers to move beyond their limited, traditional supplier base, who we have found is often not delivering the total value the customer needs today or will likely require tomorrow. We have a deep and comprehensive understanding of how to work with manufacturing equipment OEMs. At the core, ELATEC RFID readers are innovative due to their unique, flexible architecture and open API. This ensures smooth and easy integration with hardware systems and back-end software. OEMs and Integrators: you have a choice-a proven choice. We encourage you to discover ELATEC RFID if you have not already and learn what we can do together!
Other Articles
Caron Engineering needed a smart, secure RFID reader that would allow them to add operator authentication and log-in to their solutions for US and international CNC machining market customers and to enable those customers to use their current employee badge system.
A sound sustainability strategy consists of continuous change, improvement and further development. It requires the continuous commitment of everyone, from management to trainees. And it is made up of many small things.
Modern authentication and access control systems can help by preventing unauthorized use of machines and ensuring that the correct parts and consumables are used.
---
Comments (0)
This post does not have any comments. Be the first to leave a comment below.
---
Post A Comment
You must be logged in before you can post a comment. Login now.
Featured Product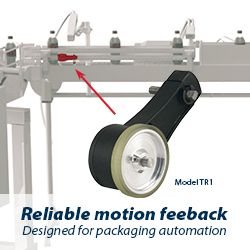 The Model TR1 Tru-Trac® linear measurement solution is a versatile option for tracking velocity, position, or distance over a wide variety of surfaces. An integrated encoder, measuring wheel, and spring-loaded torsion arm in one, compact unit, the Model TR1 is easy to install. The spring-loaded torsion arm offers adjustable torsion load, allowing the Model TR1 to be mounted in almost any orientation - even upside-down. The threaded shaft on the pivot axis is field reversible, providing mounting access from either side. With operating speeds up to 3000 feet per minute, a wide variety of configuration options - including multiple wheel material options - and a housing made from a durable, conductive composite material that minimizes static buildup, the Model TR1 Tru-Trac® is the ideal solution for countless applications.