Automate 2022 takes place June 6th - 9th in Detroit, Michigan. The Exhibit hall floor will be loaded with new products and services. Here is a preview of some things to look forward to at this years event.
Automate 2022 Product Preview
Article from | ManufacturingTomorrow
Automate 2022 Product Preview
Featured Articles

Featured Products

Automate Booth #4300

The next evolution in Dorner's Edge Roller Technology conveyor platform, the ERT®150, is ideal for small and light-load assembly automation, as well as medical and medical-device assembly application. The ERT platform is the only pallet conveyor of its kind available with an ISO Standard Class 4 rating for cleanroom applications. Earning the ISO Standard 14644-1 Class 4 rating means Dorner's ERT150 will conform and not contribute to the contamination of cleanrooms to those standards.

As implied by its name, the ERT150 (Edge Roller Technology) uses rollers to move pallets through the conveyor smoothly with no friction (a byproduct often seen in belt-driven platforms). The conveyor's open design eliminates concerns of small parts or screws dropping into rollers and causing conveyor damage or jamming.

Automate Booth #4548

Warehouse automation solutions from Honeywell Robotics deliver the speed, accuracy and efficiency to satisfy a broad and growing range of operational requirements for high-performance distribution, fulfillment and manufacturing operations. Honeywell Robotics provides the smart flexible depalletizer as a complete turnkey system, which can also work in conjunction with autonomous mobile robots (AMRs), enabling maximum flexibility in the smallest possible footprint.

Automate Booth #4913

High-Accuracy Robot Motion: The new KCI 120Dplus dual encoder from HEIDENHAIN combines motor feedback and position measurement in a single compact rotary encoder. Both benefits can be applied to every robot axis, correcting inaccuracies such as gearbox backlash and work-induced reaction forces. The HEIDENHAIN KCI 120Dplus thereby turns a typical articulated robot into a high-accuracy manufacturing system and dependable cobot.

Automate Booth #3332

The MPS Tool Changer System is the ideal tool changer system for every robot that is ready to order, and delivered to you when you need it. With the expansion of our MPS robot tool changers by 5 new models for payloads up to 80kg, we now offer you the ideal tool changing system for the entire payload range of all robot manufacturers up to 2500kg! Our customers benefit from our many years of expertise in all industry sectors, as well as our modular product concept, which offers three efficient solution paths: MPS COMPLETE offers preconfigured robotic tool changers for immediate use. MPS MODULAR allows the user to determine the configuration, while MPS CUSTOMIZED allows the construction of special, application-specific systems.

Automate Booth #4709

In order to interact with their environment and perform the tasks, lightweight robots, like all industrial robots, depend on tools - and in many cases these are vacuum grippers. These form the interface to the workpiece and are therefore a decisive part of the overall system. With their help, the robots can pick up, move, position, process, sort, stack and deposit a wide variety of goods and components. Vacuum gripping systems allow particularly gentle handling of workpieces, a compact and space-saving system design and gripping from above. Precisely because the object does not have to be gripped, the vacuum suction cupenables gapless positioning next to each other.

Automate Booth #2844

Designed for assembly and inspection applications in the electronics equipment and automobile components industries, the THE600 SCARA is a powerful automation tool. Advancing from the specifications of the existing THE400 SCARA, the THE600 has been developed to meet growing demand for fast-cycle automation. The THE600 model includes improvements in synchronised control and tracking precision. The THE600 is compact in design and offers improved high speed, with 60 per cent higher payload capacity than competing SCARA models in the same price range, making it the price-to-performance leader. Affordable price, impressive performance.

Automate Booth #5313

maxon motor launches new high-speed motors that are configurable online. The new ECX brushless motors are quiet and feature very high efficiency. The ECX motors are available with diameters of 8, 16 and 19 mm achieving speeds of up to 120,000 rpm. They run very smoothly and are highly efficient. With maxon motor's online configurator, it is easy to put together a customized DC motor to include gearhead, encoder and controller. The customized motors are ready to ship in 11 days!

Automate Booth #5040

A Zaber gantry kit comes with everything you need to build a customized XY gantry system or XYZ gantry system. These gantry systems feature coordinated multi-axis motion, plug-and-play operation, easy integration with end-effector options, and built-in IO and E-Stop capabilities.

An intuitive ASCII interface allows the user to easily communicate with the gantry systems using our free software, either Zaber Motion Library with APIs for several popular languages or Zaber Console. Third party terminal programs that can communicate over a serial port can also be used.

Indexed knobs on the included X-MCC controller provide convenient manual control for versatile operation even without a computer. The X-MCC controller connects to the RS-232 port or USB port of any computer and can be daisy-chained with any other Zaber products to add additional axes of motion.

Zaber's gantry kits can be quickly and easily configured to suit your application.

Automate Booth #3600

Simpler, stronger, and more precise. ATI Industrial Automation has developed a series of Manual Tool Changers that provides a cost-effective solution for quickly changing tools by hand. They feature a unique design that combines high strength, excellent repeatability, and a patent-pending screw-cam locking mechanism with multiple fail-safe features, which resists vibration and prevents loosening. These robust and compact Manual Tool Changers can handle payloads up to 80 pounds (36 kg) and pass pneumatics and electrical signals.

Automate Booth #326

Pleora will be demonstrating how its AI solutions, including a "no code" development platform, edge processing, and turnkey decision-support system for manual inspection, help manufacturers reduce costs and ensure end-to-end quality.

The company's eBUS AI Studio development platform and AI Gateway edge processor allow manufacturers to deploy more advanced inspection capabilities alongside existing machine vision processes. With this "hybrid AI" approach, manufacturers can evolve towards more advanced AI without disrupting proven computer vision inspection applications, existing infrastructure, and end-user processes. Pleora's Visual Inspection System adds AI decision-support for manual processes, with integrated AI Inspection apps that are trained based on user actions and Tracking & Reporting tools that gather actionable a data from manual processes. Unlike typical AI solutions, the system is ready to use with just one good image, with the AI model transparently trained based on user-actions to enhance and speed automated decision making.

Automate Booth #4500

MATCH is a new multi-functional end-of-arm platform from Zimmer Group in collaboration with Schmalz, two technology leaders and handling specialists. Equipped with an extensive range of functions and universal communication interfaces, MATCH is a tool changer with multiple integrated tools like electric grippers, collaborative grippers, and electric vacuum generators. MATCH Eco-system can cater to a variety of applications/industries like Electronic Assembly, Pharmaceutical, Collaborative Material Handling, Case Packing and Palatalizing and Multiple applications with one robot – electric & suction type handling.

Automate Booth #113

Our product highlights at Automate will include the Helios2+ Time-of-Flight camera offering two new on-camera depth processing modes: High Dynamic Range Mode (HDR) and High-Speed Mode. The HDR Mode combines multiple exposures in the phase domain to provide accurate depth information in high contrast, complex scenes, containing both high and low reflectivity objects. The High-Speed Mode enables depth perception using a single-phase measurement, allowing for faster acquisition speed and higher frame rates compatible with moving object perception.

In addition, LUCID will be demonstrating its industrial Triton and Atlas 5GigE camera line featuring the latest Sony Pregius S sensors. The Triton and Atlas cameras have been widely used in a variety of industrial applications due to their robust Factory Tough™ design offering IP67 protection, a compact size, industrial M8/M12 connectors and GigE PoE.

Automate Booth #2409

Piab's booth 2409 at the Automate show will showcase our robotic EOAT for the range of robots from large industrial to collaborative. We will have robots from Fanuc, Kawasaki and Universal Robots in our booth with each showing applications for handling a number of objects with our state-of-the-art compressed air driven vacuum generators and suction cups and grippers.

New at Automate 2022 is our line of BGX suction cups. Designed to handle thin and flimsy bags with ease.

As the bags become thinner and flimsier, the more carefully they need to be treated. With the new BGX suction cup developed for handling flimsy bags this challenge is outdated. The BGX suction cup is suitable for applications in e-commerce, FMCG, secondary food picking, fashion and other industries where bags are handled. Piab's new BGX bag handling suction cup has been specially developed to be the perfect bag picker for flimsy and oversized bags addressing the challenges presented by this application. The lip of the bag cup is designed with outstanding sealing capability also at low vacuum level.

Produced as a one-piece suction cup with two bellows, the suction cup will easily pick bags of different heights with a safe and stable hold of the product in the fast/semi-fast robot applications. The BGX suction cups are made of FDA & EU approved blue silicone for direct contact with food and are suitable for both high and low temperature applications. The suction cup can be configured by choosing between 3 sizes of the lip diameters 34, 41, and 48 mm and 6 different aluminum push-in fittings designed to attach safely to the robust neck of the cups.

Automate Booth #4307

Matrox Design Assistant® X is a flexible vision development software that fast-tracks vision development without the need for traditional coding. Its flowchart-based environment offers a graphical way to develop vision applications and configure each step interactively. The software pairs readily with smart cameras, visions controllers, and 3D sensors to form powerful all-in-one vision systems. Hardware independence lets users the ideal platform for project deployment.

With a broad range of tools for analyzing, classifying, locating, measuring, reading, and verifying, Matrox Design Assistant X leverages both traditional machine vision and deep learning technologies. See how Matrox Design Assistant X employs deep learning tools aided by traditional machine vision to inspect beverage containers as they move along on a conveyor at Automate 2022. The software is running on a Matrox® Iris GTX model edge IoT device, accurately inspecting the lips of glass bottles for defects.

Automate Booth #2552

Mobile equipment manufacturers often need encoders that fit in tight spaces, offer redundant output for safety, or integrate with special cables and connectors more common to the automotive industry than to factory automation.

EPC offers engineering services for developing custom encoder solutions. We can provide a custom encoder package for a redundant feedback application that features:

A low profile design, ideal for mounting between motor and truck body
Diversity of technology for satisfying safety certification requirements
An economical drop-in solution
A combination of encoders that provide the reliable motion feedback your system needs to keep working

And because we manufacture many of our parts in-house, we can quickly turn new designs into first articles, which helps customers bring their innovations to market faster.
To unsubscribe or modify your subscription please click the "Update Profile" link in the footer of this message to select the content you wish to receive. This information can be updated at any time.
Thank you for trusting us with your personal information, we value you and your privacy.
You can review our Privacy Policy here.

We look forward to staying connected.
The content & opinions in this article are the author's and do not necessarily represent the views of ManufacturingTomorrow
---
Comments (0)
This post does not have any comments. Be the first to leave a comment below.
---
Post A Comment
You must be logged in before you can post a comment. Login now.
Featured Product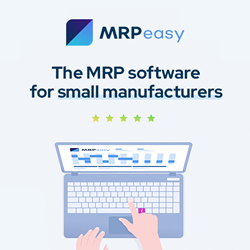 Always know what you have in stock and what you'll need to fulfill orders. Never forget to order parts on time or fail to notice a late delivery from your vendor. Easily create manufacturing orders and schedule them automatically according to resource availability or delivery deadline. Generate accurate cost and lead time estimates and provide customers with quick quotes. Receive notifications when orders are late or inventory levels reach a critical point. Ensure seamless communication between sales, production, warehousing, procurement, administration, and finance. Integrate with popular accounting, CRM, and e-commerce apps. MRPeasy is an ERP software for small manufacturers that gives you all that and more. Our users report a 54% average improvement in the overall performance of their business and a 42% increase in on-time deliveries. Try for free, no credit card needed.