After launching their successful digital solution ABB Ability™, the multinational discovered that the wired connections were not efficiently scaling with their platform. These connections were limited by short-range, one-to-one Bluetooth connections using mobile devices.
ABB Achieves Significant Improvements for Iot Condition Monitoring and Predictive Maintenance With Cassia Networks
Case Study from | CASSIA NETWORKS
THE CUSTOMER
Operating in more than 100 countries, ABB (ABBN: SIX Swiss Ex) is a worldwide leader with a comprehensive offering for digital industries. Their ABB Ability™ Smart Sensor is transforming the way equipment is monitored and maintained by changing traditional motors, pumps and mounted bearings into smart, wirelessly connected devices.
OVERVIEW
Among one of ABB's Ability™ digital solutions is their Smart Sensor. This condition monitoring sensor can be attached to motors, electric pumps and mounted bearings and is primarily used for picking up data on vibration, temperature and other relevant parameters. The ABB Ability™ Smart Sensor relays the data via a smart device and over the internet to a secure server. The purpose of the sensor is to provide continuous real-time data to monitor machine health and provide valuable insights to optimize the motor's performance and reduce overall maintenance costs.
CHALLENGES
After launching their successful digital solution ABB Ability™, the multinational discovered that the wired connections were not efficiently scaling with their platform. These connections were limited by short-range, one-to-one Bluetooth connections using mobile devices. Furthermore, ABB needed an easy to use remote management platform and the ability to deploy at scale to accurately monitor machine health. This was not possible using a standalone application. With customers worldwide operating large manufacturing plants equipped with hundreds of motors, ABB must extend their solution offering to replace individual mobile devices with a dedicated Bluetooth gateway that would deliver reliable, long-range, multiple device connectivity to ensure consistent machine monitoring for efficient operations and reduced costs.
SOLUTION
After evaluating multiple wireless technology partners, ABB discovered an opportunity with Cassia Networks that would provide them with the ideal solution to meet three critical requirements:
Cost-effective: ABB required a wireless solution like Cassia's to reduce total operational costs for its customers. By eliminating the need to re-wire entire facilities, the result is significant cost savings, reduced complexity and improved infrastructure. In addition, Cassia's long-range Bluetooth gateways eliminate the need for factory personnel to be onsite to collect relevant data allowing for greater cost savings.
Advanced multiple device connectivity: The ability to monitor more than one device at a time was a critical requirement for ABB. Cassia's X1000 Bluetooth gateways can connect multiple devices and provide seamless, long-range connectivity up to 1000 feet.
A dedicated IoT gateway: Cassia's certified all weather X1000 Bluetooth gateways and IoT Access Controller (AC) are being used in conjunction with ABB's Smart Sensors to seamlessly transfer data between the sensors and the internet. By having dedicated gateways feed data to the AC, personnel can remotely monitor assets, eliminating the need to be physically onsite to collect the data from these sensors. Also, since fewer gateways are required to cover the same area, equipment and installation costs are significantly reduced.
Edge processing and computing capabilities: Cassia's high performing X1000 Bluetooth gateways support custom party applications running inside a container which was a critical requirement for ABB. Also, ABB selected Cassia's IoT Access Controller (AC) to provide its customers a secure and easy to use management platform that would reliably monitor their gateways. Cassia Networks effectively meets these requirements allowing ABB to focus on scaling their digital offerings and delivering a best-in-class condition monitoring solution.
BENEFITS
By leveraging Cassia's powerful X1000 Bluetooth gateways and easy to use IoT AC, ABB's Ability™ Smart Sensors quickly became an effective and scalable condition monitoring solution chosen by customers worldwide. In conjunction with Cassia Networks, ABB now offers:
Significant cost savings: By accurately monitoring machine health, ABB's Ability™ Smart Sensor solution provides end-users with the data needed to monitor and accurately measure the health of their assets. This allows users to respond and make agile course corrections which can lead to a reduction in downtime of motors by up to 70% and extend the lifespan of these assets by up to 30%. In addition, customers benefit from a significant reduction in costs.
Scalability and ease of use: Cassia Networks has provided ABB a highly scalable and easy to use wireless solution needed to bring the ABB Ability™ Smart Sensor to market. By eliciting customer feedback and responding quickly to market needs, ABB's Ability™ Smart Sensor has become the condition monitoring solution of choice for IIoT customers worldwide.
Accurate data and analytics: The accuracy and depth of the data collected from ABB's Smart Sensors provide customers with extremely valuable information. Cassia's X1000 Bluetooth gateway and IoT AC provide the foundation for this data to help ABB's customers make informed decisions to reduce long term operational costs and make any corrective changes to their existing motors.
Cassia Networks values the partnership with ABB and is committed to ongoing developments and those of its customers. Over the year, Cassia has become the trusted partner and advisor for ABB which has resulted in the successful deployment of ABB's Ability™ Smart Sensor solution in hundreds of IoT environments worldwide.
ABOUT CASSIA
Cassia Networks is the leading provider for enterprise Bluetooth IoT products and solutions. Our patented technology provides the most reliable and easy to manage long-range, multiple device connectivity, edgeprocessing and locationing for Bluetooth IoT networks.
The content & opinions in this article are the author's and do not necessarily represent the views of ManufacturingTomorrow
---
Comments (0)
This post does not have any comments. Be the first to leave a comment below.
---
Post A Comment
You must be logged in before you can post a comment. Login now.
Featured Product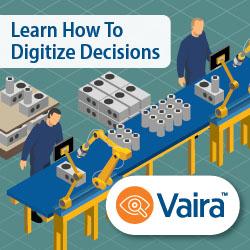 Vaira™ helps manufacturers digitize, automate, and upgrade error-prone manual processes and decisions to boost productivity and increase profits by helping humans make decisions consistent, reliable, and traceable. The camera-based solution is powered by a scalable suite of shop floor-ready apps built on proven machine vision and AI expertise for frontline manufacturing operations, with two-way integration to resource planning tools to help drive continuous analysis, insight, and improvements. Start digitizing immediately, streamlining processes customized to your unique requirements and reduce errors that lead to costs, delays, and quality concerns.