AGVs (automated guided vehicles) are essential tools in the current commercial and industrial transformation. But what challenges do they need to address?
Why AGVs Can Be The Solution in Logistics
Article from | maxon group
The AGV market: why are we seeing such a boom today?
Back in the 1950s, car manufacturers used guided vehicles in their factories to distribute mechanical parts. Since then, different methods have been developed to move these motorized robots on demand. There are now around half a dozen technologies used in these vehicles today:
self-guided
line-guided
opto-guided (by lines marked on the ground)
geo-guided
laser guided
or even guided by ultrasound.
All of these are now grouped under the AGV umbrella. This market currently represents EUR 550 million, primarily within Europe, and could reach EUR 1.35 billion by 2023. Its rapid growth is due in particular to e-commerce companies, where the technology is developing exponentially. Therefore their priority is to continually optimize their internal logistics processing in order to organize the company and ensure increasingly fast deliveries. Amazon was one of the first to integrate AGV technology by creating its own smart vehicles. Manufacturers are also using this method in their automated warehouses, where AGVs address the issue of compact size in particular.
These intralogistic robots are also being used more and more in the area of goods-to-person logistics, where AGVs transport objects and heavy loads directly to human workers. This way of working is known as cobotics – a collaboration between humans and robots. And AGVs provide an optimized response by taking over strenuous and repetitive tasks.
Why do AGVs provide the perfect answer to challenges in logistics?
With the development of e-commerce, logistics services now need new solutions. AGVs address all the challenges that arise within a distribution chain:
First and foremost, they increase productivity, speed and quality by allowing the operators to process larger volumes of goods, all while offering reliability. This approach is more than 30% faster compared to humans working alone, and there are fewer errors. Therefore companies are able to consistently fulfill their orders more quickly, and at the same time offer greater safety for people and goods.

AGVs enable better working conditions with their mechanical assistance, which helps to significantly reduce musculoskeletal disorders (MSDs) and accidents in the workplace. This is the overall purpose of cobotics (collaborative robotics): the cobots alleviate physical discomfort in human workers without preventing them from performing their activities.

They also enable space savings in warehouses due to better organization and optimization of space. This offers a huge real estate advantage at a time when every square meter saved represents a financial gain over several years.
In terms of production, the return on investment can be seen over one or two years.
Manufacturers/designers of AGVs: what are the technical constraints and challenges of the sector?
Before being able to address the needs of their customers, in logistics especially, manufacturers have to tackle the technical constraints. AGVs must offer long-term reliability and robustness so they can function without any need for maintenance for at least two years in order to optimize the profitability of warehouses. Bear in mind that any downtimes result in a chain reaction that can lead to huge financial losses.
AGVs must also be compact to allow their owners to occupy smaller warehouses and lower their operating costs. Smaller yet still capable of transporting heavy loads, AGVs must offer substantial power density. The challenge of miniaturization for space savings and drive systems for efficiency and robustness is therefore fundamental.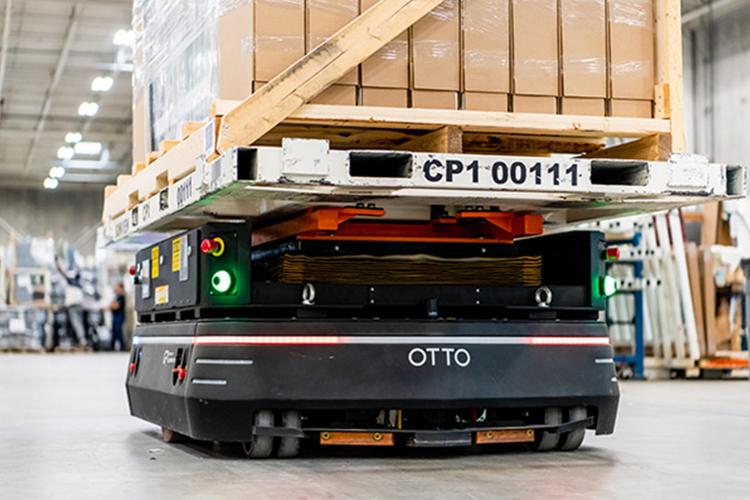 maxon – serving AGV manufacturers and designers
Optimizing space
maxon develops compact motors offering high torque and speed density, such as EC Flat and ECi. These compact motors also consume less energy than other products on the market. This is a powerful argument for manufacturers that need to reduce their costs and address the challenges imposed by energy transition.
Operating efficient communication buses
To address maintenance challenges, the motors with integrated electronics installed in the AGVs must be network-connected. The communication buses of motors from the IDX range are able to communicate simultaneously with the EtherCAT and CANopen systems and on IoT networks. Therefore, these robots can be programmed by computer and operated remotely, meaning that a single intervention is required to control the entire fleet of AGVs.
Specific mechatronic developments
Compact size, multi-axis systems, power density, specific protection ratings… Depending on your project, there are multiple requirements and finding adapted mechatronic solutions is not always easy. From defining the specifications to designing the products, maxon's specialist mechatronics team supports you by providing sound knowledge and expertise in the development of customized projects. Our technicians remain available following implementation to deliver ongoing technical support.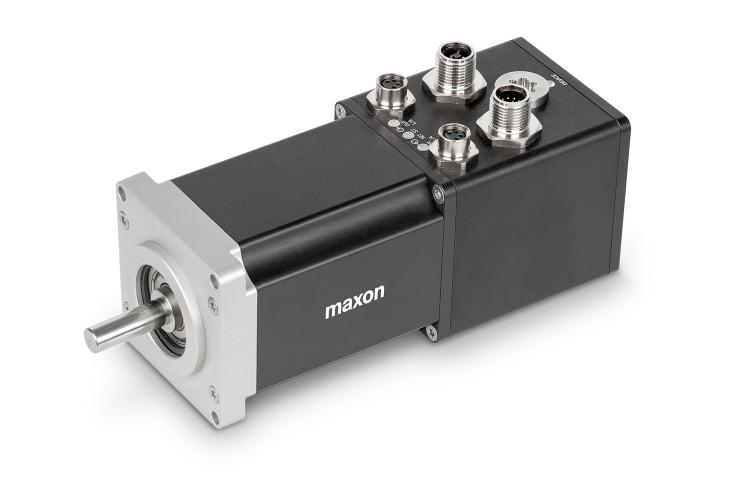 In order to offer AGV designers maximum freedom, the maxon Group has developed an entire range of compact and modular motors. These IDX drive solutions meet the most demanding requirements: offering 20% higher performance compared with the current solutions on the market, the safe, modular and easy-to-configure motors meet all your drive needs.
The content & opinions in this article are the author's and do not necessarily represent the views of ManufacturingTomorrow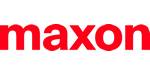 maxon group
maxon is a leading supplier of high-precision DC brush and brushless servo motors and drives. These motors range in size from 4 - 90 mm and are available up to 500 watts. We combine electric motors, gears and DC motor controls into high-precision, intelligent drive systems that can be custom-made to fit the specific needs of customer applications.
Other Articles
After intensive market research, maxon decided on a printer from French manufacturer 3DCeram, which has been customized to meet the company's own requirements.
After looking at the existing motor and the space envelope available, Sound Leisure, together with maxon engineers, selected the maxon brushless EC 45mm flat motor. This brushless DC motor is part of a program of flat motors, ideal when space is at a premium.
In the semiconductor industry, cleanliness and precision are absolutely critical. Swiss vacuum specialist VAT therefore partnered up with maxon to develop a drive system for wafer processing.
---
Comments (1)
Very Informative!! From, Shahen Logistics, KSA
Post A Comment
You must be logged in before you can post a comment. Login now.
Featured Product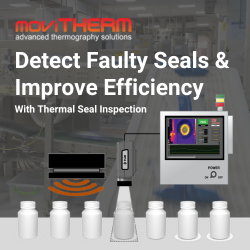 MoviTHERM's Thermal Seal Inspection (TSI) solution provides precise and reliable detection of defects in a variety of packaging types, including pouches, bags, blister packs, bottle caps, and more. By detecting defects in your packages, the TSI solution helps increase efficiency in your production line and ensures top-quality packaging is delivered to your customers every time. With state-of-the-art technology and an experienced team, MoviTHERM is dedicated to delivering accurate inspection solutions and peace of mind to its clients. Contact MoviTHERM today to learn more about their thermal seal inspection solution.