With the need for high quality contour surface milling on the rise in manufacturing, one of the rare large machine tool builders based in the U.S. has now met that challenge and is making an impact in those industries that need it most.
A Rare American Builder of Large Machine Tools With 'Strong Bones' Adds a Superior Control to Bring New Benefits to Many
Case Study from | HEIDENHAIN
With the need for high quality contour surface milling on the rise in manufacturing, one of the rare large machine tool builders based in the U.S. has now met that challenge and is making an impact in those industries that need it most. Welcome TARUS. Established in the Detroit, MI, area in 1969 and already well known by those in the automotive, aerospace and mold & die manufacturing industries, TARUS has made new significant investments in innovations, spearheaded by now including the state-of-the-art HEIDENHAIN TNC 640 CNC control on many of its large equipment offerings.
"We are excited about the changes made here over the last couple of years that give our manufacturing customers the edge they need to compete in today's global marketplace," explained Doug Greig, TARUS Co-owner with brother Dave. "TARUS has always been known to have great build on its machines, many say 'strong bones'. And we've now upped the game with machine performance levels of increased speed and accuracy highlighted by 5-axis capabilities with the HEIDENHAIN TNC controls and linear and rotary encoders predominantly. We believe this is a great one-two punch!" added Dave Greig.
TARUS' large and durable American-made bridge and gantry milling machines boast an average large work envelope ranging 7' x 10' up to 14' by 60' as examples. "We are one of the few U.S. machine tool manufacturers making machines of this size. We have hundreds of customers including many in automotive such as GM, Ford, FCA and Toyota, as well as those in aerospace and mold & die.
Changing the Game
"We at TARUS have some great machines with great features, but when it comes down to it, the customer really only cares about how fast they can complete their job, what is the uptime on their machine and how does their end product look," explained Brad Kleinow, Director of Service at TARUS. "The fast speed, strong reliability and superior surface quality that HEIDENHAIN brings to the TARUS machines has proven to be a game changer."
"There is a night and day difference in part surface finish with the TNC 640 when compared to the older TARUS machines equipped with our previous TARUS CNC," explained Doug Greig. "With our current TNC 640 equipped machines, it is so much smoother and cleaner."
Doug added that TARUS is now predominantly using the TNC 640 on its large high performance machines because its cutting and performance went through a thorough testing process and performed even better than expected, as well as the fact that many in their main markets now require the HEIDENHAIN. "The TNC 640 control is our preferred choice for these applications because of the reliability and performance it provides as a result of pairing it with the highly reliable HEIDENHAIN motion control feedback encoders," said Doug Greig. "We believe that this coupling allows us to be the best at serving our machining markets in the long run."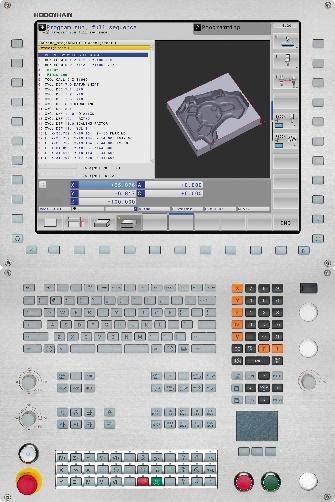 HEIDENHAIN TNC 640 Control
Overall, the HEIDENHAIN TNC 640 control is particularly well suited for milling-turning, HSC and 5-axis machining on machines with up to 18 axes. It is a workshop-oriented, high-powered and user-friendly control featuring numerous functions. Some of those tor TARUS customers include:
3-D Tool Compensation through surface normal vectors

Tool Center Point Management (TCPM) that uses a handwheel to change the angle of the swivel head during program run without effecting the position of the tool point

Tool Radius Compensation normal to tool direction

Tilting working plane transformation coordination

Speed - 0.5ms block processing speed

Kinematics Opt for automatic measurement and compensation of positions in rotating axes
"The combination of features on the TARUS machines promise to provide users with increased performance, faster speeds, more flexibility, reduced set ups and more uptime," said Doug Greig emphasizing that all those benefit the bottom-line of manufacturers.
Innovations from Day One
The innovative nature of TARUS began at its inception with Doug Greig Sr. in 1969 who invented and went door-to-door successfully selling an add-on electronic hydraulic servo control for EDM machines. From there, he built his own EDM machines, gun-drilling machines and copy-milling machines.
In the mid-1970s, development then began on the TARUS CNC which was used for all new TARUS milling, gun-drilling and measuring machines until 2008 when TARUS started building machines with customer-specified CNCs. In 2017, TARUS decided to make a shift towards the HEIDENHAIN TNC 640, with the first machines delivered in 2018.
Also, TARUS has also been a long-time customer of ETEL, a supplier of linear and multi-pole torque motors owned by HEIDENHAIN. One of the signature innovations at TARUS is its development and use of ETEL torque motors in a direct drive ball nut assembly found in its PMT Bridge and TBM Gantry CNC machines.
These unique torque motor assemblies are used to drive each machine axis (X, Y and Z), and result in improved efficiency, less wind-up and increased overall axis stiffness/rigidity. And because this direct drive assembly has no belts or extra pieces, it results in a more reliable machine since there are less parts to fail.
"Many of our machine users don't even know about much about these built-in innovations! They just know the machines are fast, dependable and accurate," said Doug Greig.
Kleinow added: "Overall, we believe TARUS now does things better than any other large 5-axis machine manufacturers. Besides marrying the newest high-level CNC technology with strong dependable machines, TARUS also now provides a unique Quality Control service team that stays with each machine at development through installation and service (no distributors used). This is unusual." TARUS' Brad Kleinow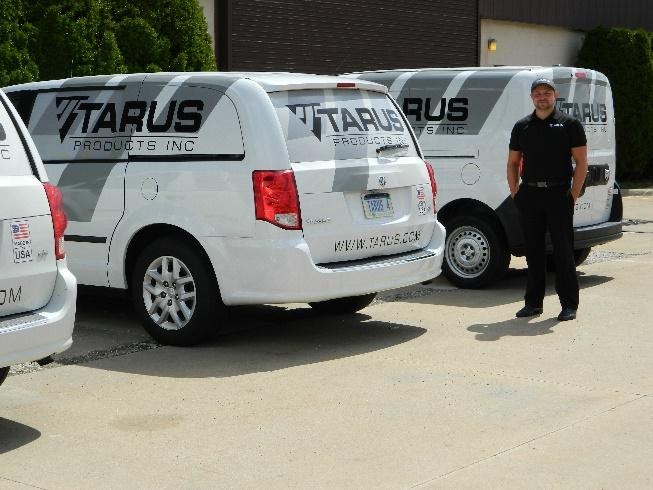 Outlook and Opportunity
"We believe the changed philosophies and revamping done here at TARUS over the last few years is exactly what the manufacturing industry needs to excel in today's marketplace," said co-owner Dave Greig. "And we are proud to manufacture these large machine tools right here in America.
"We are also proud of our long history and the successful use of HEIDENHAIN encoders that were helpful during our transition to current improved 5-axis control technology," said Dave Greig. Kleinow added: "In fact, in the near future we expect to be involved with retrofitting many of our current machines in the field with these latest generations of HEIDENHAIN controls, drives, motors and feedback."
To support the overall increase of HEIDENHAIN controls in the field, staff at the HEIDENHAIN's North American offices are at the ready. This includes providing on-site application training at the end user by arrangement or by attending any of a number of TNC training classes held at the TNC-CNC Academy at the HEIDENHAIN offices in Schaumburg, IL.
The Greigs also mentioned that besides the new pairing with the class-leading HEIDENHAIN TNC 640 for improved surface quality and speed, their TARUS machines also now feature new state-of-the-art cables, connectors and cable chains to improve reliability and simplify servicing. This, along with the culture shifts at the TARUS and new quality and ISO 9001 certification processes now in place, are meeting the changing needs of today's manufacturers.
"We are seeing much traction at TARUS starting now," said Dave Greig. "We also have some new and exciting 5-axis products currently in development that we expect to launch within the next year or so. These products will be more game changers!"
TARUS Machines
Besides large CNC milling machines, TARUS builds combination deep-hole drilling (gun-drilling) and milling machines for mold makers, as well as specialized multi-spindle deep-hole drilling machines. These deep-hole drilling machines are used in the nuclear industry for drilling critical steam generator tube sheets.
TARUS also builds machines for another niche resulting from its convenient location in Detroit, MI. In the 1980s, many local customers were using TARUS CMM and TARUS milling machines in their tooling and pattern/model operations. The Big 3 U.S. automakers and the local engineering companies approached TARUS to modify their existing TARUS machines to CNC mill and scan clay models for the design studios. This became very popular and now TARUS is one of the world leaders in CNC milling and scanning machinery for automobile design.
The content & opinions in this article are the author's and do not necessarily represent the views of ManufacturingTomorrow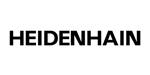 HEIDENHAIN
Many of today's disruptive technologies wouldn't be possible without a keen focus on precision. But in fast-paced corporate environments, the bottom line sometimes trumps superior engineering. At HEIDENHAIN, we're in a unique position to put R&D before net profit: In 1970, company founder Dr. Johannes Heidenhain placed his shares of the company into a foundation, enabling HEIDENHAIN to invest extensively in exciting new technologies. The result? Game-changing innovations that help our customers and their end-users gain an edge in competitive, ever-changing industries.

Other Articles
Exciting manufacturing research is happening daily at OMIC R&D (Oregon Manufacturing Innovation Center – Research & Development) and many types of HEIDENHAIN precision measurement components are working inside.
With just about any CNC control, you can be certain you'll be able to take code from a CAD CAM system and start machining with the push of just a few buttons. But what makes one control better than another?
Solutions for avoiding thermally induced dimensional deviations of workpieces have become more crucial than ever for the machine tool building industry. Thermal drift is primarily caused by feed axes on the basis of recirculating ball screws.
---
Comments (0)
This post does not have any comments. Be the first to leave a comment below.
---
Post A Comment
You must be logged in before you can post a comment. Login now.
Featured Product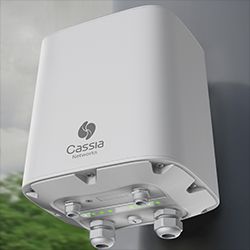 Cassia works with smart IIoT equipment manufacturers to help them overcome their challenges and to provide the competitive edge they need to reach their business goals. We provide companies in various IIoT sectors with a comprehensive suite of enterprise Bluetooth IoT products and solutions they need to enable smart IIoT solutions such as Condition Monitoring, Predictive Maintenance as well as Personnel and Asset Tracking solutions. Cassia's long-range Bluetooth gateways are uniquely designed for today's Industrial IoT enterprises to provide the scalability, flexibility and ease of deployment needed to reduce costs and achieve greater ROI.