Manufacturers must modify their cleaning processes to ensure they have the longevity to clean successfully and sustainably. It is important that companies address and adapt in order to stay current, competitive and profitable.
It is Time to Future-Proof Your Cleaning Processes
Venesia Hurtubise, Technical Chemist | MicroCare, LLC
Successful manufacturers understand the importance of implementing critical cleaning into the production process. Parts cleaning is essential to many industrial procedures. For example, it is critical for effective surface finishing or before processes like coating or electroplating. Cleaning, however, is becoming increasingly difficult to address as companies look for ways to not only clean effectively and efficiently, but also within ever-changing economic and environmental guidelines. Add to this the fact that products are becoming increasingly smaller and tolerances are getting tighter and the challenge increases further.
Manufacturers must modify their cleaning processes to ensure they have the longevity to clean successfully and sustainably. It is important that companies address and adapt in order to stay current, competitive and profitable.
A Long-term Cleaning Solution
A cleaning method that is regaining popularity as an effective and sustainable long-term cleaning solution is vapor degreasing. When used with advanced cleaning fluids it is extremely effective at thoroughly removing contamination from parts.
The low viscosity and surface tension ratings of modern vapor degreasing cleaning fluids, combined with their volatility, clean parts very effectively even inside blind holes and tiny openings that other cleaning options like aqueous cleaning cannot easily infiltrate. This ensures that all the surfaces of the finished component are effectively cleaned and ready for further processing or packing.
In addition, these advanced vapor degreasing fluids are typically an environmentally sound option. Most successfully meet the regulatory requirements stipulated by governments and other agencies governing the use of cleaning fluids in modern manufacturing.
Some traditional or legacy cleaning fluids do not work with new environmental restrictions and workplace safety rules. And with regulations and guidelines changing regularly, many of the favoured cleaning fluids that have been used for years are now becoming defunct.
Traditionally, fluids containing nPB (n-propyl bromide), TCE (trichloroethylene) and PERC (perchloroethylene) were an effective and economical method of cleaning. However, toxicity standards are tightening and their use is becoming problematic in some regions.
Aqueous cleaning is also under scrutiny when it comes to sustainability. Although still a popular cleaning choice, it has a significant environmental impact. It uses hundreds of gallons of non-renewable water, generates a wastewater stream that requires expensive treatment and requires large amounts of energy to clean and dry parts.
Manufacturers are starting to understand the impact of these cleaning processes and are moving away from legacy fluids and aqueous cleaning to find better alternatives that are more resource efficient, easier to maintain and less hazardous for workers and the environment.
Operation Advantages of Modern Cleaning Fluids
Vapor degreasing, in combination with modern, advanced cleaning fluids, makes parts cleaning simple, consistent and sustainable. The facts are clear:
Effective cleaning: Modern fluorinated cleaning fluids are lab-tested to ensure the cleaning results are reliable, consistent and the same, if not better than legacy solvents. Because of how they are formulated they easily clean small, complex parts and can be engineered to clean delicate parts that would otherwise be negatively affected by aggressive formulas.

No equipment upgrade: In many instances if a vapor degreaser is already in operation, modern cleaning fluids can be operated in the existing equipment, using the same methods. Once the vapor degreaser is emptied and cleaned, the replacement cleaning fluid is simply added to the machine.

Enhanced production: Modern cleaning fluids boil at a lower rate than legacy solvents. This means parts come out of the vapor degreaser cool enough to immediately handle. Additionally, the fluid has a low viscosity. This allows the fluids to flow back into and out of tight part spaces like blind holes and small gaps between parts. The fluid quickly evaporates, leaving all components dry and residue-free, both inside and out. This enables workers to move on to the next production process sooner, improving the overall throughput and productivity.

Energy savings: Many next generation cleaning fluids have a lower boiling point and heat of vaporization than their legacy counterparts. This translates to less energy consumption, resulting in an overall energy cost savings.

Improved safety: Many of the new cleaning fluids are nonflammable helping to improve safety in the workplace. New sustainable cleaning fluids used in a vapor degreaser also have impressive worker exposure limits. Permissible exposure levels for sustainable fluids are about 200-250 parts-per-million (ppm). Compared with TCE which has a 100-ppm PEL or nPB that is rated at just 0.1 ppm. The lower the ppm the bigger the risk to health, so sustainable cleaning fluids are significantly better for the safety of exposed workers.

Environmentally sound: Modern vapor degreasing chemistries are created with low-VOC formulas, which are ozone-friendly and comply with many directives including United States EPA regulations and European F-Gas and REACH (Registration, Evaluation, Authorisation and Restriction of Chemicals) legislation. Importantly, they offer improved environmental properties without compromising the performance.

Easier maintenance and recycling: Modern sustainable cleaning fluids do not require the stabilizers, scavengers or weekly acid acceptance testing required of legacy brominated or chlorinated solvents, reducing overall maintenance costs.
Addressing Sustainable Cleaning
Maximising productivity means looking at all aspects of the manufacturing process. This includes cleaning. In today's demanding manufacturing environment, parts must leave the production floor perfectly clean, dry and ready for post-processing. Oils, dust, metal particulate and other production debris need to be removed to ensure further processes are successfully completed. One of the best ways to achieve parts cleanliness is by using a vapor degreaser and modern cleaning fluids. This method not only addresses environmental, worker and expenditure concerns, but is flexible and adaptable to ensure cleaning procedures are future-proof.
About Venesia Hurtubise
Venesia Hurtubise is a Technical Chemist at MicroCare, LLC, which offers precision cleaning solutions. She has been in the industry more than 6 years and holds a MS in Green Chemistry from Imperial College. Hurtubise researches, develops and tests cleaning-related products that are used on a daily basis in precision cleaning and medical applications. For more information, visit www.microcare.com.
The content & opinions in this article are the author's and do not necessarily represent the views of ManufacturingTomorrow
---
Comments (0)
This post does not have any comments. Be the first to leave a comment below.
---
Post A Comment
You must be logged in before you can post a comment. Login now.
Featured Product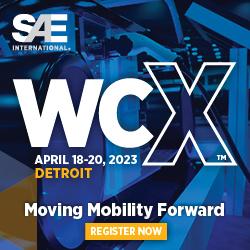 The largest technical mobility event in North America returns to Detroit from April 18-20, 2023. Join thousands of engineers, executives, suppliers, academics and R&D professionals for WCX™ World Congress Experience to exchange ideas, discuss today's challenges, and build powerful relationships to move your career and the mobility industry forward. Register today at sae.org/wcx.