Exposure to dust and fumes can not only cause long term health problems for operators but can also damage machinery, reduce productivity and lower the quality of end products.
The Functioning & Benefits Of Dust Extraction Systems
Article from | Extraction Solutions
Removing harmful airborne contaminants from the manufacturing process is an essential part of creating a safe working environment. Exposure to dust and fumes can not only cause long term health problems for operators but can also damage machinery, reduce productivity and lower the quality of end products.
Rules and regulations such as COSHH, HSG258, and ATEX outline an employer's responsibilities in providing a safe working environment when it comes to potentially hazardous and/or explosive substances such as wood dust, plastics, and welding fumes.
How do dust extraction systems function?
The main aim of the extraction system is to remove waste product from the process. To do this, a suitable hood is located as close to the process as possible, which can be connected to a duct system routed through the workspace connecting to multiple machines.
The duct system is then connected to a suitable air mover, usually, a centrifugal fan, which will handle the required duty of the system. Depending on the materials extracted, contaminated air can either be filtered before being returned to the workspace or exhausted directly to the atmosphere.
There are many types of filters and fans, each has benefits for different applications. It's important to choose the correct filter media, filtration speeds and fan sizes for various materials to prevent problems arising. Blockages, media saturation and dust capture issues are common with poorly designed equipment.
It's also important to ensure that the system complies with HSG258, which outlines correct capture and airflow velocities, as well as the ATEX directive, which relates to equipment for use in potentially explosive atmospheres.
Extraction Solutions specialise in designing and engineering bespoke extraction systems to suit a range of industries and ensure that workplaces comply with current laws. Their team has decades of collective experience in designing energy-efficient and reliable dust extraction systems for businesses across the UK.
Workplace exposure
Each material type has a different workplace exposure limit (WEL), meaning the limit of exposure to a toxic substance over a typical working day or period of eight hours. Some materials, such as welding fumes, have no safe working limit. This means that there is no acceptable level of exposure for operators.
It's not only machines that create dust breakout, tasks such as sweeping up, sack tipping/weighing, and even stacking products can cause disturb dust creating a potential hazard. It is important to complete a risk assessment of each task in the workplace to ensure that airborne contaminants are contained or removed.
Benefits of extraction systems
Besides the obvious health and safety benefits of industrial dust extraction systems, there are several other advantages to making the investment and having a suitable solution installed.
Contaminated air containing dust particles can have an impact on the efficiency of machinery. Dust build-up can damage parts of the process increasing maintenance, causing downtime, and in extreme cases cause fires or explosions.
In some cases, businesses can profit from the waste wood collected by your dust extraction systems. Extraction Solutions can design material handling systems that allow businesses to efficiently process their wood waste materials potentially earning a return on investment.
Dust build-up on products during the manufacturing phase can potentially reduce the finish quality. Extracting all the harmful dust from the work environment can ensure a consistent high-quality finish.
Given the negative health effects, contaminated air can have on employees, there are strict rules and regulations to ensure a safe working environment. Having a well-designed dust extraction system installed in your workplace offers the best chance of compliance with the relative regulations.
Always make sure to work with experienced dust extraction experts, such as Extraction Solutions. They can assess your premises to identify hazards and discuss the ideal solution for you whether you require a simple small bag unit, or a multi-faceted waste handling system.
The content & opinions in this article are the author's and do not necessarily represent the views of ManufacturingTomorrow
---
Comments (0)
This post does not have any comments. Be the first to leave a comment below.
---
Post A Comment
You must be logged in before you can post a comment. Login now.
Featured Product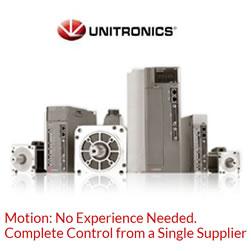 Unitronics' line of AC Servo Drives & Motors changes the traditional approach to motion control. They are simple to set up and painless to program. Unitronics Servos simplify implementation of motion applications while minimizing complexity and reducing development time. Some of the easy-to-use features in this new line include implementing motion control easily with ready-made motion code, embedded diagnostic tools, and automatic communication setup.