Blockchain has proven an effective salve for the dwindling trust in today's supply chains. It enables a network-wide protocol that helps reduce "trust tax," or the costs of maintaining trust.
Will 2020 Be the Year You Embrace Blockchain in Manufacturing?
Gigo Joseph | Chainyard
The power of trust is what binds manufacturers and their distribution channel partners to honor their commitments with each other's best interests. Lately, however, that trust is strained as revenue growth shrinks across the supply chain.
According to McKinsey & Company, consumer packaged goods manufacturers saw revenue growth drop from 9.7% in 2011 to a dramatically lower 1.2% in 2018. While facing this decline, manufacturers have also contended with retailers' attempts to stem their own lost revenue; after all, retailers are under pressure to keep up with the same levels of demand or face steep fines for late or incomplete shipments.
Over the last several years, however, blockchain has proven an effective salve for the dwindling trust in today's supply chains. It enables a network-wide protocol that helps reduce "trust tax," or the costs of maintaining trust. The cryptographically hashed, consensus-driven data stored on blockchain across multiple nodes provides immutable provenance and audit trails — a single source of truth that becomes the foundation of trust.
We've already seen this in action with initiatives such as the IBM Food Trust, a blockchain-powered ecosystem of companies all along the food supply chain. The Food Trust records provenance, builds transparency, and engenders trust at every stage of each food product's value chain. The success of such initiatives compels more companies to adopt blockchain and Internet of Things. This year, trusted real-time data sharing will take a huge step toward becoming the norm.
Fanning the Flames of Industry 4.0
Although fewer than 5% of the highest-grossing manufacturing companies piloted Industry 4.0 projects with blockchain in 2018, that number is projected to jump to 30% by 2023. Likewise, some experts predict the market for blockchain in manufacturing will exceed $566 million by 2025.
Adoption will continue to accelerate in 2020 as manufacturers implement blockchain solutions to streamline operations. Some manufacturers seek more visibility into their supply chains, and others focus on tracking assets with enhanced precision and timing. As each solution excels at its purpose, blockchain's overall potential to foster trust across both objectives will become increasingly valuable.
Some major features rolling out include transparent supply chain monitoring and digital supplier identity and management (think the Trust Your Supplier platform). In another example, Circulor recently used Hyperledger's blockchain to ensure complete mine-to-manufacturer traceability for a conflict mineral mined in Rwanda.
In another Hyperledger application, Honeywell Aerospace launched an Amazon-like service dedicated to warranty management, components tracking, and regulatory compliance on the sale of used aircraft parts. In less than a year, more than 50 vendors have used the marketplace, which sets a higher standard of trust than we've seen in recent years.
The Growth of Blockchain as a Service
The trust that current blockchain-based manufacturing applications can generate will be especially important this year as the space continues to mature and innovate. To make this transition easier to manage, many companies now offer blockchain solutions as a service to manufacturers in the ecosystem.
Like other software-as-a-service solutions, companies can sign on for provenance, traceability, and/or warranty management as separate services rather than building their own blockchain networks. The key innovation, however, is the combination of IoT and artificial intelligence with blockchain technology to provide real-time data and improve forecasting.
Most blockchain solutions automatically collect immutable data regarding operational conditions such as temperature changes or normal wear and tear. Adding AI on top of this data provides analytics that companies can trust to guide their policies and decision-making processes.
5 Ways to Bring Your Supply Chain Up-to-Date
Blockchain solutions now pave the way toward greater implementation. Using traditional blockchain technology requires bringing on talent to manage its capabilities, database, security, privacy, and network. Further, blockchain requires policy to ensure governance among stakeholders using the solution.
Blockchain solutions allow enterprises to enter the value pyramid at a measured pace, which helps encourage buy-in across an organization. The typical value pyramid includes a foundation of integrating and sharing data, a smart contract layer in the middle, and — the ultimate goal — an innovation of business models at the top.
Before you can reach the innovation stage, you should prepare for the inevitable changes coming to blockchain in manufacturing. Use these five tips to get ahead:
1. Join or subscribe to a trusted service. Don't let the scope of building a blockchain network deter you from entering the sphere at all. Instead, focus on joining the right blockchain-based service offerings. Either join an existing blockchain network for larger collaboration, or sign up for a blockchain service solution that's specific to a company, product, distribution network, or customer base.
2. Face "coopetition" early (and refocus it). Blockchain is a team sport, so get ready for some healthy coopetition. Although some consider this to be the biggest barrier to blockchain adoption, others appreciate that it forms a level playing field where anyone can offer their best value. Make sure you have a strategic plan for positively addressing coopetition, and highlight blockchain's immutability, privacy, and audit features to alleviate trust concerns.
3. Use coopetition data to guide future strategies. The data you share during coopetition with friendly competitors on blockchain is useless until it enters strategic decision-making processes. By applying AI-enabled analytics to common data shared across the supply chain, you can easily analyze activities from any corner of the network. This will facilitate and enhance evidence-based policymaking and clearance procedures.
4. Build a map toward the top of the pyramid. Having access to specific blockchain solutions can be a double-edged sword. Companies might implement one or two solutions just to benefit from the data foundation at the bottom of the pyramid, but they often get stuck with no path forward. The most disruption happens when smart contracts and new business models improve processes. Go in with a road map for using blockchain solutions to reach that goal.
5. Invest in and plan the path you map out. Historically, organizations followed top-down pyramids and functional-unit structures to centralize decision-making. Digital transformation — especially in blockchain and AI — flattens traditional organizational structures. You'll need to drive cultural change and invest in the necessary talent and infrastructure. A road map will keep you on the path to business-model innovation.
Whether blockchain works as a service or as an entirely new business model, it's already a significant part of the manufacturing industry. Before long, the power of trust that binds manufacturers and their supply chains will rest securely in blockchain-powered ecosystems.
About Gigo Joseph
Gigo Joseph is the vice president of international business development at Chainyard, a blockchain consulting company focused on delivering production solutions that address supply chain, transportation, manufacturing, government, and financial services pain points. Chainyard has years of experience in building, testing, securing, and operating complex distributed systems to help early adopters of blockchain succeed. The company works with multiple blockchain technologies, but it puts a particular emphasis on Hyperledger Fabric and its ecosystem. Gigo is a recognized leadership, engineering, and business-process consultant who has built and brought complex software solutions from ideation to end of life. With more than 25 years of technology experience across the United States, India, and the Middle East, Gigo has been a board member in multiple institutions, a motivational speaker, and a part-time policymaker for state government.
The content & opinions in this article are the author's and do not necessarily represent the views of ManufacturingTomorrow
---
Comments (0)
This post does not have any comments. Be the first to leave a comment below.
---
Post A Comment
You must be logged in before you can post a comment. Login now.
Featured Product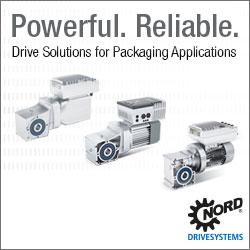 NORD gear units, motors, and electronic control products focus on durability, adaptability, and high efficiency for a wide range of manufacturing applications with over 20,000,000 standard configuration options. Featuring IE5+ PMS motors that can work effectively at partial loads and low speeds thanks to their constant torque and high overload capacity. Their smooth surface and ventilated designs provide ultimate versatility and variant reduction. Combined with surface protection options, such as IP69k or NORD's state-of-the-art nsd tupH Sealed Surface Conversion System, NORD drives are ready to take on the demands of extreme manufacturing environments.