This innovative California-based aerospace company is revolutionizing space exploration with Maxwell, its mass-producible EP system. Xometry is the manufacturing platform that's bringing its exoskeleton from its 12-page drawing to life.
Case Study: Phase Four Launches Scalable Electric Propulsion (EP) System with Xometry
Serena Ngoh | Xometry
The Challenge
Much of the current technology behind satellites is based on a legacy electric propulsion system containing the Hall-effect thruster. This system, while robust and reliable, can take up to 1.5 years to build and is known to degrade in orbit after just two years. And since each system can cost upwards of $500,000, the return on investment for all buyers—from government contractors to the government itself—can be tenuous.
This is why Phase Four, an in-space propulsion startup based in El Segundo, California, set out to develop a new electric propulsion system with similar performance but at a cost that is an order of magnitude lower, thereby enabling mass produced satellites and large constellations. And by eliminating hard-to-source, life-limiting components, Phase Four's EP system lasts much longer and enables longer missions.
Design Challenge
Phase Four surveyed the industry and found that electric propulsion systems often vary in their build and power due to different mission needs, such as whether a mission is short-term or long-term, the latter requiring greater reliability and dependability.
Phase Four aerospace engineer Austin Prater designed an exoskeleton for an EP system that delivers 6-10 mN of thrust and is sized to power a small satellite. The exoskeleton measures approximately 7" by 8" by 5" and is designed to hold various modular subassemblies, including the fluid and valve system, thruster head, and power electronics.
Unlike the Hall thruster, Phase Four's RF thruster does not rely on expensive, difficult-to-source components like hollow cathodes. Finally, Phase Four designed its EP system with as few assembly components as possible to reduce the number of vulnerable connections that could malfunction during flight. This would increase rigidity, ensure easy assembly, and reduce upfront production costs. The company named its new, trailblazing product Maxwell.
A Xometry Solution: On-Time, High Quality, Certified Parts
Certified Parts
Phase Four looked for a certified manufacturer who could produce highly regulated aerospace parts. Phase Four chose Xometry because it meets every regulatory requirement with its ISO 9001:2015 and AS9100 certified network of suppliers. And amongst its aerospace suppliers, Xometry could offer Phase Four ITAR and EAR suppliers for other export controlled projects. Phase Four also chose to request certifications for material, hardware traceability, and compliance through Xometry's platform. "Xometry is great about providing the appropriate documentation that allows our customers to fly the parts," says Prater. "We can look at a part and trace it back to the machine it was created on."
One-shot Precision
Xometry manufactured seven key components for Phase Four. The most complex part was an exoskeleton for the EP system that was machined from a single billet of aluminum, reducing the total number of components, thereby eliminating vulnerable connections and increasing overall structural integrity. Xometry machined the lightweight chassis components to precision tolerances as specified by Phase Four, finished the parts with a protective chemical conversion coating, and installed threaded inserts where needed.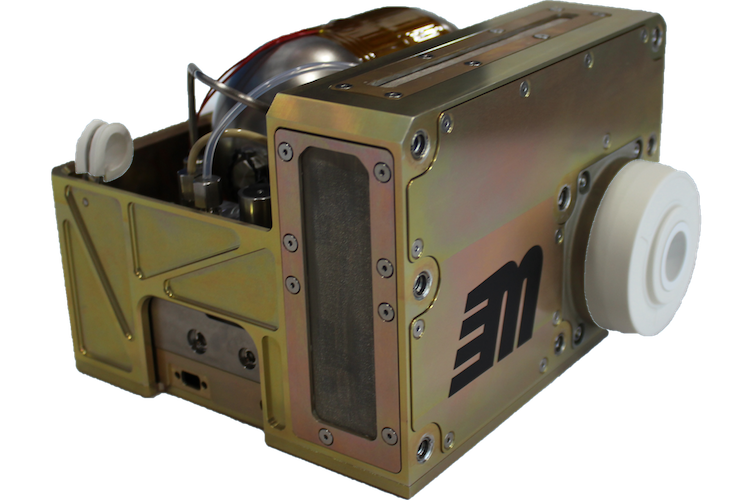 Pictured above: the unibody exoskeleton to Maxwell with all assembled components
The additional parts Xometry manufactured include a base plate, a front cover, and frames. These parts not only needed tight tolerances, but also had strict surface finish and flatness requirements. Xometry manufactured them exactly to spec, allowing Prater to assemble the product pain-free. Xometry's aerospace manufacturing partners deliver parts with guaranteed complete precision because, as Prater puts it, "You only have one shot at putting a spacecraft in into orbit."
Pictured above: four EPS components designed by Phase Four and manufactured by Xometry
A Vast Manufacturing Network
To communicate these exact specifications, Phase Four was able to upload not only a CAD model, but also a 12-page drawing to the Xometry Instant Quoting Engine℠ to convey the unusual complexity of the part. Because of the part's complexity—even by aerospace industry standards—other machine shops had responded with no bids or failed to manufacture the part to spec. With Xometry's massive network of manufacturing partners, finding a machine shop that was well-matched for the job was a breeze.
Additionally, Phase Four highlights Xometry's ability to provide capacity relief by sourcing parts from multiple shops. This allows Phase Four to meet demand for high volume orders, and relieves Phase Four from supplier management since Xometry's customer service goes far beyond the quoting page.
Speed
Phase Four needed a sales model of the electric propulsion system for an upcoming conference, and it needed the parts fast. In the past, the company had ordered the unibody housing from other suppliers with an 8-10 week lead time. With Xometry, the company quoted, ordered, and received the parts within 2 weeks. Prater says, "Xometry got our job done right and in a compressed time frame. That's impressive."
Where traditional EP systems have lead times of 1.5+ years, Phase Four has reduced the total lead time for its Electric Propulsion System to 6 months, and supply chain partners like Xometry will enable Phase Four to improve its lead times to 3 months. Xometry's ability to source parts 5 times faster than its competitors will help Phase Four meet its aggressive product timelines.
"Xometry got our job done right and in a compressed time frame. That's impressive."
Austin Prater, Aerospace Engineer at Phase Four
An Ongoing Partnership with Xometry
By utilizing Xometry's manufacturing and supplier management services, Phase Four can meet its goal of bringing a mass-producible, cost-effective EP system to market. Not only does Xometry meet baseline legal requirements for producing parts for government contractors and agencies, but Xometry produces parts on time and to spec. Prater concludes, "You guys check all the boxes. Xometry is the only shop I've worked with for this project that has been able to meet all of our steep requirements. Documentation, consistently good coatings, on-time delivery—you name it."
Additionally, using market-data pricing, Xometry helps Phase Four cut manufacturing costs so they can reduce the overall price of the product by 80% compared to traditional aerospace propulsion systems. This creates renewed business for aerospace product development companies like Phase Four, and increases the likelihood that other companies in the aerospace industry can bring innovative new space systems to reality.
Maxwell is available for purchase at http://www.phasefour.io/maxwell along with Maxwell specification sheet and early access pricing.
The content & opinions in this article are the author's and do not necessarily represent the views of ManufacturingTomorrow

Xometry
Our instant quoting platform and nationwide network of machine shops is transforming American manufacturing. We make it easy for all customers - from startups to Fortune 500 companies - to access manufacturing on demand by providing the most efficient way to source high-quality parts.
Other Articles
Discover why this innovator in the micromobility powersport space chose Xometry to produce 50% of parts found in its flagship electric motorcycle, the Ryvid Anthem.
Machinist shortage is a tricky problem that shop owners constantly face. Here are some ways to solve it and help you attract and retain them.
A team of engineers and medical experts joined forces during the first wave of COVID-19 to rapidly prototype a medical device. Xometry manufactured 9 prototypes in under 3 weeks, providing advice and rapid production for critical decision making.
---
Comments (0)
This post does not have any comments. Be the first to leave a comment below.
---
Post A Comment
You must be logged in before you can post a comment. Login now.
Featured Product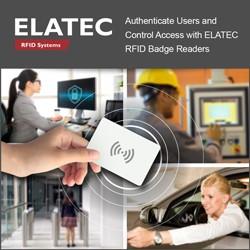 With a tap of the badge, RFID readers from ELATEC provide secure, reliable and easy-to-use user authentication, access control and usage tracking of hardware and software in industrial automation processes. Reader durability in harsh plant floor environments is another essential feature. Choose the right authentication and access control solution and extend RFID card-based capability for the access control of PLC, robot and HMI automation controller software and devices requiring special operator training.