New blow-molding equipment and custom bottle designs boost sales by 24 percent in a year for Caribbean syrup and essence manufacturer.
In-house Packaging Operations Propels Growth for Tropical Trade & Industries N.V.
Case Study from | PMMI
As disposable incomes rise around the world and consumers express greater desire for variety in their products, the food and beverage industry continues to create new tastes and flavors to satisfy a range of tastes. As a result, the global food flavors market is projected to advance from a current value of $13.56 billion USD to $17.10 billion USD by 2023*. With this growth on the horizon, many international food and beverage producers are actively seeking new solutions in order to expand operations and meet increasing demand.
For one, Tropical Trade & Industries N.V., a manufacturer of food and pharmaceutical products based in Paramaribo, Suriname, was in need of in-house packaging capabilities to support its business plan to grow its presence in the Caribbean. The company turned to PACK EXPO Las Vegas, produced by PMMI, The Association for Packaging and Processing Technologies, in search of a solution to meet this need. As a result, Tropical Trade & Industries N.V. built a critical supplier relationship and discovered a solution to enhance its overall brand experience and potential to grow.
Big Flavor Fuels Growth
Established fifteen years ago, Tropical Trade & Industries N.V. manufactures a range of food, beverage and pharmaceutical products including bottled syrups and essences for an array of beverage and food applications. Offering 16 different flavors, including bubble gum, cola and lemonade, Tropical Trade & Industries N.V. makes its syrups from refined ingredients for ice creams, puddings and yogurts. The company's essences, available in 12 flavors, including vanilla, almond and passion fruit, add rich flavor to baked goods and beverages. Both product lines are available for sale to consumers.
Above all, Tropical Trade & Industries N.V. maintains a mission of providing high-quality products made from fine ingredients and delivering a premium consumer experience. The company is also motivated to help establish Suriname as a top producer and exporter in South America. With these goals in mind, the company began to seek new avenues for expansion with a focus on the Caribbean market.
Broadening Horizons
Historically, Tropical Trade & Industries N.V., an ISO 22000-certified company, sourced generic bottles from a vendor for onsite filling. However, the company began to outgrow this strategy as it set ambitious targets for sales and boosting its presence in the Caribbean. Greater brand differentiation, efficiency and output were all necessary to take the company to the next level.
Aiming to bolster its in-house capabilities, Tropical Trade & Industries N.V. starting hunting for a blow-molding solution to grant complete control over bottle production and ultimately reduce costs and improve output. Most importantly, the company needed a solution that would catalyze a unique package design to capture consumer attention.
Finding no viable options in its own backyard, Tropical Trade & Industries N.V. opted to send a team to PACK EXPO Las Vegas in 2015. The company's CEO had attended the show in the past and believed the best path to the right solution was seeing the technology in action on the show floor.
"Witnessing the machine running right before your eyes, getting a true sense of its speed, quality and capabilities—that's critical," said Rahid Doekhie, CEO of Tropical Trade & Industries N.V. "The Internet, downloadable brochures and YouTube alone cannot replace the experience of being on the show floor and meeting the innovators behind a machine."
After some preliminary research and exploring a show floor of 2,000 exhibitors, the team identified a few candidates from the exhibitors at PACK EXPO Las Vegas, eventually deciding that PET Technologies was the right partner.
Building a Relationship
Founded in 1999 and headquartered in Austria, PET Technologies is an international supplier of polyethylene terephthalate (PET) solutions throughout Europe, Asia, Africa, as well as North and South America. Its technologies include bottle blowing machines and molds, PET bagging machines and integral filling solutions.
After finding the company through the PACK EXPO Las Vegas show site and visiting its booth, Tropical Trade & Industries N.V. began discussing plans with PET Technologies for a custom package design and blow molding solution. Preparations would take a year as the company aimed to perfect a solution that would last for two to three decades. PET Technologies even arranged for Tropical Trade & Industries N.V. to meet with an existing customer in Portugal that was actively using the recommended equipment.
"It was in 2016 that we finalized next steps after providing a recommendation to Tropical Trade & Industries N.V. for a semi-automatic PET blow molding machine," said Tetiana Pronikova, head of the Latin American development group at PET Technologies. "An investment that plays such a critical role in a company's branding experience is worth exploring over a period of time."
A Custom Solution Rooted in Collaboration
Before the technology was integrated into Tropical Trade & Industries N.V.'s production line in early 2018, PET Technologies worked with the company to develop a custom bottle design for its syrups and essences. Understanding Tropical Trade & Industries N.V.'s goal to create a new brand experience with packaging, PET Technologies also connected the company with raw material suppliers and worked between six and nine months to ensure they were meeting the necessary bottle specifications. Once the design was finalized, PET Technologies flew to Suriname to support the equipment installation. They trained current Tropical Trade & Industries N.V. employees on machine operation and maintenance, with the ability to troubleshoot any issues during production.
What fostered the partnership between Tropical Trade & Industries N.V. and PET Technologies was more than just the equipment—it was also the active engagement between the two companies. PET Technologies took careful steps to ensure Tropical Trade & Industries N.V. was confident in its investment and felt supported moving forward. Both companies credit this successful venture to PACK EXPO Las Vegas, as the show played a major role in facilitating conversations and final agreements.
"Since our initial meeting at PACK EXPO, PET Technologies has been a close collaborator of ours," said Doekhie. "The company is incredibly responsive and has demonstrated its commitment to supporting us throughout our future growth."
The Result
Since implementation, Tropical Trade & Industries N.V. has exceeded its expectations for growth. Not only did the newly designed packaging succeed in differentiating its brand and improving the consumer experience, but the company's changes also propelled an increase in sales by 24 percent since early 2018.
With just one machine, Tropical Trade & Industries N.V. produces 6.5 million bottles annually. However, such significant growth over the past year prompted the company to consider the purchase of an additional PET machine just to meet growing demand for its products in the Caribbean market. The companies continue to work closely together and teams from both enterprises will be at PACK EXPO Las Vegas 2019.
"PACK EXPO Las Vegas gave us a broader view of the market and helped us unlock new potential," said Doekhie. "We're still visiting the shows as much as possible to learn about new advancements, discover emerging technologies and keep up with important industry trends."
Finding Value at PACK EXPO Las Vegas
The PACK EXPO Portfolio of Trade Shows continues to grow and provide valuable opportunities for fostering relationships between consumer packaged goods (CPG) companies and suppliers. PACK EXPO Las Vegas co-located with Healthcare Packaging EXPO 2019 (Sept. 23–25; Las Vegas Convention Center), enables companies to form connections, witness solutions in person and discover ways to build business. Attendees can benefit from insights on improving brand experience and packaging efficiency with free half-hour presentations offered at Innovation Stage locations in Central and North halls in addition to 45-minute sessions at The Forum. A growing staple at the PACK EXPO shows, The Forum will tackle latest industry trends with hands-on activities, small group discussions and Q&A each day of the show. Topics represent a variety of packaging challenges for industries including include food and beverage, baking and snack, confectionery, pharmaceutical, nutraceutical and biotechnology. For attendees seeking some creative inspiration, The Showcase of Packaging Innovations®, sponsored by Dow® will feature award-nominated packaging solutions in the Lower South Hall.
To learn more and register for PACK EXPO Las Vegas, visit www.packexpolasvegas.com.
To learn more about PET Technologies visit www.pet-eu.com, and for more information on Tropical Trade & Industries N.V. visit www.tropicalgroupnv.com.
About PMMI
PMMI, The Association for Packaging and Processing Technologies, represents more than 850 North American manufacturers and suppliers of equipment, components and materials as well as providers of related equipment and services to the packaging and processing industry. We work to advance a variety of industries by connecting consumer goods companies with manufacturing solutions through the world-class PACK EXPO portfolio of trade shows, leading trade media and a wide range of resources to empower our members.
* https://www.marketwatch.com/press-release/the-food-flavors-market-is-projected-to-grow-at-a-cagr-of-48-2018-08-23
The content & opinions in this article are the author's and do not necessarily represent the views of ManufacturingTomorrow
---
Comments (0)
This post does not have any comments. Be the first to leave a comment below.
---
Post A Comment
You must be logged in before you can post a comment. Login now.
Featured Product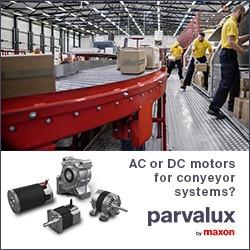 This GB56 right-angled, coupling driven gearbox from Parvalux packs a powerful punch in a small package. A width of 39mm and an output torque of 50 Nm in short-term operation. Ideal for applications where space is at a premium.