Modernizing existing production lines from Bosch while reducing the number of central stations from three to two: Machine manufacturer GAteK has achieved this feat thanks to pneumatics from Emerson's AVENTICS™, which cuts cycle times in half.
Case Study - Fast Pneumatics Cuts Cycle Time in Half
Contributed by | Emerson Automation Solutions
There's no car on Earth without a starter, and for decades these have been made by Bosch, the world's largest automobile supplier. The starters are manufactured around the clock on seven production lines at Bosch's plant in Hildesheim, Germany.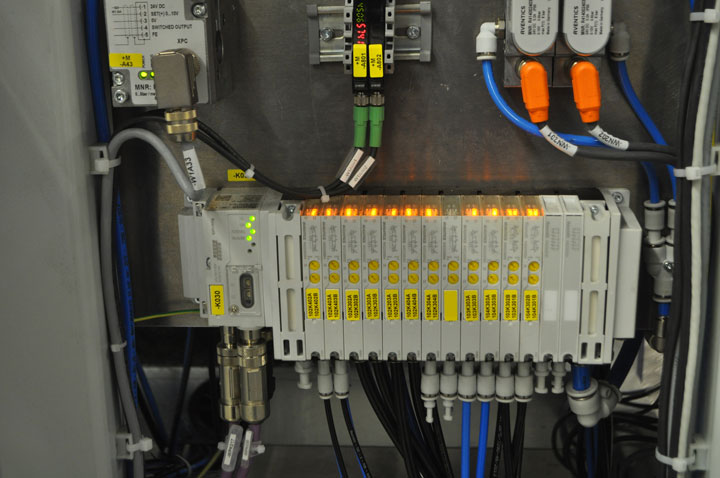 The electropneumatic concept also includes Emerson's AVENTICS™ AV03 series valve system.
The individual production lines consist of around 25 machines, which surround the diffusion welding system. This welding unit was designed and built by the GAteK association for automation technology and design, a company specializing in planning, designing, and producing tailored engineering solutions. The two managing directors, Thorsten Hofmeister and Volker Thomas, have been designing systems for Bosch in Hildesheim for three decades.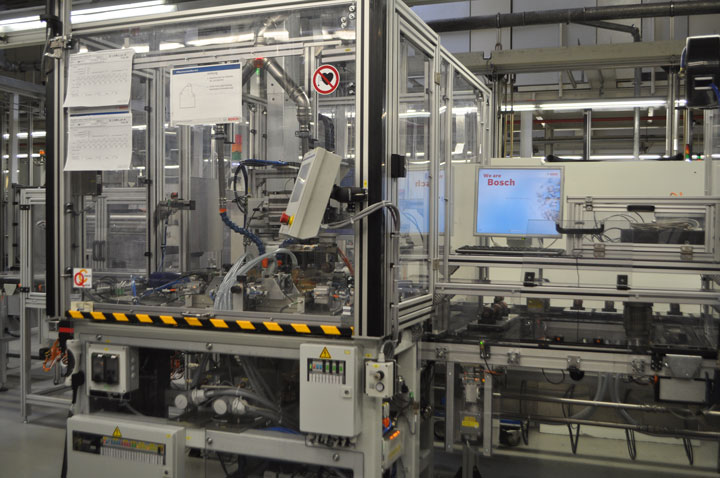 Diffusion welding systems amidst the production line for starters. Fast pneumatics shortens the cycle time. Two machines now do the work of three.
A pre-mounted armature is transported on workpiece pallets, aligned for position detection, and brought into position for welding by grippers. After welding, more grippers return the armatures to workpiece pallets and transport them to the next production step. Supply, swiveling, and welding are performed at rapid speeds in parallel to maintain the line cycle times.
The first GAteK machines had three separate control processes for contact movement during welding. This meant waiting during switching times. "Using proportional valves, we can now take the three movements and simulate the smooth sequence of a robot. As a result, we cut the time just about in half in this application," explains Thorsten Hofmeister.
GAteK uses Emerson's AVENTICS™ ED series electropneumatic pressure regulators. "With their dynamically controlled pressure that can be precisely tailored to the application, they form the basis for optimized, energy-efficient processes in the diffusion welding system," emphasizes Volker Thomas. The ED series valves combine control electronics, the pressure sensor, and direct drive via proportional solenoids into a single closed unit.
Constant pressure stabilizes the process
The regulator detects possible drops or increases in pressure. Here's where the pressure regulator shines, with its high dynamics: Based on a target-actual value comparison, it immediately generates the necessary pressure change to ensure process stability. "Compared with the machines used up to now, we achieve a faster, more stable process and thus optimize weld quality. This also extends the machine service life and reduces cycle times by 50%," emphasizes Thorsten Hofmeister. "As a result, we can reduce the number of machines in a system from three to two." All seven production lines are planned for gradual conversion.
Emerson's AVENTICS™ SM6 series position measuring sensor provides feedback on wear.
The electropneumatic concept also includes the AVENTICS™ AV03 series valve system. In combination with the pressure regulators, GAteK achieves ultra-high precision. At the same time, valve interaction delivers pressure values that can be consistently reproduced and documented, thus meeting Bosch's high requirements in all aspects. GAteK benefits from the innovative inner workings of the AV03, which is extremely compact thanks to its diagonally arranged valve spool. In addition, the flexible AES (Advanced Electronics System) fieldbus control supports all conventional systems and protocols.
Ready for the Internet of Things
"We have managed to solve all stroke and travel motions with AVENTICS™," says Thorsten Hofmeister, pointing out the large selection of cylinders. To query the exact position and required travel time, some cylinders are also equipped with the SM6 distance measuring sensor. Thanks to the sensor, it is possible to check the guide wear, enabling preventive maintenance while ensuring the quality of the welding process. The concept of the Internet of Things can thus be implemented in new machines as well as integrated into ongoing production.
Finally, AVENTICS™ AS3 series maintenance units ensure not only high compressed air quality and prevent air waste, but also play their part in machine safety: As an inexpensive solution for safe ventilation and exhaust, the integrated 3/2 shut-off valves switch off redundantly in an emergency.
Thorsten Hofmeister stresses the good collaboration: "As our partner, AVENTICS™ stood by our side helping us with both CAD and 3D. Based on the data provided, we were able to tailor the entire system configuration to the application ourselves in no time at all, and always had a direct contact."
While the newest machines are integrated into the line, GAteK is already working on new diffusion welding systems for Bosch. "The system is very flexible and viable in the long term. We can keep the concept even though we only have the key figures for the new type of starter to be produced on the line," summarizes Volker Thomas.
The content & opinions in this article are the author's and do not necessarily represent the views of ManufacturingTomorrow
---
Comments (0)
This post does not have any comments. Be the first to leave a comment below.
---
Post A Comment
You must be logged in before you can post a comment. Login now.
Featured Product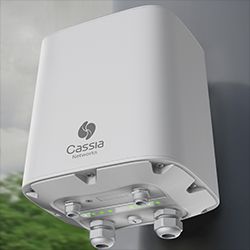 Cassia works with smart IIoT equipment manufacturers to help them overcome their challenges and to provide the competitive edge they need to reach their business goals. We provide companies in various IIoT sectors with a comprehensive suite of enterprise Bluetooth IoT products and solutions they need to enable smart IIoT solutions such as Condition Monitoring, Predictive Maintenance as well as Personnel and Asset Tracking solutions. Cassia's long-range Bluetooth gateways are uniquely designed for today's Industrial IoT enterprises to provide the scalability, flexibility and ease of deployment needed to reduce costs and achieve greater ROI.