If temperature-sensitive freight is literally your bread and butter, the following guide provides some useful fundamentals to remember for this vital and somewhat finicky corner of the world economy.
The Ultimate Guide to Shipping Temperature-Sensitive Freight
Megan Ray Nichols | Schooled By Science
We don't have to tell you about the sheer variety of products that require climate-sensitive transportation. Maybe your specialty is fresh flowers. Perhaps you manufacture chocolate or another food item that requires a delicate temperature balance. Lots of medicines, vaccines and capsule-based supplements are also highly prone to spoilage if their transit needs aren't thoroughly planned out.
If temperature-sensitive freight is literally your bread and butter, the following guide provides some useful fundamentals to remember for this vital and somewhat finicky corner of the world economy.
1. Be Clear About Your Requirements
In the course of readying your products for transit to their destinations and choosing third-party product handling and logistics companies, one of the first steps towards protecting your temperature-sensitive freight is to be straightforward and clear about your requirements.
Your carrier or shipping partner could be the best in the business, but if you're not drawing up, labeling and clearly communicating about the finest details — including proper temperature ranges, required equipment or handling instructions and procedures for dealing with damaged products — you're not going to have great results. Well in advance of choosing a partner or readying your first shipment, make sure your product requirements are clear enough for anybody in the industry to understand and carry out.
2. Make Plans for Idle Product Between Unloading and Loading
While in transit, the continued optimal temperature of your product is out of your hands and within the purview of your selected partners. One thing that's easy to overlook is what happens to products in the oftentimes unpredictable moments and minutes after it's delivered or just before pickup.
If you don't have a dock that's refrigerated, you should have a small, temperature-controlled staging area for your freight while it's in limbo or changing hands. This will likely never be an extended period of time if you've taken all of the other necessary steps, but even a slight drop in temperature can have consequences. Think of this space like an airlock between the refrigerated trucks and the less-regulated environment of your warehouse or manufacturing plant.
3. Rethink Your Product Packaging
Most of the temperature control heavy lifting is done in-transit by mobile freezers and refrigerators. Nevertheless, there are several steps you can take to make your goods more resilient against unexpected temperature fluctuations. Packaging your products correctly for peace-of-mind while in transit is extremely important.
Some packaging materials are better-suited to guarding against heat transfer than others. Polyurethane foam, certain reflective foils and films and EPS (expanded polystyrene) are all good choices for lining the walls of your packages and shipping cartons.
In some cases, even the manufacturing technique used to create your cartons can result in a greater degree of temperature control and quality assurance. While some techniques used to join packaging materials results in "lossy" cartons that bleed energy or facilitate heat transfer, other techniques, including radio frequency welding, offer an alternative that can help protect products from dust and humidity as well as some temperature extremes.
4. Always Have a Plan for the Unexpected
It probably goes without saying, but any business as complex as cold storage and supply chain management comes with a lot of potential unknowns. That's why it's so important to have contingencies in place in case something goes wrong.
For example, when you're drawing up plans with your shipping partners, make sure you're all on the same page about what needs to happen, and in what order, if a critical piece of equipment fails. A failure like that in transit could mean an entire lost shipment if you haven't taken the time to plan ahead. Make sure your in-house personnel as well as your partners understand your expectations for:
Contacting a designated person or department at your company

Contacting regulatory bodies or authorities, if required by law

Restoring or replacing failed equipment

Initiating freight recovery procedures
True emergencies should be rare, but take some time to evaluate the most likely points of failure to make sure you're covered.
5. Remain Diligent When It Comes to Regulations
With very few exceptions, health and safety regulations exist for very good reasons. If you deal with refrigerated products, it means you bear a higher responsibility than most when it comes to the safety of your consumers. In most cases, refrigerated goods represent real — and in some cases urgent — needs for customers all around the world.
The FDA (Federal Drug Administration) and DEA (Drug Enforcement Administration) have long been advocates for consumer protection and are authorities in their own right when it comes to temperature-sensitive shipment best practices. Additional hazardous material rules apply at the federal level and offer guidance beyond pharmaceuticals, specimens and other biological and medical shipments to include the transportation of chemicals and waste.
These regulatory bodies recognize dry ice as a hazardous material and carefully regulates its use in refrigerated transportation — particularly in aircraft. In cases like these, gel packs are a better choice than either regular ice or dry ice and don't come with heavy penalties for misuse.
6. Choose Partners Who Are Experienced and Offer Service Commitments
Finally, although we've talked a lot already about what to look for in a partner, it's worth closing with a nod toward expedient shipping partners who offer commitments and guarantees when it comes to transit time as well as the movement of products over weekends and holidays.
For your most vulnerable shipments, authorities in the industry recommend you look for overnight service with guarantees of not more than 30 hours in transit. Also, bear in mind that while plenty of shipping partners offer dependable service, not all of them deliver on the extra tools and transparency that your customers expect for these product types — including shipment tracking and push notifications for deliveries and delays. Of all the branches of manufacturing, handling refrigerated goods requires one of the highest degrees of collaboration and transparency.
As you've seen, though, with some diligence and the right choice of partners, your customers can count on timely and dependable product deliveries, whether it's a life-saving product or a bouquet of flowers to brighten somebody's day.
The content & opinions in this article are the author's and do not necessarily represent the views of ManufacturingTomorrow
---
Comments (0)
This post does not have any comments. Be the first to leave a comment below.
---
Post A Comment
You must be logged in before you can post a comment. Login now.
Featured Product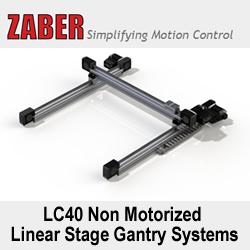 A Zaber gantry kit comes with everything you need to build a customized XY gantry system or XYZ gantry system. These gantry systems feature coordinated multi-axis motion, plug-and-play operation, easy integration with end-effector options, and built-in IO and E-Stop capabilities. An intuitive ASCII interface allows the user to easily communicate with the gantry systems using our free software, either Zaber Motion Library with APIs for several popular languages or Zaber Console. Third party terminal programs that can communicate over a serial port can also be used.