So how do you measure the productivity of your manufacturing equipment? How do you gain insight to improve your processes? The answer is Overall Equipment Effectiveness, or OEE.
Achieve Overall Equipment Effectiveness (OEE) Using Hygienic Conveyors
Contributed by | Dorner Mfg. Corp.
Efficiency in manufacturing is heavily influenced by the use of equipment. If equipment isn't running at peak performance, then it can't yield a large enough output to cover the initial investment. Because equipment generally interacts with both products, laborers, and conveyors that feed equipment there are multiple factors to account for when determining the effectiveness of equipment.
So how do you measure the productivity of your manufacturing equipment? How do you gain insight to improve your processes? The answer is Overall Equipment Effectiveness, or OEE.
AVAILABILITY X PERFORMANCE X QUALITY = OEE
OEE is a standard for measuring productivity. Essentially, it identifies the percentage of manufacturing time that is actually productive. In mathematical terms, OEE = Availability x Performance x Quality. To receive a perfect score, a machine must manufacture 100% Availability (no stop time), 100% Performance (as fast as possible), and 100% Quality (only saleable products). Though a simple formula, OEE is a powerful tool that helps companies define, visualize, and ultimately eliminate equipment losses and waste. By implementing a well-designed and effective manufacturing structure, companies are able to achieve and maintain a competitive edge.
Check out our latest infographic below to learn how hygienically designed precision conveyors can help you and your company maximize your OEE.
In the Food Handling and Processing Industry, precision hygienic conveyors are essential because they maximize OEE while simultaneously delivering a more sanitary platform. Precision hygienic conveyors are low maintenance but also versatile, capable of accommodating a variety of tasks and generating a high OEE.
Availability Through Production
Conveyors can be fit with accessories and solutions to optimize run time (Availability) such as: spreaders and spacing techniques that strategically space items in preparation to maximize the next process, belt scrapers that provide continuous section cleaning, clean in place stationary washers, merging and diverting devices for precise movement of product, depositing retracts that strategically space products and singulating or chicaning solutions to align product for faster production or packaging.
When researching any sanitary conveyor system, find out the answers to these crucial questions:
Are there built-in features that will cut down cleaning time?
Are these features removable or permanent?
How easy is it to disassemble for cleaning?
How many people/tools are necessary to sanitize the equipment?
Will the design simplify the cleaning process?
Will the product fulfill sanitary requirements?
Is the product approved by the required health agencies?
Performance Through Speed
Precise hygienic conveyors can be sanitized in just a few minutes (Performance), increasing production capabilities. Additionally, these conveyors enable one person, without any tools, to suspend and release the belt in six seconds and disassemble the entire conveyor in less than three minutes. While OEE only examines a machine's effectiveness, the benefit of only needing one worker for a sanitation job increases the overall efficiency. For example, if a system runs 50% effectively with one operator but 65% effectively with two operators, the effectiveness goes up 30%. However, the efficiency drops down to 50% based on labor. It's important to take the measurements of both efficiency and effectiveness into consideration when choosing a machine.
Quality Through Successful Output
The goal of all sanitary conveyors is to eliminate any chance of contamination, therefore generating more saleable products (Quality) and increasing revenue. Dorner's AquaPruf and AquaPruf Ultimate systems introduced Tip-Up Tails and Belt Lifters to the food industry, mechanisms that enable sanitation workers to have fast access to the conveyor frame with no tools required. Being able to reach every part of the machine with water, soap, and other cleaning agents eliminates bacteria growth, food and water accumulation, and chance of contamination. These hygienic designs are built to withstand high pressure washings and are chemically resistant, which means they can be easily sanitized and used for a variety of products ranging from dairy to seafood to confectionary items. With a conveyor that's capable of being managed by a single worker and properly sanitized in a matter of minutes, the risk of contamination decreases and the volume of successful units increases.
All of these factors contribute to your machine's Overall Equipment Effectiveness. OEE is the best metric to analyze and improve the productivity of your manufacturing equipment. Understand how to use it and apply it to your conveyor systems and processes. All three components of OEE— Availability, Performance and Quality — should be optimized for a sustainable design.
The content & opinions in this article are the author's and do not necessarily represent the views of ManufacturingTomorrow

Dorner Mfg. Corp.
Founded in 1966 and based in Hartland, Wisconsin, Dorner is a privately held World Leader in the design, applications, manufacturing, and integration of conveyor systems. Companies from over 1,200 different industries worldwide turn to Dorner to achieve improved efficiency, productivity, and a positive ROI.
Other Articles
Conveyors today are built to your specifications to improve efficiency and output of your production line. There's no reason to settle for a conveyor that's being shoe-horned into your application
The conveyor system, along with that attached packout table, can be raised or lowered to best compliment different employees for better ergonomics.
With a typical lift gate conveyor, the entire conveyor pivots using the motor as a counter balance and a gas strut to assist in the lifting process.
---
Comments (0)
This post does not have any comments. Be the first to leave a comment below.
---
Post A Comment
You must be logged in before you can post a comment. Login now.
Featured Product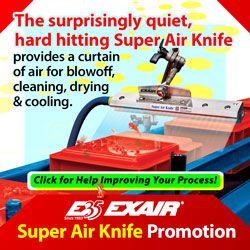 EXAIR Cabinet Cooler® Systems are a low cost, easy to install, maintenance free way to cool and purge electronic control panels. EXAIR Cabinet Coolers incorporate a vortex tube that produces cold air from ordinary compressed air - with no moving parts. The compact Cabinet Cooler can be installed in minutes through a standard electrical knockout. NEMA 12, 4, and 4X (IP54 and IP66) Cabinet Coolers that match the NEMA rating of the enclosure are available in many cooling capacities for large and small control panels. NEMA 12 Cabinet Coolers are ideal for general industrial environments where no liquids or corrosives are present. NEMA 4 Cabinet Coolers incorporate a low pressure relief valve for both the vortex tube and cabinet air exhaust. This valve closes and seals when the cooler is not operating to maintain the integrity of a NEMA 4 enclosure. NEMA 4X Cabinet Coolers offer the same protection as NEMA 4 but are constructed of stainless steel for food service and corrosive environments.